How scouts grade the Clippers before their first showdown with the Lakers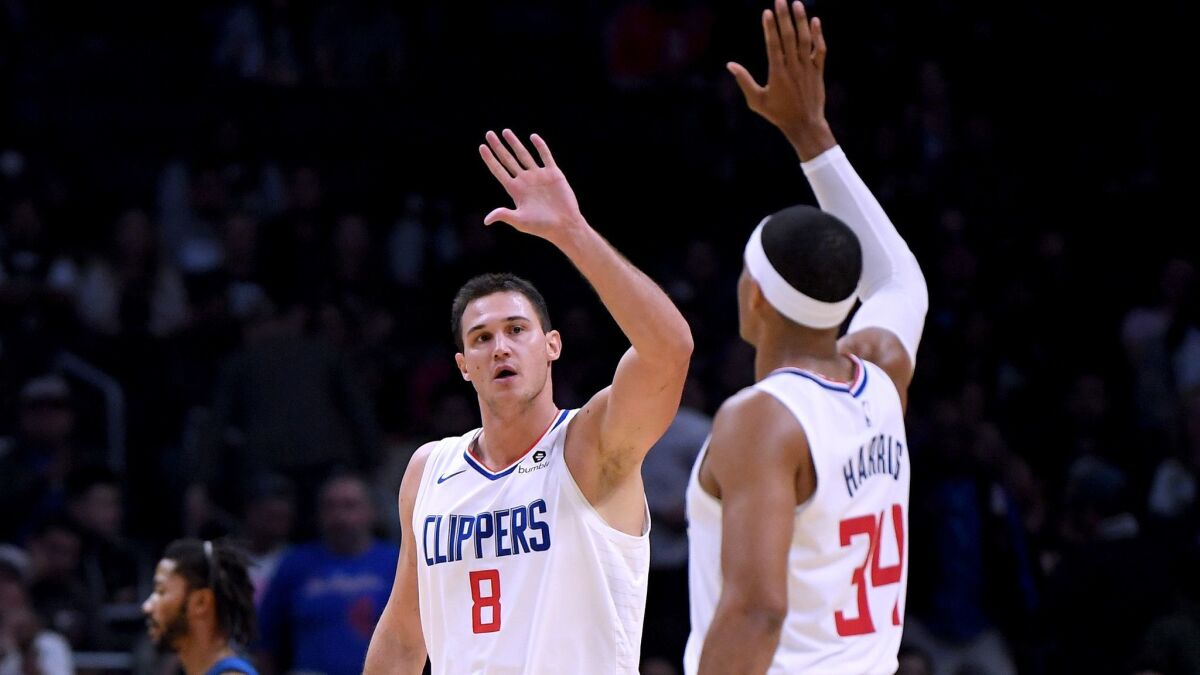 As the Clippers prepare to meet the Lakers on Friday night, several NBA scouts offered their grades and assessments on why the Clippers have proven to be playoff contenders this season.
With a record of 20-14, it's easy to see why the Clippers graded out with a B+ overall.
Here's a look at what the scouts thought about each position group:
GUARDS: B
Two scouts gave the core of Patrick Beverley, Avery Bradley, Lou Williams, Shai Gilgeous-Alexander and Tyrone Wallace a C+. Two other scouts gave graded them at B and B+.
"It's mainly because Lou was out for a few games and Pat Beverley is having a really bad year," said one Western Conference scout. "Beverley turns the ball over a lot. He gambles too much on defense. He fouls too much. He's out of position and his shooting has been really bad. Avery has been in a horrible shooting slump. Offensively, Shai and Lou are good, but defensively they are bad. And Avery is really good defensively, but offensively he's bad."
An Eastern Conference scout gave them a C+.
"Their guards, other than Lou Williams, they have not been very good, the scout said. "They have been adequate. Avery has struggled and is playing the worst basketball he has played in the last three or four years. I like the young guy, Shai. Pat has been bad and he's in the last year of his deal."
Another Western Conference scout disagreed and gave them a B.
"Lou Williams has been steady. Bradley has been steady," the scout said. "The rookie [Gilgeous-Alexander] has really surprised me. He's playing pretty good. Lou Williams has been their closer."
Another Eastern Conference scout gave them a B+
"With the play of Lou and Shai, that gives them this grade. The play of Avery and Beverley, they haven't played as well, but the other guys have played so well that I think it averages out to that grade."
FORWARDS: A
It was nearly unanimous: Three scouts gave the core of Danilo Gallinari, Tobias Harris and Mike Scott an A while the fourth gave them an A-.
"Gallo and Tobias, those guys have carried the Clippers," one Western Conference scout said. "They score, they take high-percentage shots, get to the foul line. Those guys have been carrying the Clippers and that's why I give them an A."
A scout from the Eastern Conference concurred: "That's the strength of their team, that's their scoring. Those two guys (Gallinari and Harris), they can play with anybody. They can hold their own at power forward or small forward."
The A- came from a Western Conference scout.
"Both Gallo and Tobias are solid, seasoned veterans that can do multiple things," the scout said. "Not only can they shoot it from the outside, but they can post up too. And Gallinari is going to get to the foul line. Tobias is kind of under the radar and underrated, I think. He's a quiet guy, doesn't say too much, just puts on his hat and does his business. He comes to play. I think he's settling in because he now has more of a major role. He's one of the cornerstones of the team."
An Eastern Conference scout added of the high-scoring forward tandem, "Those are the leading scorers on the team, Harris and a healthy Gallo. They are the main reasons why they've had all their success."
CENTERS: B-
The highest grade for the core of Marcin Gortat, Montrezl Harrell and Boban Marjanovic came from an Eastern Conference scout, who gave them a B+.
"They are probably as traditionally as you go," the scout said. "Montrezl Harris plays with a lot of energy and I think that has been good for them. Gortat is starting to understand who he is and Boban is a game-changer
Two scouts gave them a B-.
"Gortat brings that grade down because he's been so bad," a Western Conference scout said. "Boban doesn't really play enough to impact it. If it wasn't for Montrezl, the center grade would probably be a D. He's played so well."
An Eastern Conference scout added: "They haven't gotten much from Gortat, but Harrell has been great and then Boban has been OK."
The lowest grade of C+ came from another Western Conference scout.
"Harrell's energy from baseline to baseline is incredible," the scout said. "Gortat, I'm surprised at the way his offensive game has left him a little bit."
Twitter: @BA_Turner
---
Get our high school sports newsletter
Prep Rally is devoted to the SoCal high school sports experience, bringing you scores, stories and a behind-the-scenes look at what makes prep sports so popular.
You may occasionally receive promotional content from the Los Angeles Times.