Clippers' poor offensive performance results in 96-86 loss to Grizzlies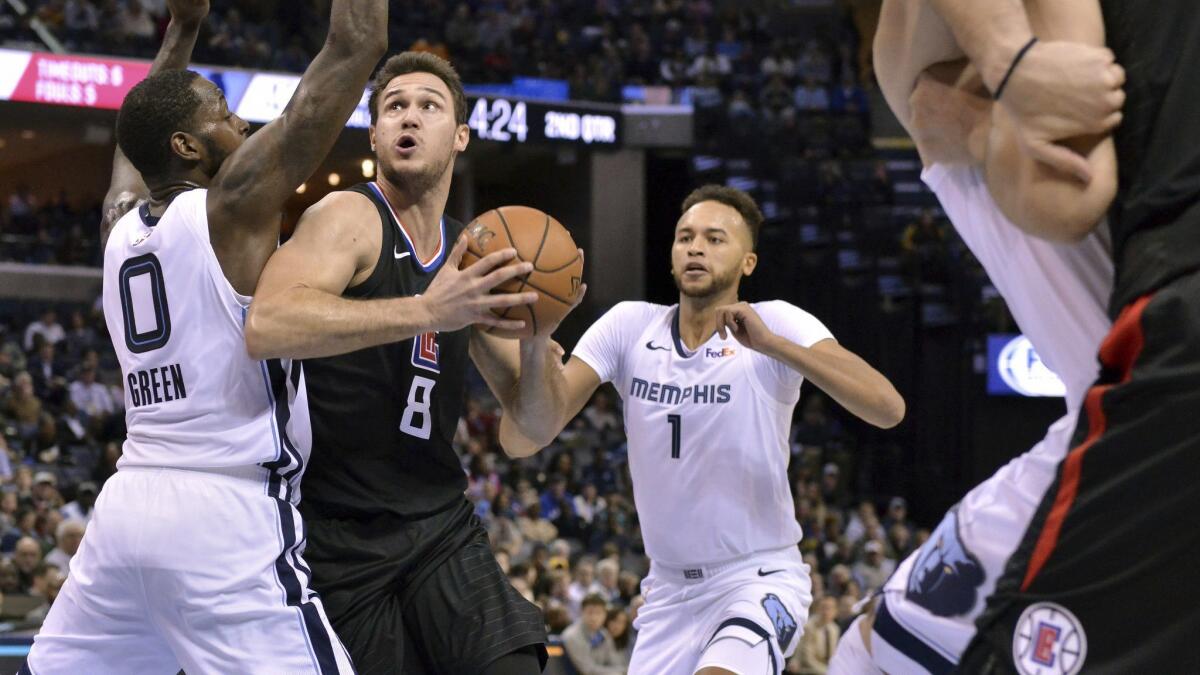 Reporting from Memphis —
Just like the first time they faced the Memphis Grizzlies this season, the Clippers trailed by eight points with fewer than two minutes to play in Wednesday's fourth quarter.
This time, however, there was no stunning comeback, no stirring overtime push, no talk of resiliency afterward. There were only empty possessions to start and finish a 96-86 defeat at FedEx Forum and a sour end to a four-game trip.
For the first time since Nov. 24, the Clippers no longer hold the top spot in the Western Conference.
"I thought this was the first night I could say that we just got our butts kicked," coach Doc Rivers said. "I thought they played better, harder, had better focus. Give them credit. They were better prepared and ready to play."
It was only the Clippers' third loss this season by double digits, but the margin could have been even greater. Everything that could have gone wrong for the Clippers' offense did.
They shot 33.8% from the field, the lowest percentage allowed by the Grizzlies this season, and had more turnovers (18) than assists (16).
Tobias Harris made two of his 13 shots. Danilo Gallinari, who entered having made 115 of his 122 foul shots and ranking second in the league in free-throw accuracy, missed four of his eight free throws.
The Clippers missed their first six shots, trailed 10-0 within the first four minutes and admitted they'd been pushed around.
"The thing about it is we knew going into the game they were going to bring that type of physicality and that type of energy," Harris said. "We should have been, as a team, we need to do a better job to be more prepared mentally of how they were going to play and try to match that. I thought we got off to too slow of a start."
The issues were not all offensive. The Grizzlies entered last in the league in pace and in the bottom third by averaging 11 fast break points a night. They had 15 in the first half.
"We said, 'Guys, don't sleep. They are going to run,'" Rivers said. "And we didn't get back either. I think we were waiting for them to not run, but they ran. I don't know what that was, but they attacked us on both ends."
With the Clippers down 14 in the second quarter, Harris missed a layup and whipped his headband into his team's bench, irate. Avery Bradley met him at the free-throw line during a break in play and wrapped an arm around his stomach to calm him, but Harris was reanimated after being called for a technical foul. Rivers told referee Tony Brothers the call was a "bad one," and when Marc Gasol missed the ensuing technical free throw, added, "Ball don't lie."
Trailing by nine at halftime, the Clippers scored the first nine points of the third quarter for a 51-all tie. The last four points during the run came after steals by Shai Gilgeous-Alexander and Bradley led to transition layups. The Grizzlies called a timeout and the Clippers jumped off their bench.
With 8:21 left in the quarter, the Clippers held their first lead.
It fit the pattern of some of the Clippers' most memorable games this season: Start terribly, rally quickly, win improbably.
All that was missing was the finish. After a 10-2 run by Memphis spanning 2:11 of the fourth quarter, the Clippers (16-8) never got closer than five points.
Garrett Temple's three-pointer with 7:41 in the fourth quarter gave Memphis (14-9) a nine-point lead. A dunk by JaMychal Green one possession later made it double digits. Green had 19 points off the bench, with Mike Conley Jr. scoring a team-high 22.
"They made us play in traffic and we turned the ball over," Patrick Beverley said. "Hats off to them. But that won't happen consistently, for sure."
The game was the last of a four-game, seven-day road trip that the Clippers split.
"I was hoping for more," Rivers said. "If you look at the big picture you will take a .500 road trip, but you want better. I think as a team we have to expect better."
Twitter: @andrewgreif
Get our high school sports newsletter
Prep Rally is devoted to the SoCal high school sports experience, bringing you scores, stories and a behind-the-scenes look at what makes prep sports so popular.
You may occasionally receive promotional content from the Los Angeles Times.