Clippers have no answer for the Hawks' young duo in 123-118 loss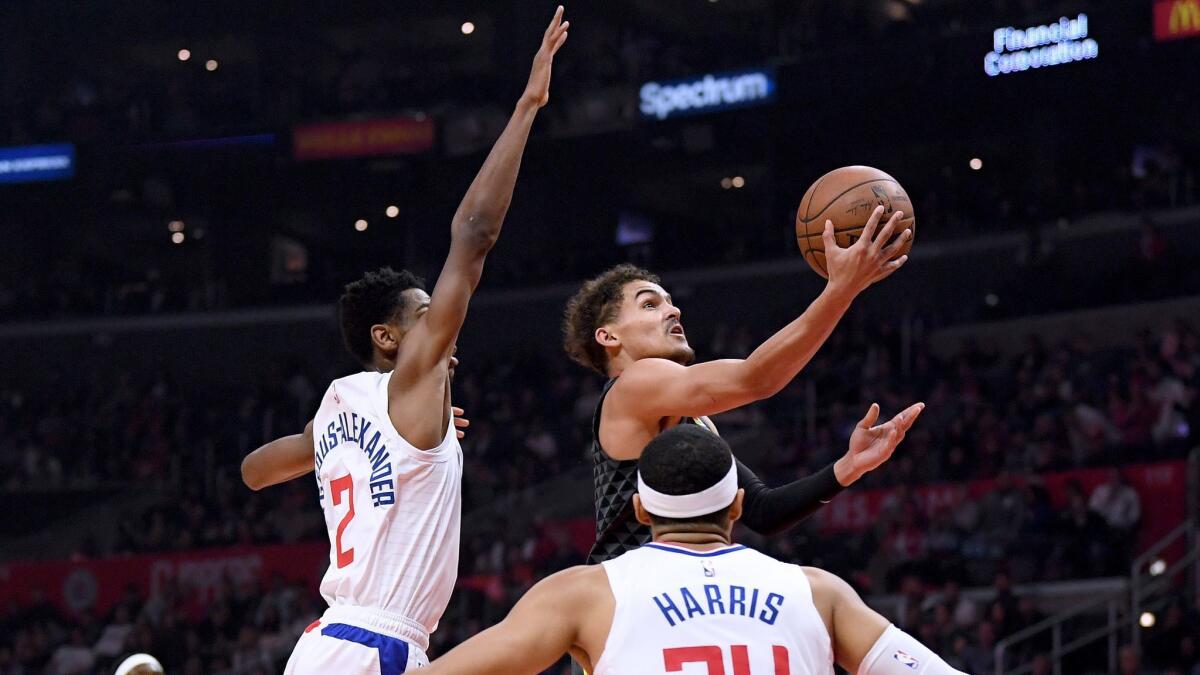 On a mid-November night in Atlanta, the Clippers ran toward their locker room laughing at what had just taken place.
They had trailed by 15 points against an Atlanta Hawks team already far from contention, the youthful combination of rookie point guard Trae Young and second-year center John Collins causing the Clippers fits from the start.
Only a furious fourth-quarter rally saved the Clippers, and it was that comeback that left them giddy.
After their latest tangle with the Hawks on Monday night, the Clippers left the court at Staples Center with none of the same joy and their three-game winning streak ended.
Atlanta had answers for the Clippers' fourth-quarter comeback this time. Young scored 26 points, Collins had 22 and strong offensive rebounding in the fourth quarter helped the Hawks to a 123-118 victory.
"I thought they played harder," coach Doc Rivers said. "I thought they came into the game with an intent to win the game. You could feel it. It was impressive to watch, honestly. They were deadly serious about winning this game.
"I thought we showed up and thought we were just going to win."
The defeat was damaging for a Clippers team straddling the line between being a playoff team and watching the postseason from home.
The Hawks (16-33) started the day with the fourth-worst record in the Eastern Conference, but "they looked like a really good team tonight," said Clippers guard Avery Bradley, who finished with 12 points.
Tobias Harris scored a team-high 30 points, his second 30-point performance in his last four games, and had eight rebounds and seven assists, and Lou Williams finished with 21 points despite missing his first 11 shots.
It was the Clippers' fifth game in seven days and, from Rivers' vantage point, they were sluggish from the start.
"I just didn't feel it tonight from our guys," Rivers said. "Should've just kept subbing and subbing and searching. Sometimes you do that, sometimes you let the guys who made the bed try to straighten it out."
The Hawks entered second in the league in points off paint touches and fifth in the league in three-point attempts per game, and the Clippers wanted to limit their opportunities in both areas.
Harris was whistled quickly for two fouls and held in check for much of the first half.
Meanwhile, Collins and Young flourished from up close and beyond the three-point line.
At one point in the second quarter, they'd combined for 29 points while the five Clippers starters had combined for 20.
"They were spreading us out and just moving the basketball," Bradley said. "We were letting our offense dictate the game for us and we weren't making a lot of shots and weren't getting back and defending on the other end."
The Clippers scored eight consecutive points to pull within one point with less than four minutes remaining in the second quarter but the Hawks regrouped to score the next six points for a 57-50 lead.
Young was excellent in the first half until the final seconds, when he fouled fellow rookie Jerome Robinson on a buzzer-beating three-point shot that went in.
Robinson missed the free throw but the basket cut the Clippers' deficit to 63-61 after they'd trailed by as many as 12 points.
By the opening minute of the fourth quarter Atlanta's lead had reached 14 points. It was 16 with 6:52 remaining, but down to eight four minutes later after Harris scored on consecutive possessions.
The Clippers trailed by six points when Young missed a three-point shot with 1:30 remaining, but had no chance to get closer.
Dwayne Dedmon grabbed an offensive rebound near the free-throw line, which left Rivers fuming while calling a timeout. He played backup center Montrezl Harrell, an undersized center, the final 19 minutes of the game in place of taller players but said he felt guards contributed to the missed rebounds as much as the frontcourt because so many rebounds were long caroms.
Out of the break, Dedmon dunked with his right hand and roared. After a dunk by Harrell, Young drilled a three-pointer in front of Rivers, the lead now nine and any chance of another startling comeback effectively dead.
Sign up for our daily sports newsletter »
Twitter: @andrewgreif
Get our high school sports newsletter
Prep Rally is devoted to the SoCal high school sports experience, bringing you scores, stories and a behind-the-scenes look at what makes prep sports so popular.
You may occasionally receive promotional content from the Los Angeles Times.