Clippers keep rolling without injured Blake Griffin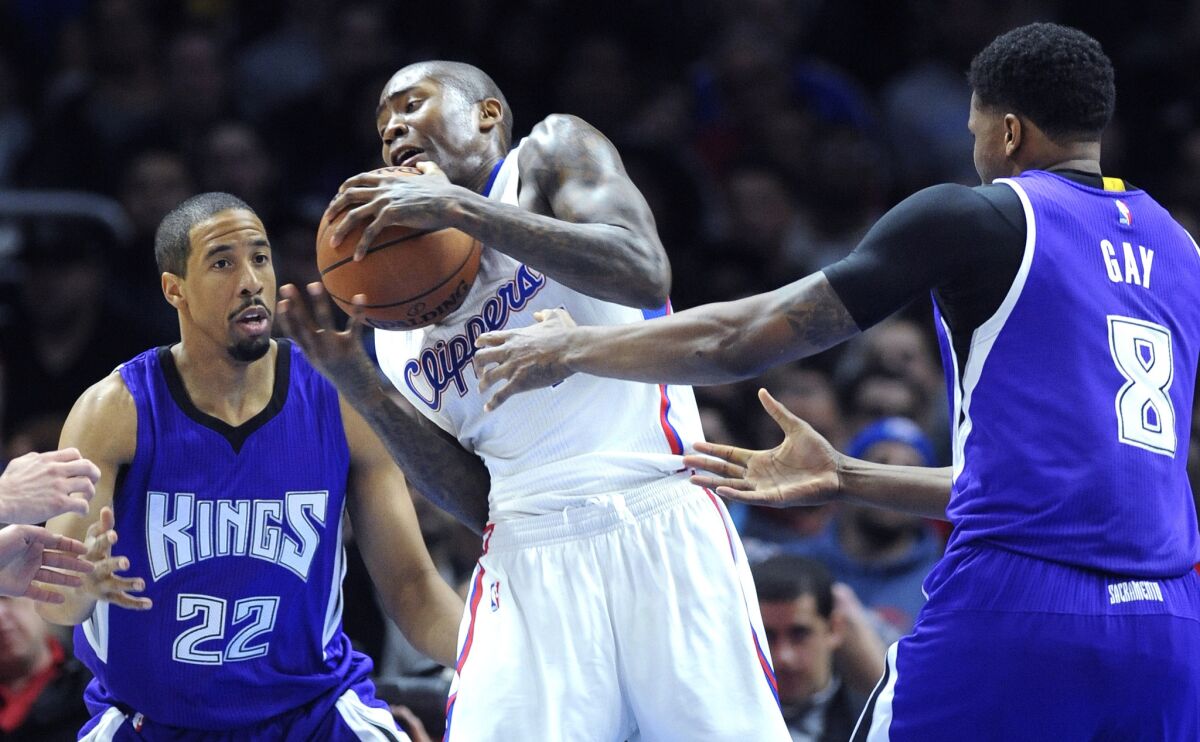 Clippers Coach Doc Rivers isn't about to call the staph infection that has sidelined Blake Griffin the last two weeks a good thing.
"I'm not going there," he said.
But notice he didn't call it a bad thing either.
"What you look for is, what is the good thing you get out of an injury?" he said. "I don't know what it is yet.
"Hopefully your team gets a little tougher mentally because they have to survive without their key guy. Hopefully a couple of guys get their rhythm, start playing better, get their confidence."
And hopefully, for Rivers' sake, the Clippers continue to do all those things as well as they did Saturday, when they rolled to their fourth straight win without Griffin, a 126-99 rout of the Sacramento Kings and new Coach George Karl at Staples Center.
The Clippers won three of those games by at least 15 points — all without their leading scorer and All-Star forward, who sat at the end of the bench Saturday in a striped polo shirt, his right elbow locked tight in a black metal brace.
And no one has been more responsible for that success than center DeAndre Jordan, who had 11 points and 15 rebounds, his fourth straight double-double. And Jordan, who has averaged 20.7 points and 20 rebounds in the last four games, did all that without a point or rebound in the second half.
Four other Clippers players also scored in double figures, including Jamal Crawford and Austin Rivers, who came off the bench to combine for 51 points. They also combined on the game's biggest play early in the second quarter when Crawford forced Sacramento's Rudy Gay into a turnover near the Kings' free-throw line, recovered the loose ball at midcourt, then made a no-look pass over his shoulder to Rivers, whose dunk put the Clippers ahead to stay.
The dunk, two of a career-high 28 points for the coach's son, was also part of a 23-4 second-quarter run that helped turned a 10-point first-quarter deficit into a 19-point advantage at the intermission, a lead the Clippers stretched to 34 points in the closing seconds of the third quarter before emptying their bench in the final 12 minutes.
"That second unit, that group, came in and changed the game for us," Rivers, the coach, said.
As for his son, acquired by the Clippers a month ago, the coach said he could sense a big game coming.
"You could see it," he said. "His confidence has grown since he's been here. Obviously tonight was a great night."
And the strong play couldn't come at a better time for the Griffin-less Clippers, who play division-leading Memphis on Monday before heading out on a weeklong trip in which they'll play their first three games against playoff-bound teams.
"Hopefully we can keep it up," Rivers said. "It's a long process.
"I'm going to say that every night until Blake comes back."
The Clippers will have a better idea when that might happen next week, after doctors remove the stitches from Griffin's surgically repaired right elbow.
As for what he does with his newly confident, newly tough Clippers when Griffin does return, Rivers wouldn't say.
"We'll figure that out when Blake comes back," he said.
kevin.baxter@latimes.com
Get our high school sports newsletter
Prep Rally is devoted to the SoCal high school sports experience, bringing you scores, stories and a behind-the-scenes look at what makes prep sports so popular.
You may occasionally receive promotional content from the Los Angeles Times.