Clippers' Lou Williams wants you to know the truth about his buzzer-beaters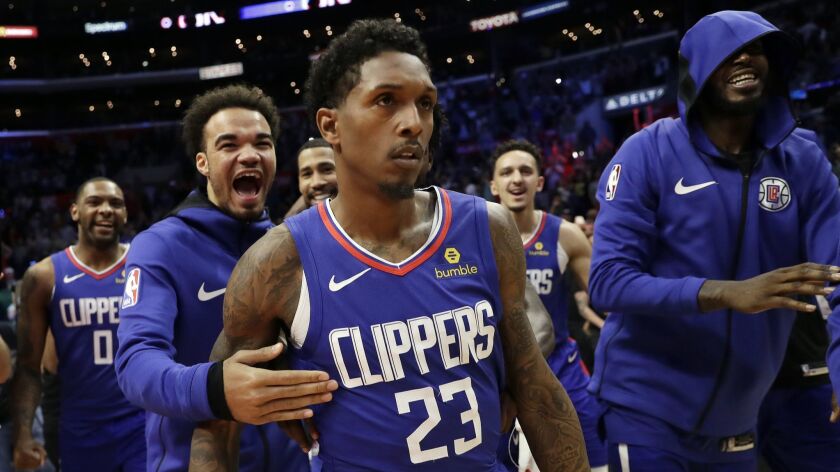 The question made Lou Williams smile on a night when he delivered the Clippers victory with his climactic three-pointer.
He had buried a contested 28-footer fading to his left as time expired, lifting the Clippers to a 119-116 win over the Brooklyn Nets Sunday night at Staples Center, and now Williams was being asked in the locker room if the report was true that this was the first buzzer-beating winner of his career.
With a twinkle in his eyes, Williams discounted that story, saying he recalled others.
"Yeah, a lot of them," Williams said, though he didn't offer any examples. "But, you know, it doesn't matter to me, man. This is the one that matters tonight. It was a good shot, a little deep. It's cool."
Williams has been a clutch performer throughout his career, and one of the NBA's best this season.
Williams is tied with Toronto's Kawhi Leonard, Denver's Nikola Jokic and Minnesota's Derrick Rose for the most field goals made in the final minute of regulation or overtime in go-ahead situations (five). Williams also is second in fourth-quarter scoring (7.9 points per game), trailing only LeBron James and James Harden (8.4).
As such, the legend of Williams grew some more after his game-winner and his 25 points in 27 minutes.
"He took the right shot," teammate Montrezl Harrell said. "He took the shot that he felt was a good shot and a good pull-up and we live with it. We definitely didn't have no problems with it. As you can see, he hit a big-time shot. That's what he's known for."
The Clippers had been headed to a comfortable win, with Williams hitting a floater and then finding Shai Gilgeous-Alexander for a three and a 10-point lead with 1:02 left. But then they lost all momentum and allowed a couple of three-point plays as the Nets closed on a 10-0 run, tying the game in a dunk by Jarrett Allen with 5.3 seconds left.
The Clippers called a timeout, then the ball was inbounded to Danilo Gallinari, who quickly passed to Williams on the wing. Williams dribbled around D'Angelo Russell to the top of the key and rose up over Spencer Dinwiddie for the winner.
After the game, Williams asked what it's like to provide those moments.
"It's good just to continue to roll, man," Williams said after lifting the Clippers to a season-best 11 games over .500. "Continue to roll, got the fans excited and my teammates excited. We just continue to roll, so it was cool."
Brooklyn coach Kenny Atkinson was an assistant with the Atlanta Hawks from 2012 to '16 and coached Williams for two of those years. So to see him come up big was not a surprise.
"Great shot by Lou," he said. "We definitely didn't want to foul him because we know how good he is at drawing fouls in those situations. We forced a tough shot. It was a fantastic, fantastic play by Lou.
"The plan was to get it out of his hands. And their alignment was such where we couldn't get it out of his hands. He's a master at getting open. We were going to hit it with two guys, but the spacing wasn't easy for us to do that. But again, hat's off to him. A heck of a shot."
After theball settled through the net, the usually subdued Williams did his best celebration, seemingly floating down the court and raising his hands to the crowd before he was mobbed by his teammates.
"I wasn't really looking for a celebration from my guy, man," Harrell said, laughing. "He don't really celebrate…He's just a professional bucket-getter, man. That's what he is."
The Clippers (41-30) have won seven of their last eight games. They are the eighth seed in the competitive Western Conference, six games ahead of their closest pursuer, Sacramento, and just 3½ games behind the third-seeded Houston Rockets.
"We understand the position that we're in," Williams said. "We understand that there is 3½ games that separate three from eight. We want to be in this playoff picture. We don't necessarily just want to be in. We want to put ourselves in the best position possible. So we got to continue to win."
Williams has a chance to win the NBA's sixth man of the year award for the third time, which would tie Jamal Crawford for the most in history. Williams has come off the bench in all 65 games he has played this season and leads the Clippers and all qualified NBA reserves in scoring (20.4) and assists (5.2). He's shooting 42.7% from the field and 35.8% from three-point range.
"He should be like the all-time sixth man every year. Know what I'm saying?" teammate Patrick Beverley said. "It's wild because, like, Lou is one of our best players. The selflessness of just coming off the bench…
"Anytime in his career, he could say, 'Doc, I want to start.' And Doc [Rivers] would have a hard decision to make, of course. But just his selflessness, his leadership, his calmness … Like, he hit his first game-winner ever and he had the weakest celebration. But that's how he is. He's cool. I tried to lift him up a little bit. But naw, we're just fortunate to have player like him on our team."
UP NEXT
VS. INDIANA
When: 7:30 p.m., Tuesday.
On the air: TV: Prime Ticket; Radio: 570, 1330.
Update: Harrell is fifth in the NBA in field-goal percentage at 61.2%. The Clippers are fifth in scoring (114.7) and second in three-point shooting (38.7%). The Pacers (44-26) are winless on a four-game West trip and lost at Portland on Monday night.
Twitter: @BA_Turner
---
Get the latest on L.A.'s teams in the daily Sports Report newsletter.
You may occasionally receive promotional content from the Los Angeles Times.