Lou Williams' buzzer-beating three-point shot lifts Clippers to win over Nets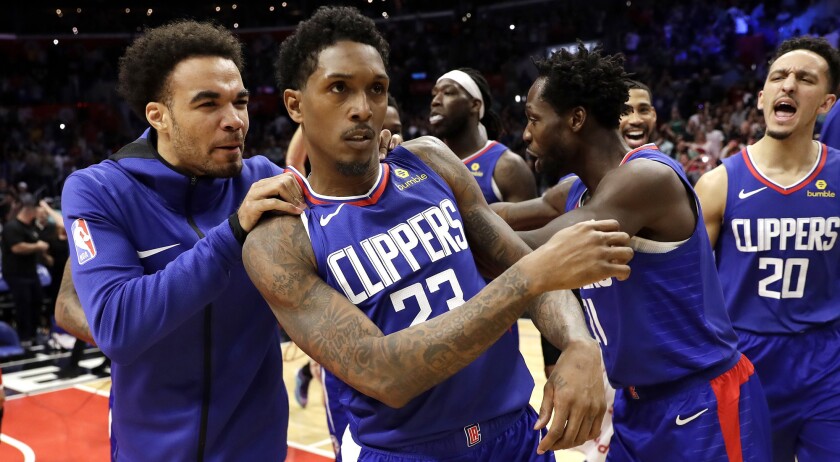 The public address announcer at Staples Center began the chant of "Lou! Lou! Lou!"
And soon the rest of the crowd joined in, the chorus getting louder and louder, the celebration growing and growing, just like the legend of Lou Williams. He provided another thrilling moment Sunday with a game-winning three-pointer as time expired to lift the Clippers to a 119-116 win over the Brooklyn Nets before 17,247 fans.
"I just shot the ball, honestly," Williams said in his normal cool and casual manner. "I was fading left and just got a shot at the rim."
He finished with 25 points and then did something that is unusual for him — he celebrated.
After his game winner, he did a slow, casual jog to the other side of the court, raising both hands in the air, rubbing his fingers together, his teammates chasing behind him.
"I get made fun of because I don't know how to celebrate," said Williams, who also had six assists. "My teammates say I don't know how to celebrate, so I've been working on my stuff because they say I don't show enough emotions. They said I don't know what to do, so I stole that one from [Montrezl Harrell]."
Williams smiled and looked over at Harrell, the one teammate that's constantly giving Williams a hard time about his lack of celebrations.
"Trez, do I celebrate?" Williams asked.
"Naw, you don't know how to," said Harrell, who had 20 points and 10 rebounds.
"I don't know how to," Williams responded, now laughing. "So I tried to do something. But it was cool."
When his teammates finally chased him down, Patrick Beverley lifted Williams into the air.
Harrell waited for Williams for walk towards him, then ranked his celebration.
"Uh, a three," Harrell said, laughing. "I already know this. I know he don't celebrate. I understand. I kind of knew it was going to be one of those casual walk-off things where he was just reacting to the crowd a little bit, but that's not in his game. My guy, he hit a shot. It ain't nothing new to him."
It had been a topsy-turvy affair between the Clippers and Nets.
The Clippers trailed by 19 points in the second quarter, took an 11-point lead in the third and tied the score 87-87 at the end of third on a Williams three-pointer. The Clippers opened a 14-point lead in the fourth, but that also disappeared.
The Nets' Jarrett Allen capped a 10-0 Nets run with a dunk, tying the score 116-116 with 5.3 seconds left.
But Williams came to the rescue again, drilling a three-pointer over D'Angelo Russell and Spencer Dinwiddie.
"It was 30 feet from the rim, fading away," Williams said. "If I would have played it straight up, you have had an opportunity to guard it out. A 30-foot fade-away, I don't really think they was even worried about that type of shot."
Rivers earns 300th win as L.A. coach
With the win over the Nets, Clippers coach Doc Rivers become the seventh coach in NBA history to win 300 or more games with two or more teams, according to the Elias Sports Bureau. Rivers is now 300-181 with the Clippers over six seasons.
Rivers joined Phil Jackson (Lakers and Chicago Bulls), George Karl (Seattle SuperSonics and Dallas Mavericks), Dick Motta (Bulls and Mavericks), Don Nelson (Milwaukee Bucks, Mavericks and Golden State Warriors), Pat Riley (Lakers and Miami Heat) and Lenny Wilkens (SuperSonics, Cleveland Cavaliers and Atlanta Hawks).
"I've been lucky," said Rivers, who has a record of 887-654 over his time with the Clippers, Celtics and Magic. "I've been blessed with great players and I have had a great staff. In a lot of ways, I'm the lucky one."
Twitter: @BA_Turner
---
Get our high school sports newsletter
Prep Rally is devoted to the SoCal high school sports experience, bringing you scores, stories and a behind-the-scenes look at what makes prep sports so popular.
You may occasionally receive promotional content from the Los Angeles Times.