Column: Clippers' coach sounds just like their biggest fan after 'special' season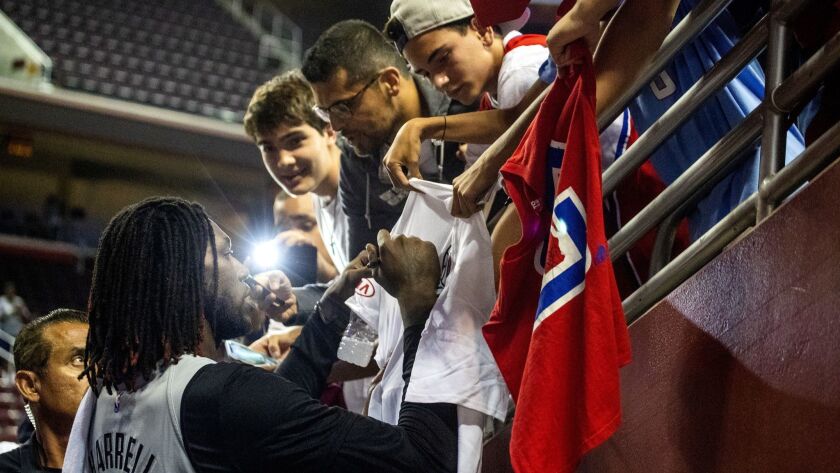 Hours after the Clippers' season had ended and moments after the bars across the street from Staples Center announced last call, "Clipper Darrell" Bailey still was walking around, trying to squeeze the final drops out of what he called his favorite season as a Clippers fan.
"This team never gave up; they fought to the end," Bailey said. "There were no egos and no expectations with this team. No one expected them to get to the playoffs. After the trade deadline, everyone thought we were giving away the season but to be in the playoffs and beat the Warriors twice in their house. … I'm so proud of this team. I love this team."
Bailey became a Clippers fan 25 years ago after getting fired from his job as an electrician. He said his boss told him he would never amount to anything on his way out the door. When Bailey got home that night and turned on the television, he heard the same thing being said about the Clippers.
"That's when I said this is going to be my team. We're going to rise together," Bailey said.
Many Clippers fans have a similar story of how they became aligned with this much-maligned team, one that has never reached the conference finals and shares its home with a storied franchise that has won 16 championships. They prefer the road less traveled. They can relate to being doubted and underappreciated. They go against the grain in a city where most flock toward superstars and celebrities.
"I've always loved the underdog," said Dong Park, a 42-year-old driving instructor who has had Clippers season tickets in Section 114 for the last nine seasons. "This team struck a chord with fans because they are fearless. With this team it doesn't matter how big the giant is. They are ready to die fighting. Whether they are down 20 or 31, they don't put their heads down and cower. They just keep fighting."
Sign up for our daily sports newsletter »
Doc Rivers has been coaching in the NBA for 20 seasons. He won a championship and coached in two NBA Finals with the Boston Celtics, won coach of the year with the Orlando Magic and got the Clippers to within a game of their first conference finals four years ago. He told his players, and later the media, on Friday night that he's never been more proud of a team than this season's Clippers squad.
"Because [of] the way they play," Rivers said. "This was the 2008 Celtics without [Kevin] Garnett, Ray Allen, [Rajon] Rondo and Paul [Pierce]. It really was, like, same heart, played every night hard. And that's why they connected. I think you could take this team and put it in every NBA city and when they leave, every NBA city would love this team.
"The people who come to games go to work all day. And they love to see players who play like they work. And I thought what the city saw in this team, what I saw in this team, was a hard-hat team that came to work every day. And it doesn't matter if you're blue-collar or white-collar, people appreciate workers. And I thought they looked at this team and said 'I like this team.' Even people who cheered for the other team in the city, even they saw this team and said that."
When Rivers became the Clippers' coach six years ago, he joined a nucleus of veterans locked into their ways. They had Chris Paul, Blake Griffin, DeAndre Jordan and Jamal Crawford, who were coming off a 56-win season and a Pacific Division championship. Rivers was brought in to take them over the hump, but he inherited a group that already had hit its ceiling.
The in-fighting, bickering and what J.J. Redick later called "Donald Trump-level pettiness" in the locker room prevented the "Lob City" Clippers from reaching their potential. They had become one of the most disliked teams in the NBA during the end of their run, and often made Rivers dread driving to work. This team and this season breathed new life into Rivers, who signed an extension with the Clippers.
"It was my pleasure to get in the car and drive to work," Rivers told his team after the game Friday. "I can tell you, I've done this a long time, I've had years getting in the car I didn't want to start it up, let alone get to work. This group, I couldn't wait to see y'all, I couldn't wait to be around y'all, you gave me everything."
As much as Rivers and the fans love this team, most realize the Clippers will look different next season. The team will be in position to attract two star free agents and potentially trade for another. If the Clippers want to be more than a feel-good story in the first round of the playoffs, the roster will have to improve.
Even if they brought back the same squad, it wouldn't be the same. You couldn't re-create the unexpected magic that came with a team that was projected to win 35 games earning 48 victories and forcing the Warriors to play six games in a playoff series for just the second time since Kevin Durant joined them in 2016.
"This team is always going to have a connection with the fans," Bailey said. "They were special, but this is going to be a big summer for the Clippers. This is just the beginning. After we win the championship next season, I'm going to be out here again partying for seven days and seven nights."
---
Get our high school sports newsletter
Prep Rally is devoted to the SoCal high school sports experience, bringing you scores, stories and a behind-the-scenes look at what makes prep sports so popular.
You may occasionally receive promotional content from the Los Angeles Times.