A still-rusty Blake Griffin shakes off dismal first half to help lead Clippers past Dallas, 98-91
Ben Bolch and Lindsey Thiry discuss the Clippers 98-91 victory over the Mavericks, including Blake Griffin's performance and the approaching playoffs.
Moments after Blake Griffin walked off the court for halftime Sunday, an advertisement played on the Staples Center scoreboard. Griffin played the part of a plaid sports coat-wearing TV weatherman who said his midrange jumper was on and making it rain.
The stat sheet said otherwise. The Clippers power forward had missed nine of 11 shots to that point, including five of six jumpers. In the locker room, his teammates repeated the same phrase, over and over: keep shooting.
Not even Griffin, still trying to find his rhythm in his fourth game back after a 45-game absence, was sure that was a good idea.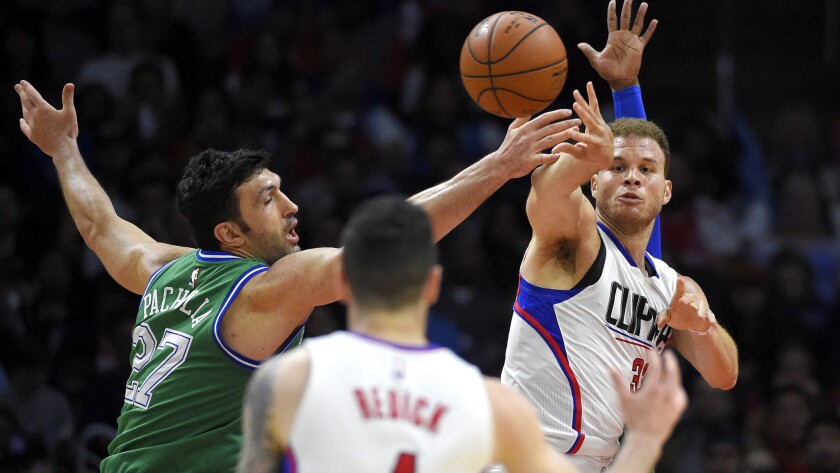 "It's great to have that type of encouragement," he said, "but at the same time when you feel like you're one for 20 at halftime, it's hard to have that mind-set."
Griffin familiarized himself with the basket in other ways while scoring 13 of his 17 points during the second half of the Clippers' 98-91 victory over the Dallas Mavericks. He aggressively rolled toward the rim and made five of seven shots, all of the makes coming from within four feet of the rim.
Griffin made seven of 18 shots overall but was stronger in other areas, finishing with 11 rebounds and seven assists. He said his defense triggered his offense by getting him into the flow of the game and helping the Clippers lock down Dallas during a third quarter in which they outscored the Mavericks, 27-12.
"You've got to figure out a way sometimes to get yourself into the game," Clippers Coach Doc Rivers said, "and that's what he did."
Griffin's all-around play was reminiscent of the player who notched three triple-doubles in the playoffs last season and an encouraging sign that he may be on the verge of shaking off a layoff of more than three months.
He was virtually unstoppable in the fourth quarter. He took a pass from Jeff Green for a dunk, made a turnaround hook shot and grabbed a bounce pass from Chris Paul for a cutting layup on which he was fouled.
"That was the Blake that we know, just being aggressive," said Paul, who had 11 assists to go with his five points. "It's good to see spurts from him like that."
Jamal Crawford scored 22 points and J.J. Redick had 20 for the Clippers (52-28), who have won five consecutive games and nine of their last 10, mirroring a stretch last season that presaged their sharp play in a first-round playoff series victory over San Antonio.
Griffin hardly looked playoff-ready in the first half. He airballed a baseline jumper from 19 feet and yelled in frustration while walking toward a timeout huddle.
"My rhythm was off," Griffin said. "I thought I was in my head a little too much."
Griffin said he was still rebuilding his strength and conditioning. His decision making appeared optimal when he found Crawford in the corner for a three-pointer that gave the Clippers a 95-86 lead with 2:58 left and essentially finished the Mavericks.
Raymond Felton had 21 points off the bench for Dallas, which fell short despite some success in repeatedly sending Clippers center DeAndre Jordan to the free-throw line. Jordan missed 17 of 23 attempts, most coming after he had been intentionally fouled, but could take some solace in his 14 points and 10 rebounds.
Griffin said he wasn't sure whether he would play in both of the Clippers' final two regular-season games. He said his status for the game Wednesday at Phoenix would depend on how much he plays against Memphis on Tuesday.
He seems to have found a new approach, if not his old form.
"I've put a lot more emphasis defensively, making sure I'm on rotations and making sure I'm there for guys, letting the offense kind of come as it does," Griffin said. "I'm trying not to force anything."
ben.bolch@latimes.com
Twitter: @latbbolch
---
Get the latest on L.A.'s teams in the daily Sports Report newsletter.
You may occasionally receive promotional content from the Los Angeles Times.