DeAndre Jordan knows it's going to get awkward with Clippers coming to town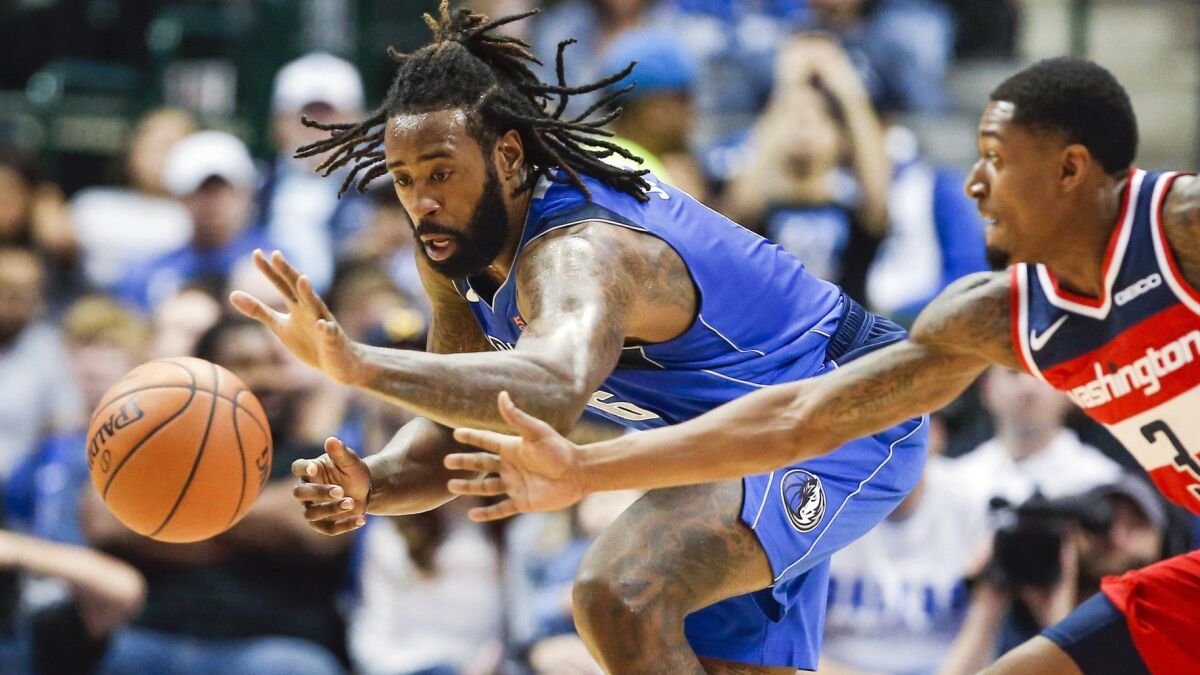 Earlier this season DeAndre Jordan jogged down the tunnel at Staples Center the way he had for all of his professional life. He moved through the two large doors, passed the Lakers locker room and turned left midway down the hall for the door leading to the locker room where he got dressed, where he got taped, where he joked, cursed and laughed alongside teammates.
It was familiar, as if his body's internal GPS told him to turn left.
"And that was the wrong locker room, obviously," Jordan said.
The longtime Clipper is months into the season with his new team, the Dallas Mavericks, and visiting Staples Center for the second time this fall to face the Lakers was still a little strange Friday.
But that awkwardness and unfamiliarity won't be anything like what Jordan will deal with Sunday night in Dallas — and Dec. 20 in Los Angeles — when he sees familiar faces from his former organization.
"I'm sure it'll be weird, playing against, seeing that Clippers jersey," he said. "It is going to be weird."
The breakup with Jordan was less devastating than the one with Chris Paul, which triggered the first part of a rebuild, or as sudden as the one with Blake Griffin, whose trade sent the rebuild into full swing. No, when the season ended, the Clippers tried to facilitate a sign-and-trade deal with the Mavericks, the home-state team Jordan committed to signing with in 2015 before changing his mind and returning to L.A. When a deal couldn't be reached last summer, Jordan opted out of the final year of his contract and signed for one year in Dallas.
He'll be a free agent again this summer and a return to Los Angeles is a possibility, though it more likely could be with the Lakers.
Jordan swears he's not paying a lot of attention to the Clippers' unexpected reign atop the Western Conference. He still talks with coach Doc Rivers. He still has a lot of strong feelings about the team that drafted him, the place where he went from a second-round project to one of the top big men in the NBA.
"I was there for 10 years, man, a very long time. In the NBA, that's a very long time," Jordan said. "I have great feelings about the team and Doc and the time I had there. I had a lot of my firsts there. Everything. I was an Olympian there. Playoff runs. All-NBA team. All of that stuff. It's definitely something that's special."
He owns the record for the most games played by a Clipper and played the second-most minutes in team history. He owns the franchise records for field-goal percentage, rebounds and blocked shots.
The Clippers offered Jordan a contract extension before the 2017-18 season, but the sides couldn't reach a deal.
After the Paul and Griffin trades, it was clear that Jordan wasn't part of the team's future — not at a $20-million-plus price tag. Jordan had fooled himself into thinking he'd never play anywhere else, a realization he had to quickly shake off.
"It's a shock. But that's when you think that this really is a business. I mean, it sounds bad, but nobody really gives a … about anybody. … That was the first time I really felt like there was no [connection]," Jordan said, miming it by repeatedly clasping his hands.
While that might be true organizationally — the Clippers dismantled the best team in their history in a year — it's not true personally.
"We've just had a great relationship, and that's what this is all about," Rivers said. "He's a guy where our relationship has gone past the sidelines."
The two men will share an occasional meal and drink. They still talk frequently.
"We're great. That's my guy," Jordan said. "He was really important for my growth. He helped me with learning how to be a pro, with learning how to study the game even more with confidence and comfortability, taking ownership over something. He was the first guy who really gave me a chance and helped me play through mistakes — just be a player."
That growth has continued in Dallas, with Jordan suddenly a good free-throw shooter. After being one of the worst in the league while with the Clippers, he's making 77% of his free throws, even shooting a technical free throw, albeit reluctantly, for the Mavericks.
"Rome wasn't built in a day. It was built in 11 years," Jordan joked of his career. "I did go to college for eight months — I guess they taught me something."
There will probably be some laughs Sunday night when he sees Rivers and some of his old teammates. Anyone who knows Jordan probably expects a playful middle-finger salute and a hug. Clippers guard Lou Williams, he said, can expect to be fouled.
"I'm sure it'll be just like an old practice," Jordan said.
But when it's over, he'll be sure to go to the right locker room.
Twitter: @DanWoikeSports
---
Get our high school sports newsletter
Prep Rally is devoted to the SoCal high school sports experience, bringing you scores, stories and a behind-the-scenes look at what makes prep sports so popular.
You may occasionally receive promotional content from the Los Angeles Times.