Newsletter: Clippers! Team's mental toughness is being tested early this season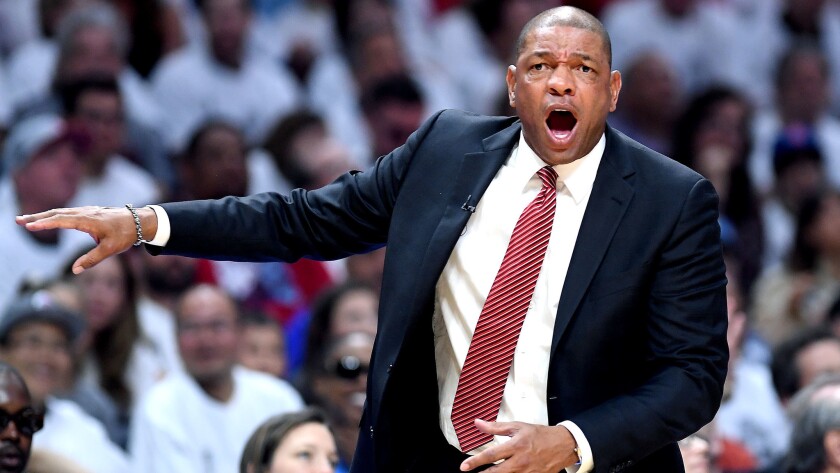 Hi, my name is Broderick Turner, and welcome back to the Los Angeles Times' Clippers newsletter.
The Clippers' fortitude is being tested.
Constant losing will do that to a team.
And the Clippers have been losing and losing and losing, to the tune of six consecutive games.
The path they take forward will determine their fate — for better or for worse.
Woe-is-me is one approach when things look their darkest.
Resolve is another step to take during dire moments.
So, what will it be Clippers?
"My job is to make sure these guys know that we just can't accept it. You may lose, but you can't accept it," Clippers coach Doc Rivers said. "You have got to keep wanting to find a way to win that game.
"We are clearly in that stage right now. We've just got to find a way to squeeze out a win somewhere and then get another one, get another one and then get a guy back and then get another one and then now you're fixed."
Injuries have played a role in the Clippers' uneven play.
They have been without three starters — Patrick Beverley (right knee), Danilo Gallinari (left glute injury) and Milos Teodosic (plantar fascia in left foot).
That's a legitimate excuse.
But it's still an excuse and it's not flying with fans as other NBA teams also suffer through injuries.
"We've got a lot of guys who can play basketball on this team. We've just got to figure out a way, man," DeAndre Jordan said. "That's why they did the job they did this summer trying to get guys to make us have some more depth just in case we have situations like this. Now we've got a situation where we've got a lot of guys out, a lot of guys who are the makeup of what we've been doing and are out. Other guys have got to step up."
It doesn't get any easier for the Clippers.
Their next five games are on the road.
In their first attempt to break the losing streak, the Clippers will have to meet LeBron James and the Cavaliers in Cleveland.
Then it's a back-to-back game at Charlotte, which just got Nicolas Batum back from an elbow injury.
The Clippers will see the multifaceted 7-foot-3 Kristaps Porzingis at New York, then head to Atlanta, then finish at Sacramento.
"We can't afford to keep our heads down," Austin Rivers said. "The games keep coming. Even if you wanted to keep your head down, it's not going to do you no good. We've got some guys playing their [butts] off but we're losing games. So we've got to figure ways to help in other ways.
"I'm scoring a lot, but I've got to do something else. I've got to defend better. I've got to make other plays. Lou [Williams] has got to defend better. Blake [Griffin] has got to defend better. DJ has to be more aggressive on the offensive end. We all can do more. I can go down the line. Everybody. It's on us. It's on the core of the group to get this done."
Up next
Friday at Cleveland, 4:30 p.m.
Saturday at Charlotte, 4 p.m.
Monday at New York, 4:30 p.m.
Wednesday at Atlanta, 4:30 p.m.
In case you missed it
Clippers try to maintain their confidence
Patrick Beverley says sore right knee is feeling better
Clippers' Sindarius Thornwell survives baptism against Thunder's big three
And finally
We'd love for you to subscribe or to spread the word and ask your friends to subscribe. It's free! Click here to subscribe.
Have a comment or something you'd like to see in a future Clippers newsletter? Email me and follow me on Twitter: @BA_Turner.
---
Get the latest on L.A.'s teams in the daily Sports Report newsletter.
You may occasionally receive promotional content from the Los Angeles Times.