Newsletter: Clippers! Injuries have helped Doc Rivers learn some things about his team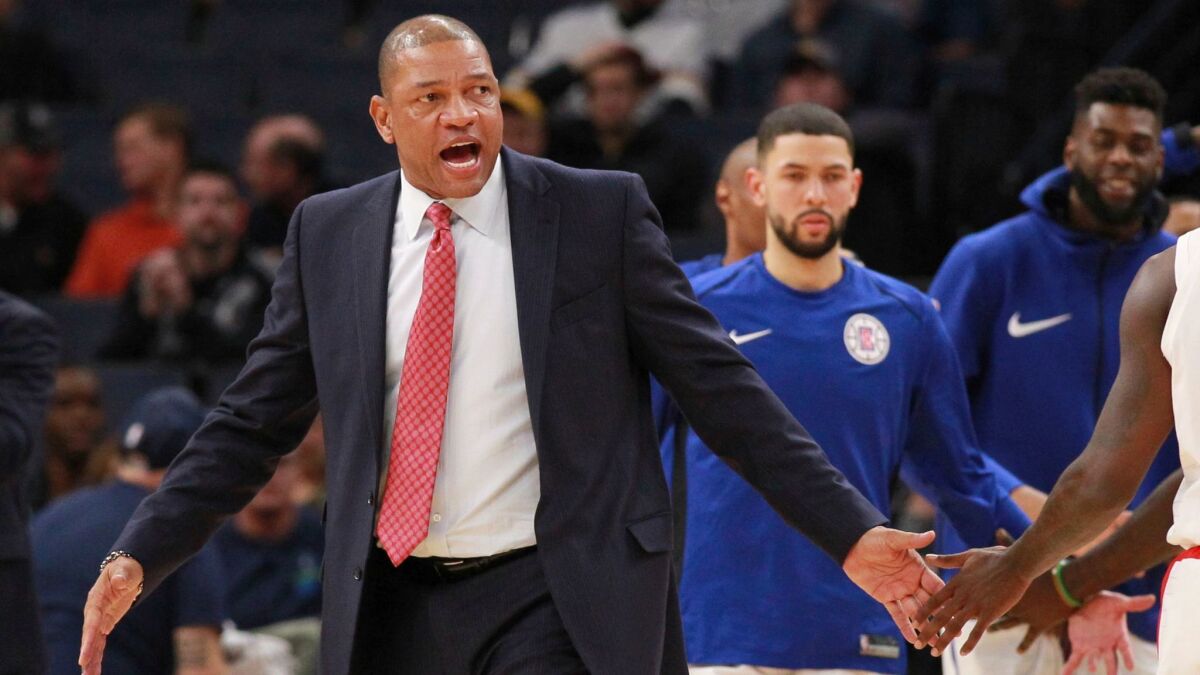 Hi, my name is Broderick Turner, and welcome back to the Los Angeles Times' Clippers newsletter.
The Clippers sincerely hope the plight that has engulfed them will benefit them at some point during this tumultuous season.
Of course Clippers coach Doc Rivers can't predict the future and what the results will be going forward.
But in many ways, Rivers has reasoned, throwing young players who were expected to see limited action into the fray because of the all-consuming injuries has been a positive experience already.
So when Blake Griffin (sprained left medial collateral ligament injury to knee), Danilo Gallinari (bruised left glute) and now Wesley Johnson (left foot soreness), eventually return to the fold from their injuries, the Clippers view themselves as having a deeper team.
The experience rookies C.J. Williams, Jamil Wilson, Sindarius Thornwell and Jawun Evans are getting now has been and will be helpful in the process.
And the foursome gained even more experience when Milos Teodosic, Lou Williams and Austin Rivers were out.
"It's very beneficial for us," Rivers said. "Obviously we are dropping games. But these young guys are thrust into a starting role sometimes, or even a starring role. And you can learn a lot about them. They can learn a lot about themselves. They kind of find themselves. They are playing against elite talent every night. There's no bad in that for them."
C.J. Williams, signed to a two-way contract to play for the Agua Caliente Clippers of Ontario, has played in 17 of the Clippers' 29 games and started in three.
Wilson, also signed to a two-way deal to play in the NBA's development league, has played in 11 of the games and started six.
Thornwell, a second-round draft pick, has played in all of the games and started seven.
Evans, also a second-round pick, has played in 22 games without any starts.
"They are playing hard," Rivers said. "I'm getting texts from opposing coaches now, like, 'My gosh, your guys are hard to play against because they just play so hard.' That's good to hear. Now we want to play hard and smart, hard and execute and do all the other things. That's the part of the coach."
The next step is getting to the finish line with a victory.
It's not as if Rivers is expecting C.J. Williams, Wilson, Thornwell and Evans to provide a game-winning shot, or even be in the game late.
But all four have played a role late in a few games, either as a defensive replacement or a substitute helping to run the offense.
Again, learning how to execute late in a contest will be beneficial for those players and for the Clippers.
"We've proven we can get to the fourth quarter," Doc Rivers said. "That's when we wish the game would stop sometimes, you know? That's the tough part. I've experienced that before when you don't have a lot of closers and the other team has two or three closers. It's tough, but it is what it is."
In case you missed it
Danilo Gallinari will be out for an extended time because of partial glute tear.
Injuries force Doc Rivers to get creative with lineup
Up next
(All times Pacific)
Friday at Houston, 5 p.m., ESPN
Saturday at Memphis, 5 p.m.
Tuesday vs. Sacramento, 7:30 p.m., NBATV
And finally
We'd love for you to subscribe or to spread the word and ask your friends to subscribe. It's free! Click here to subscribe.
Have a comment or something you'd like to see in a future Clippers newsletter? Email me and follow me on Twitter: @BA_Turner.
Get our high school sports newsletter
Prep Rally is devoted to the SoCal high school sports experience, bringing you scores, stories and a behind-the-scenes look at what makes prep sports so popular.
You may occasionally receive promotional content from the Los Angeles Times.