Clippers can't stop Pistons' Blake Griffin, who scores 44 points at Staples Center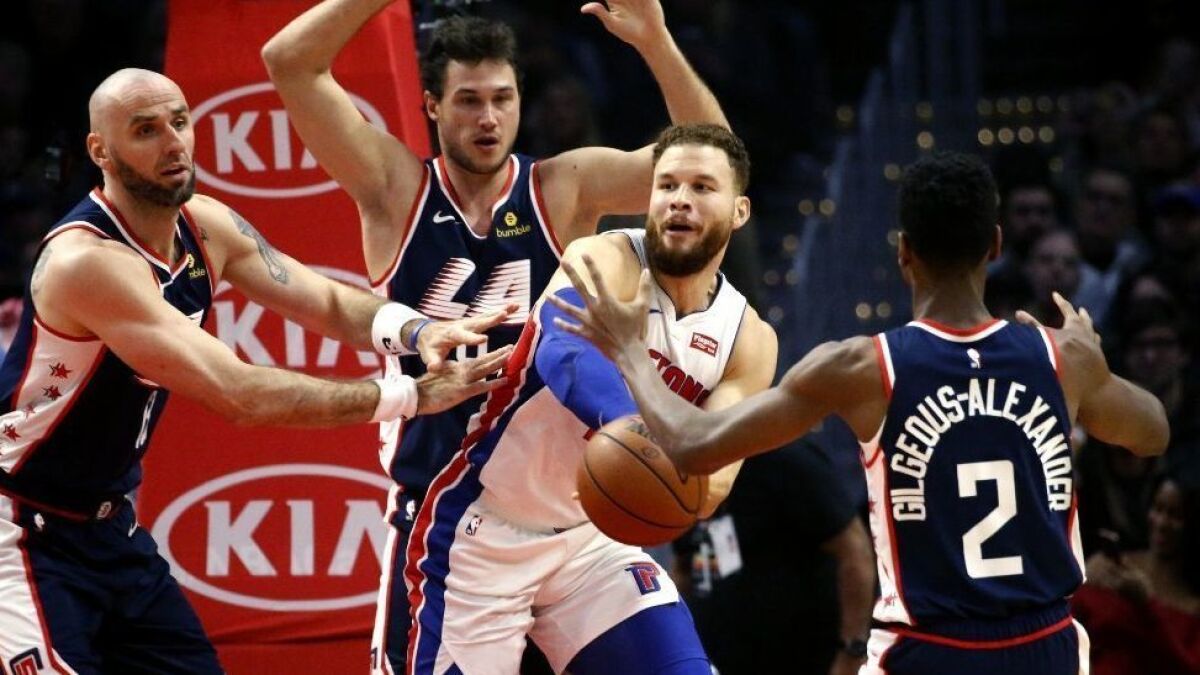 His jersey was red, white and blue, just like always.
Fans seeking autographs pleaded in vain for him to approach, the same as before.
In every other way, Saturday's appearance at Staples Center was unlike any other for Blake Griffin.
Facing the Clippers in Los Angeles for the first time since the trade that sent him to Detroit one year ago, Griffin was a visitor on the court he used to call home. In the process, the All-Star forward produced a vintage performance, the kind that made him, and his former team, a league-wide draw for nearly eight seasons.
Griffin scored 44 points, grabbed eight rebounds and assisted on five baskets in Detroit's 109-104 victory over the Clippers, who have lost two games in a row.
The Pistons were desperate for something positive after losing seven of their last eight games entering Saturday's early-afternoon tipoff, but the victory appeared especially cathartic for Griffin, who was caught by surprise when the trade happened.
He left Saturday with a win, adulation and the upper hand.
"I looked forward to seeing people I hadn't seen in forever, people that I grew to be very, very close with over my time here," he said. "But most importantly, for us, we need wins right now."
Griffin was the focal point from the moment he walked into the arena and chatted amiably with a handful of Clippers staffers.
Clippers owner Steve Ballmer watched Griffin's pregame warmup from the sideline and extended a hand when it was over as Griffin sprinted off the court. The moment, captured on video and tweeted by thousands across social media, was taken as an indication of what Griffin thought of his former team.
"Most trades and departures don't go very smoothly, for the record," Clippers coach Doc Rivers said before tipoff. "They just don't."
Griffin denied intentionally snubbing Ballmer.
"For nine years now, as soon as I'm done doing my pregame shooting, I make sure there's a path and I take off running to the locker room," Griffin said. "I don't stop running. A lot of you know that. A lot of you have been here for a long time and seen me do that before. I don't change that for anybody."
He also declined to say whether he would shake Ballmer's hand in any other setting.
"I'm honestly not here to answer hypothetical questions, to be honest," he said.
It wasn't always so tense.
Before tipoff, Rivers praised all that Griffin had helped the Clippers accomplish. As the Clippers shot free throws in the second quarter, Lou Williams sidled up to Griffin, tapped the back of his shorts and chatted with his former teammate, trading smiles. Danilo Gallinari, whom Griffin and Rivers had recruited over lunch in free agency in 2017, tapped Griffin's chest after a two-minute tribute video recounted Griffin's high-flying highlights that helped lift the Clippers from the cellar to contender.
A standing ovation followed, and Griffin waved.
"It was cool man, really cool," Griffin said. "To be welcomed back like that it means a lot."
Gallinari scored a team-high 23 points in the loss.
Given a year of distance from the trade, both teams feel they've benefited. The Clippers (24-18) received financial flexibility in the future and a collection of players that have kept them competitive in the present. Detroit (18-23) acquired the type of brand-name star it might otherwise struggle to land in free agency and Griffin has flourished, including Saturday.
When the Clippers double-teamed him in the first half, he passed to open shooters who made 11 of 22 three-point shots. He scored 40 points or more at Staples Center for the ninth time in his career after scoring 26 in the first half.
"Oh, he was great," Rivers said.
Perhaps no single moment felt more familiar than during the third quarter, when Griffin saw an opening at the three-point line and drove for a soaring dunk. The crowd roared, just like old times.
Twitter: @andrewgreif
---
Get our high school sports newsletter
Prep Rally is devoted to the SoCal high school sports experience, bringing you scores, stories and a behind-the-scenes look at what makes prep sports so popular.
You may occasionally receive promotional content from the Los Angeles Times.