Clippers' Paul Pierce shows off an old move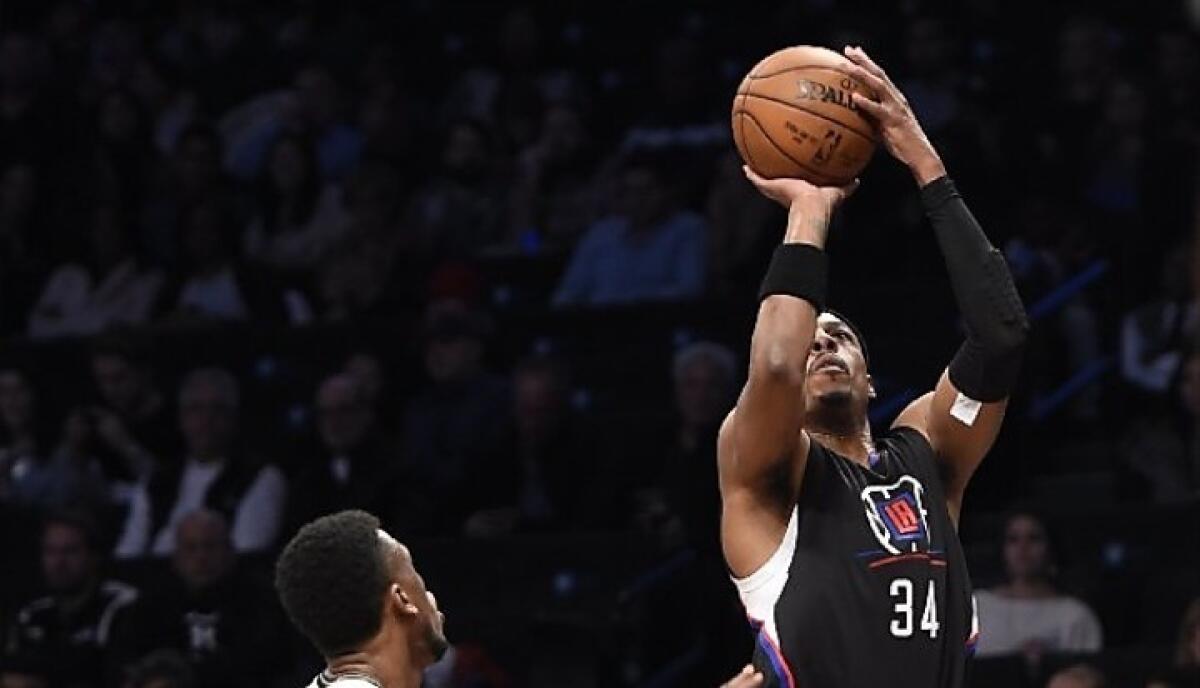 REPORTING FROM NEW YORK —
Paul Pierce literally rose to the challenge.
It came after the Clippers forward had just been teased by teammate Chris Paul during a timeout early in the fourth quarter for having settled for a 12-foot jump shot instead of taking a more assertive approach against the Brooklyn Nets.
" 'Paul, in your younger days you would have dunked that,' " Coach Doc Rivers said, recalling the conversation between his All-Stars on the bench Saturday night at Barclays Center. "And then Paul said, 'I still can.' "
Two possessions later, Pierce delivered. He drove around Thaddeus Young for a left-handed dunk, prompting center DeAndre Jordan to hop off the bench in delight that was only partially subdued by Pierce being called for an offensive foul that wiped out the dunk.
"Charge or not, offensive foul or not, I was just excited that he gave us that little boost," Jordan said. "I don't know if we'll get that again until 2016, but it was good to see."
It was a rare highlight for a 38-year-old who has looked older than his years for much of the first quarter of the season. Pierce finished the Clippers' 105-100 victory with 10 points, only the fourth time this season he has reached double figures in scoring.
Rivers joked that Pierce should have been credited with two more points.
"I think on principle, you cannot call anything if Paul Pierce is dunking the ball," Rivers said. "Even if he did it, you just on principle, you get a grace period after you get 36, if you get a dunk it should count. That's what I believe."
Hugging it out
The Clippers have a reputation around the NBA as whiners, but there was actually a heartwarming exchange in the third quarter involving Jordan and official John Goble.
Goble had just called the Clippers for a defensive three-second violation when Jordan walked over to him and embraced him in a hug. It was Jordan's way of saying he was sorry after thinking Goble had called the infraction on Jordan when in fact he had called it on Blake Griffin.
"I apologized for my frustration at him," Jordan said. "I think he liked it. He didn't engage me back in the hug, but it's the thought that counts."
Standing invitation
Brooklyn's Brook Lopez committed an odd lane violation midway through the third quarter when he didn't clear out of the area while Paul was taking a technical-foul free throw.
"Brook was standing down there like it was a [regular] free throw," said Paul, who was awarded a second free throw after missing the first. "You can't do that. You're supposed to be back."
Paul might not have minded under different circumstances.
"If I had made it," he said, "I wasn't going to say anything."
Timeshare concerns
Nets fans berated the Clippers for much of the game with the usual derogatory chants such as "Overrated!" Then there was the one they unleashed in the second quarter: "Get your own building!"
Follow Ben Bolch on Twitter @latbbolch
Get our high school sports newsletter
Prep Rally is devoted to the SoCal high school sports experience, bringing you scores, stories and a behind-the-scenes look at what makes prep sports so popular.
You may occasionally receive promotional content from the Los Angeles Times.