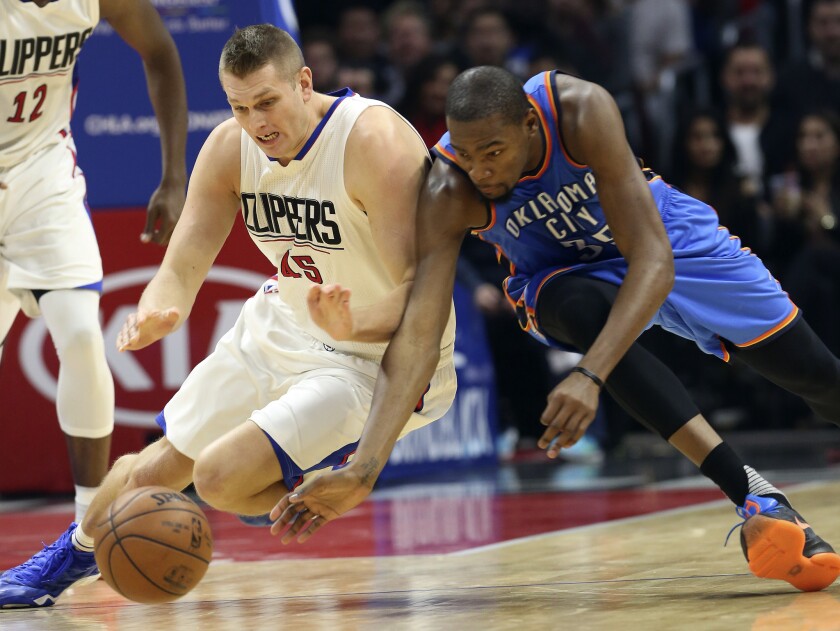 Reporting From CHARLOTTE, N.C. —
He sat for 11 consecutive games during one stretch this season, the time on the bench forcing Cole Aldrich to take stock of his game.
Aldrich has delivered for the Clippers when they needed him the most.
The 6-foot-11 reserve center played in his sixth consecutive game and posted yet another productive stat line across the board during the Clippers' 122-117 victory over the Charlotte Hornets on Wednesday night.
Aldrich had seven points, three rebounds, two assists, two steals and two blocked shots in 14 minutes, 27 seconds.
"It's getting more comfortable with the guys that are out there," Aldrich said. "We've really amped up our defense on our second unit and that's helped us win some big games."
When he wasn't playing, Aldrich had to get in the gym and get in extra work.
He wanted to make sure he was ready whenever Coach Doc Rivers called his name.
"It's tough," Aldrich said. "The biggest thing is making sure is to get in every day, running, doing all that you need to do just to stay in shape. So when game time comes, you just be ready. It's not easy, but it comes with the territory."
Aldrich has become the Clippers' third big man, a role that has become more important now that Blake Griffin is out with a partially torn left quad tendon.
Aldrich stepped into that space when Josh Smith was unable to.
"We probably thought we waited longer than we should have, really," Rivers said of playing Aldrich. "I think Cole, when he started out in camp, I didn't think he was in great shape. And I think he got into amazing shape. He's been great."
The Early incident
When New York Knicks forward Cleanthony Early was robbed and shot in the right kneecap early Wednesday, it was a wake-up call for some players.
Clippers sixth man Jamal Crawford said his teammates didn't have a formal meeting about the situation, but many of them did talk about what happened to Early and how he was held up leaving a strip club in New York and the Uber car he was riding in got pulled over by gunmen.
"I don't know him personally, but it's the NBA brotherhood and sports in general," Crawford said. "Like if it was in football, it's the same thing. We'd all still have that conversation. That's a tough situation. I don't know that much about it, but getting shot is enough for me.
"Think about it. Everybody uses Uber. It's scary."
UP NEXT FOR CLIPPERS
AT NEW ORLEANS
When: 5 p.m. PST Thursday.
Where: Smoothie King Center.
On the air: TV: Prime Ticket; Radio: 980, 1330.
Records: Clippers 20-13; Pelicans 10-21.
Record vs. Pelicans: 1-0.
Update: New Orleans has the second-worst record in the Western Conference, fourth worst in the league. Anthony Davis leads the Pelicans in scoring (23.5) and is fifth in the NBA in rebounding (10.9).
Twitter: @BA_Turner
---