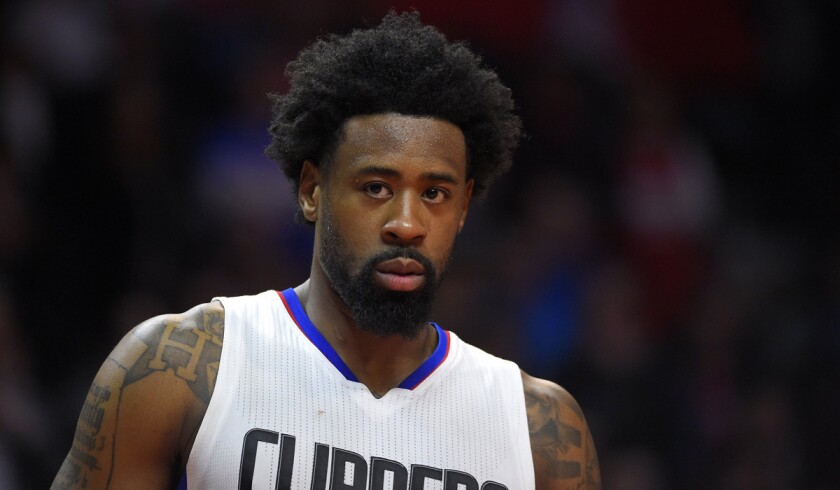 It would have been easy for the Clippers to blame the officials for their loss to the lowly Minnesota Timberwolves (15-36) on Wednesday night at Staples Center.
Instead, the Clippers, mostly, pointed fingers at themselves for the defeat.
The technical foul Chris Paul was assessed with 20.6 seconds left, and the Clippers trailing by two points, played a role in the team having its four-game winning streak snapped. The NBA ruled on Thursday that official Lauren Holtkamp's technical foul call was correct.
The two technical fouls Clippers reserve guard Austin Rivers picked up in the second quarter that led to his ejection didn't help matters either.
But Clippers center DeAndre Jordan said it was more about his team's approach than any other factor that hurt them.
"The officials didn't have anything to do with how we played," Jordan said after Wednesday night's 108-102 loss. "We didn't come out with the right mind-set, the right spirit, and that's why we lost this basketball game. If we come out and not play a team's record, but play basketball, we win this game.… This is about us. We've got to continue to get better and just play basketball."
The Clippers were inadequate on defense, allowing the Timberwolves to make 50.6% of their shots and 47.1% (eight for 17) of their three-pointers.
J.J. Redick had a rough shooting night, going just one for nine from the field.
"We don't want to give up fourth-quarter techs," Jordan said. "Chris knows that. But we made so many mistakes prior to that. Our defense was terrible tonight. We were a step slow on everything… We can't take teams lightly."
The Clippers (32-17) start a four-game trip that lasts until the All-Star break, with their first game Friday night in Orlando against the Magic (21-27).
"We have to figure it out," Paul said. "We have a long flight to Orlando [Thursday] morning and Orlando is going to be waiting on us. We got to figure it out because games like this [against Minnesota] can't happen."
Crossing the line?
If Redick seems to be watching his feet more than the other contestants in the three-point shooting contest during All-Star weekend, there will be a good explanation.
The shooting guard who joked that he set the record for most long two-pointers in a three-point contest last year after repeatedly crossing the three-point line hopes to redeem himself Feb. 13 in Toronto after being selected as one of the eight participants in the three-point contest.
The others selected to compete were Golden State's Stephen Curry and Klay Thompson, Houston's James Harden, Milwaukee's Khris Middleton, Toronto's Kyle Lowry, Miami's Chris Bosh and Phoenix's Devin Booker. Redick leads the NBA in three-point accuracy, making 48.2% of his shots beyond the arc.
"It is an elite field of shooters and I look forward to not shooting as many long two-pointers this time," Redick said in a statement.
Up next for Clippers:
AT ORLANDO
When: 4 p.m. PST Friday.
Where: Amway Center.
On the air: TV: Prime Ticket; Radio: 980, 1330.
Records: Clippers 32-17; Magic 21-27.
Record vs. Magic: 1-0.
Update: The Clippers have defeated the Magic four consecutive times. Orlando has been struggling recently, having has lost 10 of 11 games. Defense is an obvious problem: The Magic has given up 112.3 points a game in its last seven games. Victor Oladipo had 37 points Tuesday in a loss to Oklahoma City.
Twitter: @BA_Turner
---