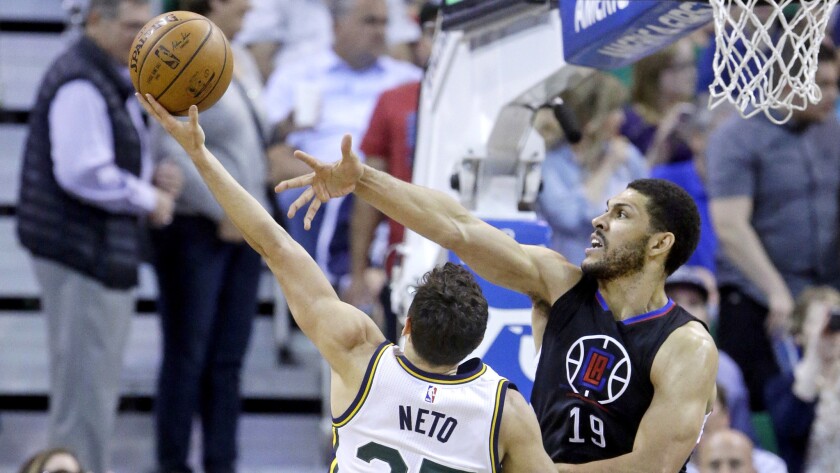 Reporting from Salt Lake City —
There were times when Clippers Coach Doc Rivers peered at his bench last season and probably wished he was seeing things. A few productive players besides Jamal Crawford would have been nice.
The Clippers reserves ranked 22nd in the NBA in scoring (30.4 points per game) and were 29th in efficiency, an advanced metric that encompasses nearly every meaningful statistic. Of the 16 playoff teams, the Clippers had a bench that was last in efficiency, forcing their starters to log as many minutes as their legs could withstand without buckling.
Production hasn't been an issue this season.
Crawford has provided his usual scoring punch and could win a record third sixth-man-of-the-year award. Austin Rivers has attacked the basket and played solid defense. Wesley Johnson has added three-point shooting. Pablo Prigioni and Cole Aldrich have been a nice pick-and-roll tandem. Recent acquisition Jeff Green has done a little bit of everything.
Add it up and the Clippers have lots of options. Perhaps too many at times.
"Last year we were pretty limited and this year we're almost too deep, if that's possible," Doc Rivers said Friday. "There's going to be a good player or two that probably don't play a lot in the playoffs."
The numbers reflect the improvement of the reformulated bench. The Clippers reserves ranked sixth in the league in scoring (37.6) before Friday and were tied with Indiana for 15th in efficiency.
Even taking into account the busts that were the recently departed Josh Smith and Lance Stephenson, the Clippers' bench is something the team won't need to compensate for going into the playoffs.
"It took some tinkering," Crawford said, "but we finally figured it out."
Lockdown mode
Branden Dawson stopped Kobe Bryant. He has the pictures to prove it.
The Clippers rookie was on the court during what was supposed to be garbage time Wednesday night against the Lakers when Bryant checked back into the game with nearly five minutes left, much to the delight of the roaring crowd .
"We knew someone had to guard him," Dawson said, "so it was like, I guess I have to take him."
Dawson more than held his own. He held Bryant scoreless on 0-for-2 shooting and knocked the ball out of his hands and out of bounds. Bryant said afterward he didn't consider it a stop because the Lakers retained the ball. No matter.
"It got Chris [Paul] and all those guys up to talk trash to Kobe for one last time," Rivers said. "Kobe got a kick out of that."
Dawson said he was given pictures of himself defending the Lakers legend as a memento. It was an unexpected highlight for a player who has appeared in only five games this season.
"It was just like really a dream come true," Dawson said. "It was one of the best moments of my life."
Follow Ben Bolch on Twitter: @latbbolch
---