How a summer trip to Miami forged the Clippers' chemistry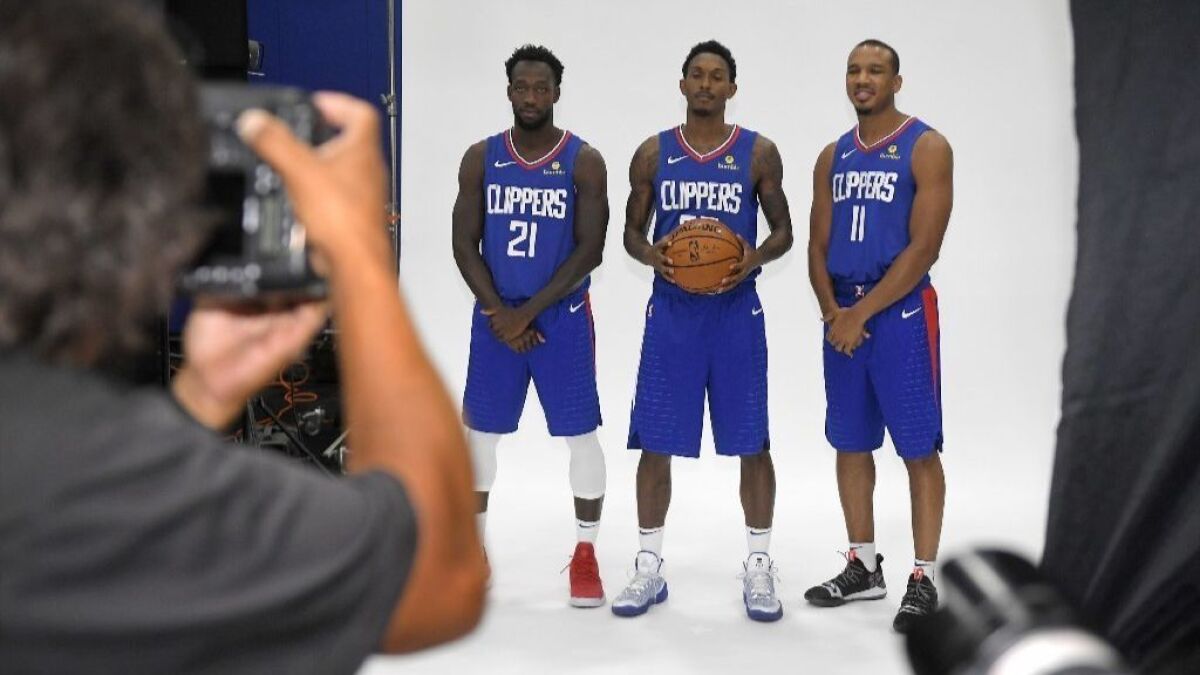 Reporting from Oklahoma City —
To find out whether the Clippers could last 82 games together, Lou Williams and Patrick Beverley decided to test whether they could first handle a road trip. So their teammates received an invitation this summer: Meet in Miami.
Not every Clipper made it. Rookies were attending NBA-mandated training. Europeans hadn't returned from summers abroad. Still, the group that gathered on the basketball court on the 19th floor of the JW Marriott Marquis Miami, overlooking Biscayne Bay, included many key players.
For five days they played, partied and planted the seeds for a locker room dynamic that several Clippers, and even some opponents, say has grown unified quickly.
"I saw it back then," forward Mike Scott said. "It's still early, six games, but we're starting to show our identity."
They went to dinner, clubs and even a boat trip.
Said Beverley: "The team that gets drunk together, you learn a lot of things quickly. We just wanted to go out and have a good time."
That good time has continued. The Clippers (4-2) begin a three-game road trip Tuesday in Oklahoma City (1-4) having outscored opponents by 9.2 points a game, tied for the league's fourth-highest average. They rank in the top-10 in offensive and defensive rating and are holding teams to the second-lowest field-goal percentage (40.4%) and three-point percentage (30.4%).
Preseason retreats, such as the trips to San Diego that All-Star guard Damian Lillard organized for Portland teammates before the 2015 and 2016 seasons, have become more common, Williams said. His impetus for organizing the Clippers' trip was to "connect the dots" on a roster that returned just four players who appeared in more than half the team's games last season. Scott, who'd arrived in free agency only weeks before, called the "brotherhood trip" a key moment in gaining comfort around his new teammates.
"You want to get eyes on your teammates and start building some camaraderie and at the same time make sure guys are working on getting in shape," Williams said. "Even though we weren't full strength it was good to just have everybody on the same page."
While in Miami, Beverley, Williams, Scott, Avery Bradley, Montrezl Harrell and Tobias Harris were among those who recognized the team had no sole, dominating presence. Having a superstar helps in the NBA, but so does having a locker room where every player feels he has "equity," coach Doc Rivers said.
"We don't have a lot of ego," Williams said. "Obviously when you deal with certain tier of players, there comes a certain part of responsibility and little airs come with that as well. I think we understand that for us to be successful we have to have everybody on the same team, kind of have to put your egos and your pride to the side and put some in the pot for the betterment of the group.
"We genuinely get along. We don't have any jerks in our locker room. Everybody's open to some criticism when they're not doing something right and nobody takes it personal. We say something to a teammate, they take it and we move on. That's a major plus."
A sure sign of a team's compatibility comes from how it handles a shuffled rotation, and Rivers has used reserves liberally in crunch time at the expense of starters such as Beverley, Bradley and Danilo Gallinari. The Clippers profess the rotations have yet to create internal conflict.
"They're able to tell each other the truth," Rivers said. "That doesn't mean you can't have a locker room where guys don't get along and still win. I don't know if you're going to win 'it,' though. This group, the fact that we get along and the fact that we have the right chemistry allows us to be a lot better."
Two days after Wizards guards John Wall and Bradley Beal vented that teammates had competing "agendas," Washington showed little cohesiveness in a 136-104 bludgeoning Sunday at the Clippers. When forward Markieff Morris was struck in the head and fell to the floor, no teammates came to check on him for several minutes. When Beal slipped, the Clippers' Harris was the lone player to extend a hand.
The moments added significance to the postgame compliment Rivers said he was paid by Wizards coach Scott Brooks.
"First thing Scott said after the game, he's like, 'Man, your guys, watching them, you can feel the energy, you can feel them, they just get along,'" Rivers said. "You can see it visually. It's nice."
UP NEXT
CLIPPERS AT OKLAHOMA CITY THUNDER
When: Tuesday, 5 p.m. PST.
On the air: TV: Prime Ticket; Radio: 570, 1330.
Update: Forward Luc Mbah a Moute has missed the last two games with a sore left knee and is questionable to play against the Thunder. Guard Sindarius Thornwell was assigned Monday to the Clippers' G League affiliate in Ontario.
Twitter: @andrewgreif
Get our high school sports newsletter
Prep Rally is devoted to the SoCal high school sports experience, bringing you scores, stories and a behind-the-scenes look at what makes prep sports so popular.
You may occasionally receive promotional content from the Los Angeles Times.