Rookie Jerome Robinson sparkles in the G League as he awaits his chance with the Clippers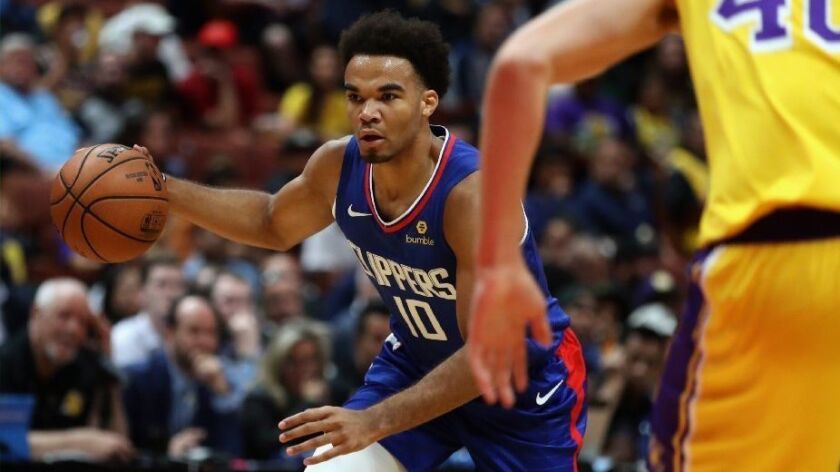 Late Wednesday night, rookie guard Jerome Robinson was in Ontario playing with the Clippers' G League affiliate.
The next morning he was at the Clippers' Playa Vista training facility working out before coach Doc Rivers arrived.
Given few opportunities to crack the Clippers' rotation, Robinson has spent the first weeks of the season carving out repetitions whenever he can.
"I'm so impressed with Jerome," Rivers said. "He has the thirst and the drive to be a good player, and he will be."
Rivers' prediction may yet come true but for the moment Robinson is still seeking consistent minutes, which has led the team to assign him to play in home games with the Agua Caliente Clippers. There, he has displayed the scoring touch that led him to be selected with the 13th pick in the June draft.
Robinson scored 35 points Wednesday night and in four games has averaged 27 points and made 44.8% of his three-point shots.
He has averaged five minutes a game in seven NBA appearances. Perhaps his most memorable moment in the league came last week when teammates filled his car with popcorn after Robinson forgot to fulfill some of his rookie duties.
That prank sent Robinson to the cleaners. He has been happier with his trips to Ontario.
The G League is "another steppingstone of being able to translate it up here," Robinson said. "It's good because I get the ball more when I'm down there, obviously, because I'm the key guy. I get to play our plays [as] if I was up here as a key guy like I am down there. That's good to get that feel of things."
Second-year guard Sindarius Thornwell has joined Robinson on the back-and-forth trips between the NBA and the developmental league. They've played alongside forwards Angel Delgado and Johnathan Motley, who are on two-way contracts that allow them to spend up to 45 days with the Clippers.
"The fact that he's doing it running our stuff is really important," Rivers said of Robinson. "It gives you comfort that not only him but [Motley] as well, you can bring them up and you can call a play out and they will run it. They know what the play is and that's good."
More recently, Thornwell and fellow second-year guard Tyrone Wallace have seen their limited opportunities for playing time expanded with the second unit, including Thursday against the San Antonio Spurs. Their contributions haven't go unnoticed by teammates.
"It might be the toughest situation for a player in basketball," forward Danilo Gallinari said of staying prepared while earning few opportunities to play. "You have to be efficient right away for maybe one minute or two minutes or three minutes, and honestly it's very tough — they're doing it very well for us."
Thornwell made his regular-season debut last Saturday against the Milwaukee Bucks and Wallace hadn't played in eight days before he was called in for a season-high 13 minutes against the Bucks. He played 12 more Monday night against the Golden State Warriors.
Wallace "didn't play great" against Golden State, Rivers said, but was utilized because he plays at what the coach called the "highest pace of anybody on our team" and because of his ability to check taller guards and forwards.
"Everybody wants to play," Wallace said, "so I think it's difficult when you're not in the game and you feel like you're not out there able to run and help the guys — especially coming from playing a lot and then not playing. But like I said, you just keep getting better, keep working and hope eventually that your name is called."
MARJANOVIC REUNITES WITH SPURS
A member of the Clippers' security detail walked quickly down a Staples Center hallway before Thursday's tipoff, wondering aloud where Boban Marjanovic had gone.
The 7-foot-3 Serb center had slipped into the Spurs' locker room but there was no need for alarm: He was catching up with Gregg Popovich, his first NBA coach.
Marjanovich played with San Antonio in the 2015-16 season before signing a three-year, $21-million free-agent contract with the Detroit Pistons. He was traded to the Clippers midway through last season and has received his most extensive playing time of his four-year career this season, averaging 11.9 minutes and 7.8 points.
"We had him for that year and he was, I'm sure just like here, a crowd favorite," Popovich said. "He's a wonderful human being and presents a lot of problems on the court, so I'm glad to hear he's getting more time."
NO GINOBILI
For the first time since 2002, Rivers coached against a Spurs team that didn't include Manu Ginobili.
A decorated international player with Argentina, Ginobili played 1,275 games and won four championships with the Spurs before retiring in August. A superb reserve, Ginobili averaged 13.3 points a game in his career but Rivers called his resume worthy of the Basketball Hall of Fame. Ginobili will be eligible for election in four years.
"Manu will be in, that's a guarantee," Rivers said. "Not only was he a great player. He might have been one of the greatest competitors to play. I thought his last three years he basically beat people with his will and his knowledge, and that's pretty impressive."
Twitter: @andrewgreif
---
Get the latest on L.A.'s teams in the daily Sports Report newsletter.
You may occasionally receive promotional content from the Los Angeles Times.