Why isn't every Clippers game a Boban game?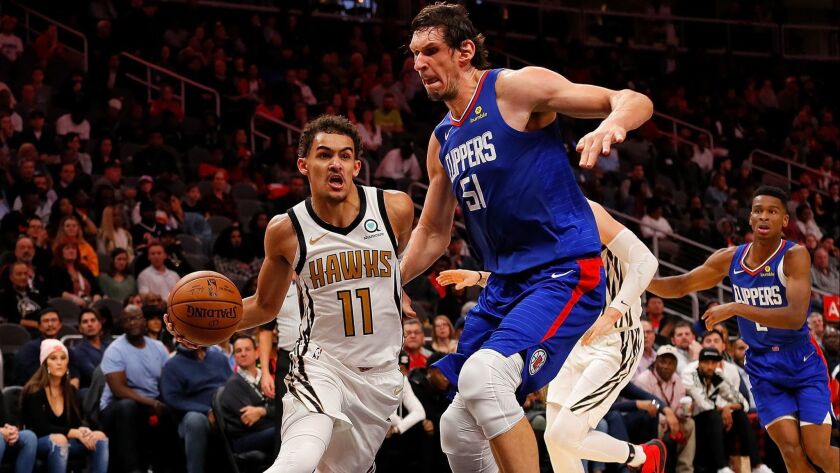 Reporting from Washington —
On the Clippers' schedule, there are home games, road games and "Boban games."
The latter are defined as those that Clippers coaches deem suitable matchups to play 7-foot-3 center Boban Marjanovic.
Washington coach Scott Brooks called Marjanovic "the most efficient player in NBA history" and the Serbian entered Tuesday 21st in the NBA with 0.7 points per minute played. With Marjanovic on the floor, the Clippers were outscoring opponents by 9.3 points per 100 possessions, according to NBA.com, the fifth-highest plus/minus on the team.
Defensively, Marjanovic was limiting opponents to 43.2% shooting within six feet of the basket, the lowest percentage among all players who have faced at least 40 such shots.
The production raises a question: With a player that effective during his short bursts of playing time, why can't every game be a "Boban game"?
"Well, we've been winning, you know?" coach Doc Rivers said after Monday's victory at Atlanta. "You stick with the formula that keeps you winning. We thought in the Brooklyn game, and then we thought [Monday] before the game, we said it was probably going to be a Boban game. We just didn't know it."
If an opposing center is more likely to roll to the basket after setting a screen, then it's likely a "Boban game," Rivers said. It's likely not if the opposing big man is comfortable stepping beyond the three-point line after the screen. Though Marjanovic is highly efficient near the rim offensively and defensively, his lateral quickness remains a weakness. He works to improve it before games, catching a tennis ball from an athletic trainer while sliding side to side.
"We also look at the guards," Rivers said. "The attack guards are really tough for Boban. So we're trying to figure out what we think really works for him."
That feeling-out process is continuing. Marjanovic began the season as a reserve, moved into a starting role after eight games, then vanished from the rotation entirely for nearly four games before scoring 12 points in 10 minutes Monday. Inserted in the third quarter, Marjanovic helped spark a 10-0 run that gave the Clippers their first lead in 16 minutes.
Tuesday in Washington, however, he played five scoreless minutes as the Clippers blew a 24-point lead in a 125-118 loss to the woeful Wizards.
Gallinari back
Forward Danilo Gallinari was back in the lineup Tuesday after missing one game with an illness, but his return didn't mean the Clippers trotted out their usual starters.
Patrick Beverley came off the bench for the first time this season as Rivers used Shai Gilgeous-Alexander and Avery Bradley as the starting backcourt.
"I like Shai because he's probably one of our best facilitators besides Milos [Teodosic]," Rivers said. "I like Avery because he's Avery — he can guard anybody. So it sets the tone. We've gotten off to some slow starts defensively in the first quarters, especially on this trip. I don't know how healthy Avery is yet, but it's a lineup we knew we were going to go to at some point."
Gilgeous-Alexander's role as starting point guard appears secure. With Beverley and Bradley, "one night one of those are starting, one night they won't," Rivers said.
Gilgeous-Alexander had 17 points Tuesday while Beverley, Bradley and Gallinari combined for 13 points. Gallinari missed all eight of his shots.
Versatile Scott
Mike Scott scored a season-high 18 points playing primarily at a new position, small forward, against Atlanta, the team for whom he played his first five seasons, and his performance helped change the course of the game, Rivers said.
The switch wasn't a harbinger for his role going forward, however.
Typically used as a power forward in the Clippers' second unit, the 6-foot-8 Scott played the "three" alongside a frontcourt of 6-8 Montrezl Harrell and Marjanovic. The combination was an "experiment," Rivers said.
"It worked, but I don't know what worked last night," he said. "That was just crazy. … I mean, I tell you, this league, you don't know sometimes. But you can't be scared to try it. But Mike can play the three. He can, but we don't do that a lot."
Scott was back at the four Tuesday night at Washington, where he spent last season. He hit three three-pointers in 14 minutes.
Etc.
After slow starts in their last two games required furious second-half rallies, the Clippers scored a season-high 40 first-quarter points Tuesday and led by 22, their largest advantage after one quarter in 40 games dating to last season. The cushion was powered by Tobias Harris' 18 points, the most he has scored in any quarter as a Clipper and the second-highest single-quarter output in his career. He finished with a team-high 29. … Tyrone Wallace was bloodied and left late in the third quarter after bumping heads with Washington's Bradley Beal.
Twitter: @andrewgreif
---
Get our high school sports newsletter
Prep Rally is devoted to the SoCal high school sports experience, bringing you scores, stories and a behind-the-scenes look at what makes prep sports so popular.
You may occasionally receive promotional content from the Los Angeles Times.