Clippers forward Mike Scott is dialing up long distance more frequently and accurately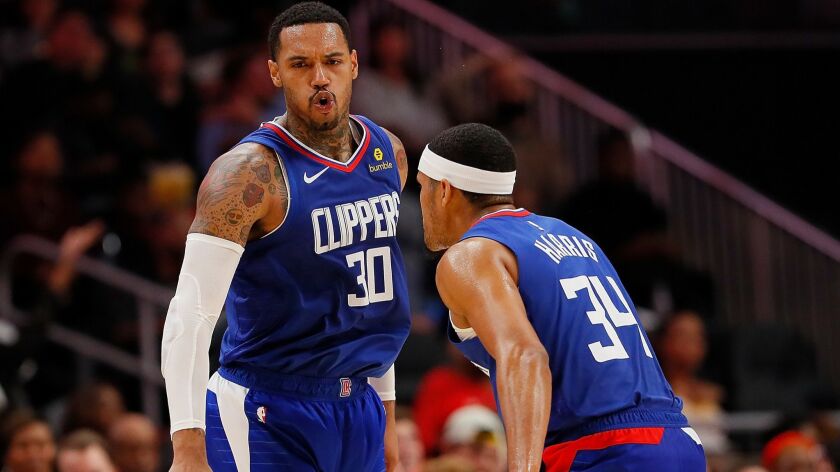 An hour before the Clippers and Memphis tipped off Friday, a young fan leaned over a railing at Staples Center as forward Mike Scott approached.
"Dude, you were red hot!" the boy in the Clippers hat said, referencing the forward's season-high 18 points against Atlanta five days before.
"I was on one," Scott said.
He continued to be the next night, as well, making three of his four three-pointers in 13 minutes against Washington. When coach Doc Rivers reviewed video from the loss to the Wizards, one of the biggest errors the hindsight revealed was how little Scott was used.
"Mike should have played 25 minutes," Rivers said. "That was a coaching mistake."
Since signing a one-year, $4.3-million contract with the Clippers in July, Scott has become a dependable cog on the team's second unit because of his ability to score while rarely needing the ball. Nearly 80% of his shots have come within two seconds of receiving the ball and he's shot an effective field goal rate of 69% in those situations.
His comfort behind the three-point line isn't a shocking development. When not sidelined by knee, ankle and toe injuries during his first five NBA seasons, the 6-foot-8 Scott was an equal-opportunity shooter, with up to 49% of his shots coming from behind the three-point line.
This season the percentage of his shots from long range has jumped to 64.4%. And why not? He's shooting 48.9% there, a career best by eight percentage points, and is even more accurate on catch-and-shoot threes, making 52.5%.
"I'm not no one-trick pony, I'm not a catch-and-shoot three-point guy, I can do a lot more stuff," Scott said. "But I'm just taking what the defense is giving me. If they're not there I'm going to shoot it."
Rivers told Scott on Monday in Atlanta "to just stand still and when the ball comes, shoot it." And Scott did that on the way to his 18 points. The Clippers outscored the Hawks by 22 points when he was on the court.
Most importantly for the Clippers, Scott isn't shooting for shooting's sake. Instead he's taking high-percentage three-pointers, with the majority of his attempts coming when the closest defender is six or more feet away.
Playing alongside Lou Williams and Montrezl Harrell off the bench — the only set of teammates in the NBA this season averaging 15 points per game or more off the bench — has drawn defensive attention and allowed more open looks for Scott. But he feels that will soon change. Coaches have noticed Scott showing up in opponents' scouting reports more often and they're prepared for defenders to try to limit his catch-and-shoot opportunities by running him off the three-point line.
Scott worked in the offseason to counter such moves by improving his ball-handling skills and finishing at the rim. Opponents used to be able to switch defenders on Scott, but he has gradually become more efficient using his size to his advantage closer to the rim.
"I know teams will start running me off, switching," he said. "So being able to put the ball on the ground and make a play for my teammates or finish at the rim, that's the next step."
Returning to Europe?
After reserve point guard Milos Teodosic indicated he might return to playing in Europe as soon as this season, Rivers responded by saying, "I doubt that happens."
Teodosic, 31, played 25 minutes a game in his debut NBA season a year ago but has averaged 10 minutes this season because of the emergence of rookie guard Shai Gilgeous-Alexander and the health of veteran guards Patrick Beverley and Avery Bradley after each missed much of last season while hurt.
"I think I definitely won't stay here," Teodosic told the outlet Glas Amerike in an interview published Wednesday, as translated by eurohoops.net. "I came, I saw how it looks and somehow … I enjoy more and it's nicer for me to play in Europe. So, I will return to Europe for sure, will it be during this season or at the end, we'll see."
Teodosic exercised a player option for this season in July and is set to earn $6.3 million. He is not under contract for the 2019-20 season.
"We want Milos to be happy, too," Rivers said. "He's a great guy and he's great for this organization. Obviously he hasn't played the minutes or the way he wants to, but we love him around here, so we'll figure that all out."
Twitter: @andrewgreif
---
Get the latest on L.A.'s teams in the daily Sports Report newsletter.
You may occasionally receive promotional content from the Los Angeles Times.