Clippers' Shai Gilgeous-Alexander is dealing with 'rookie duty' and the dreaded 'rookie wall'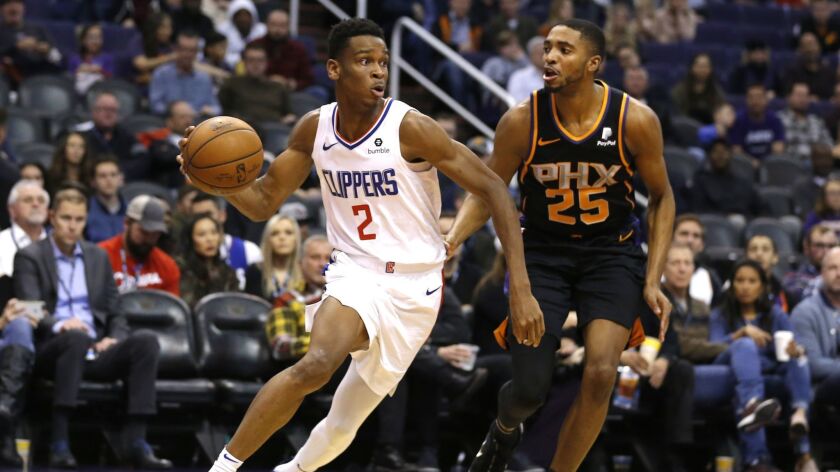 Before he left Phoenix's arena and boarded the Clippers' flight home Friday night, Shai Gilgeous-Alexander took bottle after bottle of Gatorade out of a locker-room refrigerator and stuffed them into a plastic bag.
The contents of his extra carry-on went to veteran teammates who assigned Gilgeous-Alexander the kind of "rookie duty" that is typical for the league's newest members.
The menial tasks are simply a reminder: Gilgeous-Alexander might be a starting point guard who has impressed teammates and opponents alike for a preternaturally smooth, advanced game, but he's still a rookie.
He could have fooled many earlier this season, averaging 10.9 points, 3.5 rebounds and 3.1 assists with a plus-4.0 rating through 21 games. He drew kudos from All-Stars such as Kevin Durant and Damian Lillard, collecting more praise than bottles of Gatorade.
Recently, though, Gilgeous-Alexander hasn't been able to escape another rookie rite: fatigue.
"He's playing hard, he's working on his game, he's doing all the right things, but he has struggled," coach Doc Rivers said. "He needs help. He doesn't know his way out of the woods yet. That's what we're here for."
Gilgeous-Alexander is averaging nearly four fewer minutes in his last 12 games and he has a minus-6.8 rating in that span while grabbing nearly half as many rebounds. Foul trouble has been a nagging issue. His accuracy on mid-range pull-up jump shots has improved while his accuracy has declined on catch-and-shoot attempts, both inside and behind the three-point arc.
"I've obviously had a little bit of success, but I've also had moments like this in my career," Gilgeous-Alexander said. "I know how to get through them and I know I will."
When it comes to the so-called "rookie wall," Phoenix coach Igor Kokoskov is something of an authority, as his Suns team starts three rookies. (Kokoskov is a first-time head coach, as well.) Though the length of the NBA season plays a factor — Gilgeous-Alexander has already played one more game this season than he did all of his freshman year at Kentucky — a rookie's biggest adjustment is mental more than physical.
"You focus on one team, one game and then you give everything you have and guess what? It's a back-to-back, following day you've got to play an even better team," Kokoskov said.
How does he know when a rookie has reached the "wall"?
"When guys don't show up," he said. "They have a couple good games and then you feel like you check the minutes and you're not sure a guy played."
The Clippers believe strongly in Gilgeous-Alexander but haven't treated him with kid gloves, as they've waited for his adjustments to click. Rivers wants the guard to drive "downhill" toward the rim more often and play better defense. At 6-foot-6, Gilgeous-Alexander's length once allowed him to stay in front of opposing guards on defense, but now they're getting around him both on the ball and in weakside situations.
"It's tough in his position," center Montrezl Harrell said. "We're asking a rookie to come out here and be the starting point guard for us, but it's a man's game, you just got to shape up and learn it really quickly. It's not like we're asking him to do anything crazy.
"We're not just telling him to go out there and hold his guy to not scoring the ball completely, but I mean we've got to give a little resistance on the defensive end."
Gilgeous-Alexander hears all of this and takes it in. His willingness to absorb others' advice helped quicken his transition into the league, coaches said. They just hope it won't make him second-guess himself during times of struggle.
"I don't remember being a rookie because that was a long time ago," Rivers said, "but I do remember getting a lot of advice and there are nights where it's like, 'Geez, would everybody just shut up?'
"Every second, you see someone is talking to Shai."
Gilgeous-Alexander called his lone season at Kentucky, where the Wildcats play under constant scrutiny, excellent preparation for this moment.
"So many eyeballs, so many people watching you, criticizing," he said. "I just try not to worry about it."
The Clippers, who remain in the playoff race nearly at the season's midway point, are counting on it. Right now, pushing through the "wall" is Gilgeous-Alexander's most important rookie duty.
UP NEXT
VS. ORLANDO
When: 12:30 p.m., Sunday
On Air: TV: Prime Ticket; Radio: 570, 1330.
Update: Clippers backup guard Milos Teodosic will miss Sunday's game as he continues to recover from tendinitis in a knee, according to a source not authorized to speak publicly. Teodosic traveled with the team to Phoenix and underwent treatment with the team's medical staff instead of watching from the bench … G League call-up Johnathan Motley played for the first time this season, checking in with 29 seconds remaining against Phoenix. … The Clippers' Jan. 18 home game against Golden State will be broadcast by ESPN.
Twitter: @andrewgreif
---
Get our high school sports newsletter
Prep Rally is devoted to the SoCal high school sports experience, bringing you scores, stories and a behind-the-scenes look at what makes prep sports so popular.
You may occasionally receive promotional content from the Los Angeles Times.