Shai Gilgeous-Alexander's rookie struggles don't worry Clippers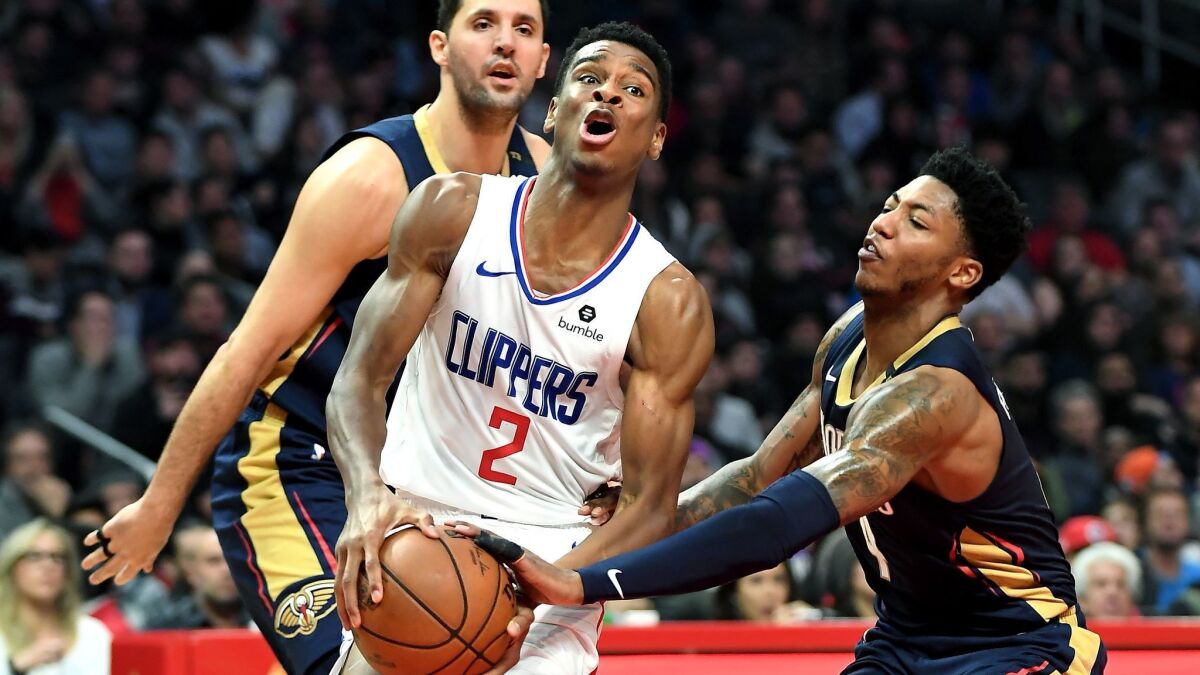 No one around the Clippers is worried about rookie Shai Gilgeous-Alexander.
That doesn't mean anyone is sugar-coating the starting point guard's performances of late, either.
"He's just struggling," coach Doc Rivers said.
The Clippers' problems during a three-game losing streak go deeper than the Canadian guard, of course, but many of those — inconsistencies with focus and defense — have plagued the team for much of the regular season.
Why Gilgeous-Alexander's up-and-down past month has been so notable is that he avoided these sorts of struggles and played more like a veteran for much of his rookie season.
Gilgeous-Alexander told the Los Angeles Times earlier this month that he wasn't concerned about his slump and remained ever-confident in his ability to break out of it. He appeared to have for two games, but followed that by a then-season-low 16 minutes Saturday against Detroit and 12 minutes 59 seconds Monday against New Orleans.
It marked his first scoreless game this season and defensively he couldn't stay in front of the Pelicans.
"He's going to be a star and I believe that but he's just not playing well," Rivers said. "There's no like, dark secrets, to this. He'll play better, it just may take a day, a week or a month but he'll be back. I have no doubt about that."
Whether physical or mental, fatigue sets in for all rookies, said teammate Danilo Gallinari.
"The first season is always tough, go through up and downs but we're here for him," Gallinari said. "He's going to get back to his normal playing. … He knows how to play basketball already, he's a very talented guy, I don't talk to him about talent or stuff that he can do in a game talent-wise. I just talk to him about the mental part of the game."
After the loss to New Orleans, Rivers said Lou Williams won't start in place of Gilgeous-Alexander. The coach said he doesn't envision Ty Wallace, another reserve guard who has been playing well, starting either.
Rivers earned a reputation for preferring veterans over young players while coaching in Boston but has played Gilgeous-Alexander in a prime position on a playoff contender. Only eight rookies average more minutes a game than Gilgeous-Alexander. Yet cutting the rookie's night short against the Pelicans only three minutes into the second half was a sign to the rest of the team that Gilgeous-Alexander isn't being treated with kid gloves.
"I think Shai knows he has to play well, just like Pat Beverley knows," Rivers said. "You've got to be careful with all of your guys. It can't be one, because if you're not, then you could lose the other guys if you're treating another guy differently."
Just as Rivers has adjusted Gilgeous-Alexander's playing time in line with his performance, he's prepared to give Wallace more minutes as a reward for his recent play. Since mid-December Wallace has played an average of 14 minutes a game, four more than his season average. He was part of the lineup that dug the Clippers out of a 20-point deficit Monday.
Already established as a proficient scorer on drives to the rim, Wallace made his first three-pointer of the season, on his 11th attempt, against New Orleans.
"If Ty starts making threes then he could be virtually unguardable with the way he gets downhill," Rivers said.
There are no predictions that Wallace will begin shooting multiple three-pointers a game but he's understood the importance of developing a more well-rounded game offensively since he was a freshman at California, when he realized he could no longer use his 6-foot-5 size to continually overpower opponents as he did in high school in Bakersfield.
"I know how to drive, I know how to finish around the basket but now that next step is to get people to actually come out and guard and then getting to the rim will be a lot easier," Wallace said.
In the meantime, as he continues to gain comfort with his outside shot, don't expect him to sacrifice his drives.
"A guy that can drive and attack is a lost art today," he said. "I think it's very valuable."
UP NEXT
VS. UTAH
When: 7:30 p.m. Wednesday
On the air: TV: Prime Ticket; Radio: 570, 1330.
Update: This is the first meeting of the season against the Jazz (24-21), who have won six of their last seven games and are eighth in the Western Conference standings. Second-year guard Donovan Mitchell was named the West's player of the week after averaging 31.5 points, 5.7 assists and shooting 48% on three-pointers during a four-game stretch last week. … Gallinari lost part of a tooth while drawing a charge in Monday's loss to New Orleans. Despite saying he couldn't feel the right side of his mouth after a visit to the dentist Monday, he took part in practice.
Sign up for our daily sports newsletter »
Twitter: @andrewgreif
---
Get our high school sports newsletter
Prep Rally is devoted to the SoCal high school sports experience, bringing you scores, stories and a behind-the-scenes look at what makes prep sports so popular.
You may occasionally receive promotional content from the Los Angeles Times.