Clippers' inconsistent defense will be tested again by red-hot Warriors
Somewhere between the installation of the Clippers' defensive plan for Wednesday night and its execution, things went haywire and resulted in a 129-109 loss to Utah at Staples Center.
"We were out there dazed or lost," center Montrezl Harrell said.
There are no guarantees that clarity or answers will be be found soon. Instead, there is a strong possibility things could get worse before they get better.
The Clippers, losers of four consecutive games, host Golden State, winners of six in a row, Friday in a matchup that is the worst imaginable for a defense desperately in search of progress.
The winning streak that has shot the Warriors to the top of the Western Conference standings has been fueled by an offense that, with stars Stephen Curry and Kevin Durant back playing alongside each other more often, ranks first in the NBA in efficiency by a mile.
The rich will get richer Friday when former All-Star center DeMarcus Cousins makes his season debut for Golden State, following a nearly yearlong recovery from a torn Achilles tendon.
Two days later, the Clippers (24-20) begin a four-game road trip against San Antonio, which has bludgeoned Los Angeles in each of their last two meetings.
"It's really tough sometimes to make defensive changes when you're not doing what you're supposed to do to begin with," coach Doc Rivers said. "You don't know if your game plan is working or not because you're not doing it. So we have to do something about that."
Rivers didn't detail how expansive those changes could be, but when asked if they would involve alterations to either the team's schemes or lineups, he replied, "probably all of the above."
One likely move is playing guards Avery Bradley and Patrick Beverley together more often, even if that doesn't necessarily mean shifting Beverley back to the starting role he held for the season's first month. Since Beverley moved to the bench in mid-November, the Clippers have been slightly outscored in the seven minutes he and Bradley have played together each game.
They were broken apart because they didn't generate enough offense, but Beverley has made nearly 49% of his three-pointers in his last 16 games.
"The Avery-Pat combination, we don't do it enough, probably, because those two on the floor at the same time may be able to give us something," Rivers said.
That "something," he hopes, is the sight of frustrated opposing guards. Bradley's and Beverley's shared reputation as pestering perimeter defenders was at the heart of what the Clippers imagined their defensive identity would be this season. Through the season's first 20 games, the Clippers ranked eighth in defensive efficiency and held a 14-6 record.
They are 10-14 since while owning the league's third-worst defensive rating, and adjusting the minutes of two guards alone won't undo their problems.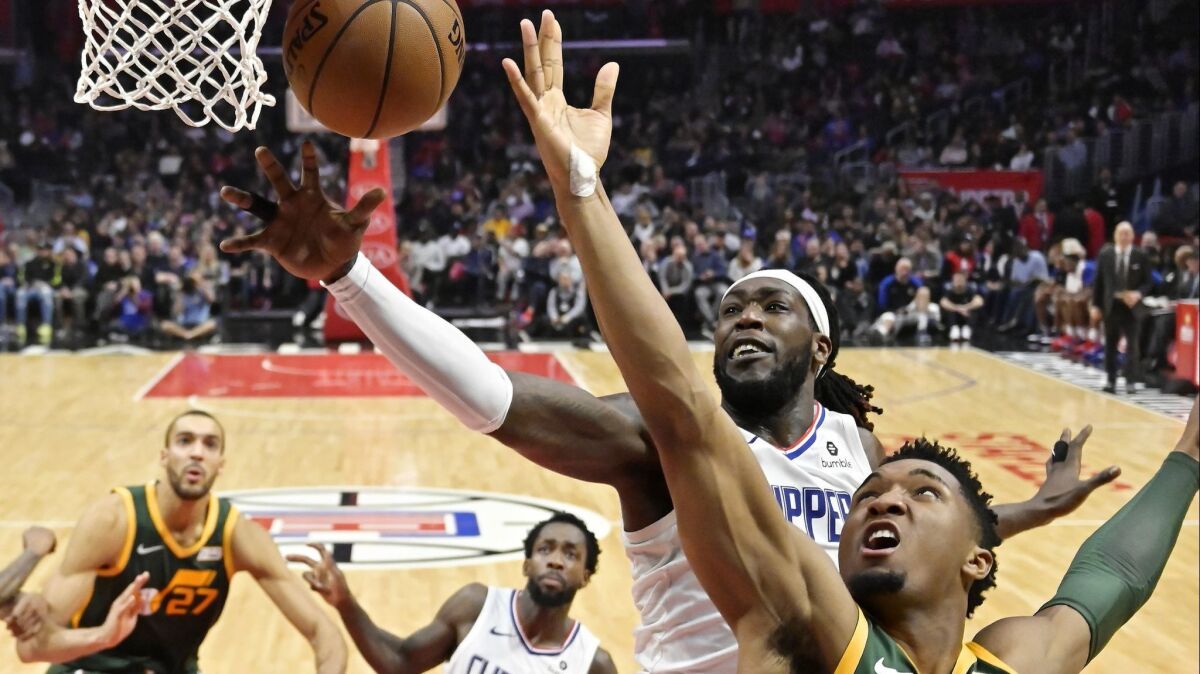 "Honestly, I feel like we're trying to do so much and trying to shy away from what's going to help us individually, and I feel like that's definitely hurting us as a team defensively," Harrell said. "I feel like all five guys aren't locked in on what we're trying to do."
Harrell also called the defense "nonexistent" and the trust binding it together "shaky right now."
Rivers echoed the latter point, saying the deterioration was evident during the loss to the Jazz.
"What I don't like is four guys do [their job], one guy doesn't and that's the guy it hurts you on," he said. "Then the next time, it's somebody else. That's what breaks down the trust. I thought that happened a lot tonight. One guy was late on a switch, the next time the guy didn't want to switch because he didn't trust him. That's how your defense breaks down."
The Clippers believe a defensive turnaround is possible because the personnel is the same now as it was at the start, when defensive stops and victories were plentiful. There is still no timeline for Luc Mbah a Moute's return from what has been called "left knee soreness" since late October, but "that cannot be what we're waiting for, because then we're really in trouble," Rivers said.
Sign up for our daily sports newsletter »
The Clippers' four-game losing streak has dropped them from fourth to seventh in the West's standings with 38 games to play.
"We have to play harder, it's simple," guard Lou Williams said. "Sometimes your effort just makes things happen. If you tip-toe in the games, hoping someone hands you a game, you're going in with the wrong approach. Sometimes you have to be a little bit more forceful, got to play harder, play faster and play more physical, and good things happen."
UP NEXT
VS. GOLDEN STATE
When: 7:30 p.m., Friday
On air: TV: ESPN/Prime Ticket; Radio: 570, 1330
Update: Golden State (31-14) enters this matchup on the verge of becoming the first team in NBA history to make 20-plus three-pointers in three consecutive games. As it stands, this is only the fourth time a team has made 20 or more in back-to-back games, with Golden State joining Cleveland and Houston, which accomplished it twice. Guard Stephen Curry has sparked that shooting tear by making 56.7% of his three-pointers in the last two games, which resulted in victories against Denver and New Orleans.
Twitter: @andrewgreif
---
Get our high school sports newsletter
Prep Rally is devoted to the SoCal high school sports experience, bringing you scores, stories and a behind-the-scenes look at what makes prep sports so popular.
You may occasionally receive promotional content from the Los Angeles Times.