Clippers' Danilo Gallinari doesn't make trip because of back spasms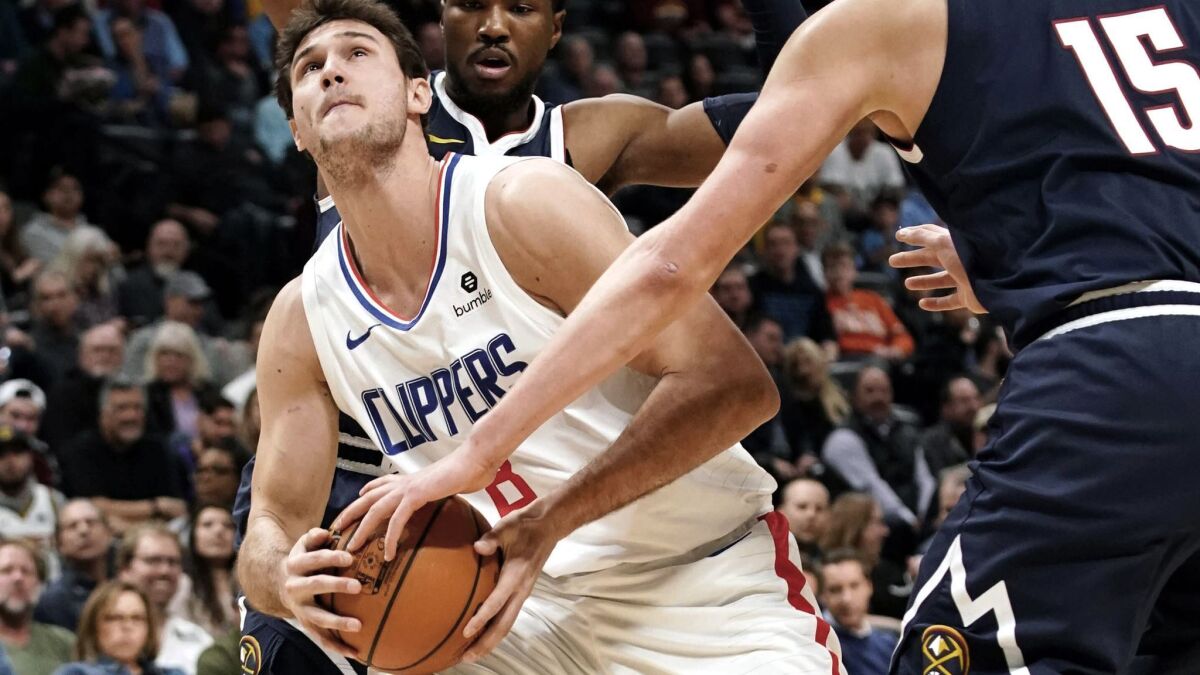 Reporting from San Antonio —
Clippers forward Danilo Gallinari didn't play Sunday against San Antonio because he remained in Los Angeles to get treatment for back spasms and Clippers reserve guard Lou Williams didn't play because of a sore right hamstring that forced him to sit out for a second consecutive game.
Coach Doc Rivers said he was unsure whether Gallinari or Williams will play when the team continues its four-game trip with a stop in Dallas on Tuesday night.
"But Lou looked good today, so he's close," Rivers said. "I don't know if that means Tuesday, but I think he'll be playing before the trip is over."
Rivers said they want to be careful with Gallinari.
"We obviously felt it was seriously enough for him to stay at home," Rivers said. "So we just have to take care of it."
Rivers said he didn't "know how good of a chance" it was for Gallinari to join the Clippers.
"Usually we'd bring the guys who we think are going to play on the trip," Rivers said. "But again with the back, if he wakes up and feels better or whatever, then yeah [Gallinari will join the Clippers]."
Rivers, Gregg Popovich share thoughts about Martin Luther King Day
With Martin Luther King Day being observed Monday, Rivers said there were many thoughts for him about the civil rights icon, "especially in the climate that we're in right now."
"You have students mocking [a Native American] veteran," said Rivers, referring to a group from a Catholic boys' high school in Kentucky mocking 64-year-old Nathan Phillips, a member of the Omaha Nation and Vietnam veteran, Friday in Washington.
"Right now it just seems like racism is up and racism has been made comfortable and that's the climate that we're in. That should never be comfortable and everyone should be involved. So, with Martin Luther King Day coming up, plus Black History Month, it shouldn't be about a black or anything.
"It should be about everyone. But everyone has to be involved. If a white person or a black person is standing next to each other and someone else from the other race is saying something bad to that race, then the other person should say something. And until we get that, we're going to have things like what happened at the Lincoln Memorial. The kid was at fault, but to me, his classmates should have grabbed him and told him it was wrong. And until we start doing that, they are going to have things like that. We all have to stand up."
Spurs coach Gregg Popovich, never unafraid to speak out on social issues, also shared his thoughts about Martin Luther King Jr.
"One of our iconic figures," Popovich said. "Somebody who, if we could channel him more than most of the politicians today, we'd be a whole lot better off, both in intelligence and empathy involved. We live in times that are kind of shaky. And, just everything that he said was right on the money, but from the heart and true. Today you don't even know what's true, what's false. So, it's another day that hopefully reasonable people can come back to understanding a better path for everybody and he understood what that path should be."
Twitter: @BA_Turner
---
Get our high school sports newsletter
Prep Rally is devoted to the SoCal high school sports experience, bringing you scores, stories and a behind-the-scenes look at what makes prep sports so popular.
You may occasionally receive promotional content from the Los Angeles Times.