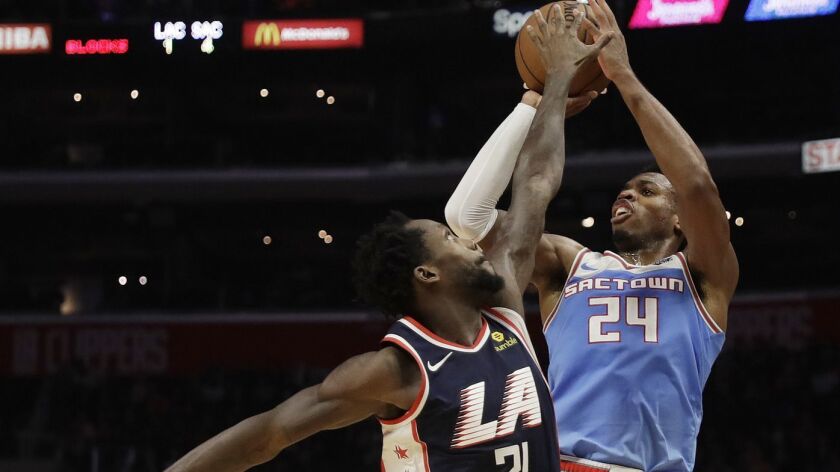 The NBA issued Clippers guard Patrick Beverley a warning for violating the anti-flopping rule in Sunday's victory against Sacramento.
The rule calls for a warning to be followed by fines escalating by $5,000 for every subsequent violation up to five. Six or more may lead to a suspension. Beverley was attempting to draw a charge on a drive by the Kings' Iman Shumpert but no call was made after he fell to the court.
"Ok ok ok ok you got me I flopped!!!! Can't touch anybody this year gotta do something!!!" Beverley tweeted in response.
Opponents have shot 37.3% against Beverley's defense this month, the lowest percentage against any Clippers defender, according to NBA.com.
Doc Rivers and Atlanta Hawks coach Lloyd Pierce praised Beverley before Monday's game at Staples Center.
"Not a lot of guys who want to get in your face, pick you up full court, apply pressure," Pierce said. "Everyone switches, which in a lot of ways is a safeguard to pick-and-roll coverage and just try to keep the game in front, whereas he's a guy that tries to disrupt the offense before you can even get there. As a coach, any coach respects him, loves guys who play with that kind of focus."
Rivers likened Beverley to former New York Knicks teammate John Starks, whose competitiveness tended to compensate for defensive mistakes.
"John used to drive [coach Pat] Riley nuts, breaking the defense, running around, doing things — Pat's the same way, but it's a good nuts," Rivers said. "…Pat really believes he's being wronged every night by everybody and that makes him a very good player to have on your team."
Carter still going strong
Hawks forward Vince Carter has played in the NBA so long that Rivers watched his rookie season with a headset on while working as an analyst for Turner Sports.
Much has changed since: Rivers has been a head coach in every season that followed while Carter, who turned 42 on Saturday, has played for eight teams.
Carter has played in 45 of 49 games in his first season in Atlanta while averaging 16.6 minutes. The Hawks have said they signed him as much for his experience as his skills, and during Monday's first half at Staples Center, Carter called second-year center John Collins over to the bench and whispered in his ear.
"As long as he can outsmart guys and use his legs enough he probably can play," Rivers said. "It's amazing watching him. How long does he want to play, I think, will be the answer. It'll probably be more how long does he want to keep practicing. … No one retires because they're sick of playing the games. We're tired because we're tired of training and practice."
Carter had five points, four rebounds and two assists in seven minutes Monday.
Teodosic sighting
Reserve guard Milos Teodosic was around his Clippers teammates Monday after missing last week's four-game trip while recovering from tendinitis in a knee. However, he did not watch the game from the bench.
The 31-year-old, a decorated international player before coming to the NBA last season, has appeared in 15 games this season but not played since Dec. 15. The Clippers do not have plans to move Teodosic before the Feb. 7 trade deadline, according to a source not authorized to speak publicly.
Sign up for our daily sports newsletter »
Twitter: @andrewgreif
---