Clippers' Luc Mbah a Moute set to return Friday against the Thunder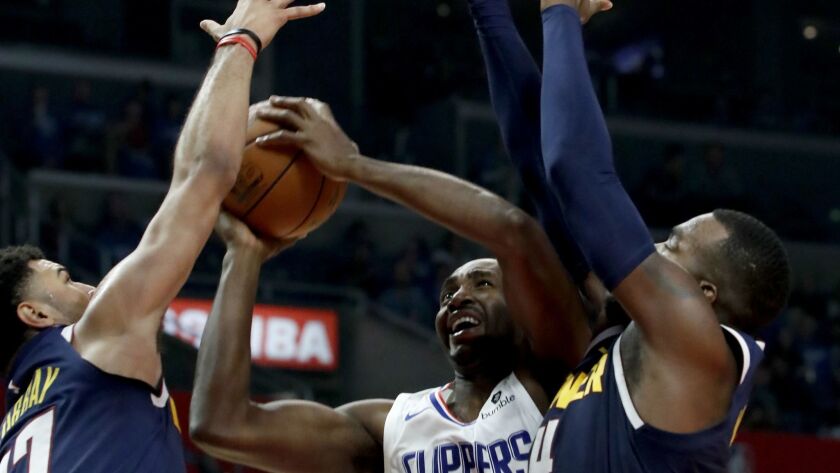 Clippers forward Luc Mbah a Moute intends to return Friday and play in his first NBA game since October after an unexpectedly long recovery from left knee soreness that saw the veteran miss the last 62 games, according to two people not authorized to speak publicly on the matter.
Mbah a Moute had hoped to play Monday against the Lakers until the plan changed following his pregame warmup, and second-year forward Johnathan Motley, told earlier Monday that he would not play to make room for Mbah a Moute, was activated instead.
Forward Wilson Chandler has said he also plans to play Friday in what will be his Clippers debut. Since being traded Feb. 5 from Philadelphia, Chandler has missed nine games because of a strained right quadriceps.
Sign up for our daily sports newsletter »
By pushing back his return, Mbah a Moute will be able to take part in two additional practices ahead of Friday's matchup against Oklahoma City to ensure he is healthy enough to play. Both Mbah a Moute and Wilson are expected to be full participants in Wednesday's practice. The team will approach the return with an expected amount of caution. Should Mbah a Moute suit up as expected against the Thunder, he would not only play a restricted number of minutes overall but also be limited in how many minutes he can play during the stretches he's on the court.
Before tipoff Monday, when Clippers coach Doc Rivers called Mbah a Moute's status a game-time decision, he noted that the 11th-year forward "won't play much. … He's not going to do a lot but it's nice to have him around."
Mbah a Moute was signed to a one-year contract worth $4.3 million in July to reprise the role he held with the Clippers from 2015 to 2017 as a long-armed, savvy veteran able to guard four positions. Instead, Mbah a Moute played 61 minutes during four games before sustaining the injury. His last game was Oct. 23. He often stayed in Los Angeles to rehabilitate while teammates were on the road, but in January he posted upbeat messages on his social media accounts and last week traveled with the team for its road games to Utah and Sacramento.
The return of Mbah a Moute and Chandler will provide the Clippers something they have not had in a month since trading forwards Tobias Harris and Mike Scott. That dearth of forwards was on display Monday during the Clippers' 113-105 victory against the Lakers when 6-foot-1 guard Patrick Beverley asked for, and was given, the assignment to guard the 6-8, 250-pound LeBron James.
The matchup was "by default," Rivers said. "We don't have a 'three.' "
Though the team envisions using JaMychal Green at center, power forward and small forward, Rivers acknowledged that Green has been least effective so far at the "three" since joining the team at the trade deadline. The 6-9, 225-pound Chandler and 6-8, 230-pound Mbah a Moute figure to add size off the bench in that void, even as their minutes are limited to start.
Their return should bolster a defense that, after fluctuating all season between effective and porous, has ranked fourth best in the NBA in defensive rating in the last 10 games — ever since the roster's first full game together following the trade deadline.
Opponents are still turning Clippers turnovers into points — 18.9 a game, fifth most in the league — but in the half court have largely struggled. Opponents have shot the NBA's fifth-worst effective field goal percentage since Feb. 9, while the Clippers rank sixth in defensive rebounding percentage and ninth in steals.
Etc.
When the team began a three-day break between games Tuesday, the Clippers sent second-year guard Sindarius Thornwell, rookie guard Jerome Robinson and Motley to their G League affiliate in Ontario.
Twitter: @AndrewGreif
---
Get the latest on L.A.'s teams in the daily Sports Report newsletter.
You may occasionally receive promotional content from the Los Angeles Times.