Looming decisions by Chris Paul, Blake Griffin control fate of Clippers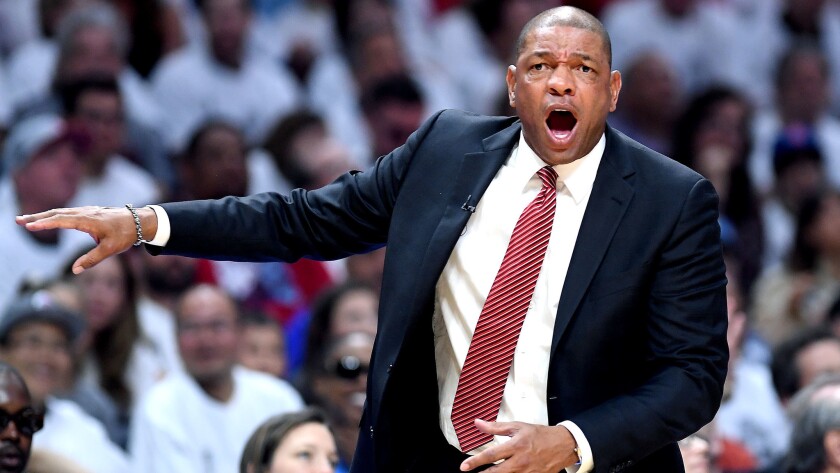 The decisions Chris Paul and Blake Griffin make on their future will have a direct impact on the future of the Clippers.
And Doc Rivers, the Clippers' coach and president of basketball operations, knows it'll be his job and that of his front office to do all within their power to retain that duo.
Of course the Clippers can go in a different direction if they decide it's best for the franchise.
But Paul and Griffin, who can opt out of their contracts and become unrestricted free agents this summer, hold all the power.
So when the media met with Rivers on Wednesday at the team's practice facility, he was asked if keeping the core of Paul, Griffin and DeAndre Jordan together was the best path forward to bring a championship to the Clippers.
"I don't know. I think that they deserve a chance to win and that they have built this legacy. I do believe that," Rivers said. "Whether that's what we decide to do or not, there is a big part of me that believes that these guys have been responsible for the birth of our franchise in a lot of ways. They consider themselves Clippers.
"In the history of the Clippers, there's no one, other than (Clippers play-by-player announcer) Ralph (Lawler), really, that considers themselves a Clipper. And these two guys are responsible for that. And so I would love them to shepherd that through. Whether that happens or not, it's too early. We'll make all those decisions or they'll make them for us. But I do have a strong belief in that."
According to several NBA officials who were not authorized to speak publicly on the matter because of the sensitively of contract talks, the Clippers hope to re-sign Paul and Griffin after both exercise their early terminations.
Both Paul and Griffin could take meetings with other teams when free agency opens July 1.
But Paul, who has to inform the Clippers of his decision by June 29, can sign a five-year deal for about $205 million with the Clippers versus four years and $152 million with another team.
Griffin, who has to inform the Clippers of his decision by June 28, can sign a five-year deal for about $175 million with the Clippers versus four years and $130 million with another team. He's coming off surgery on his right big toe that could keep him out until the exhibition season in October, but the officials said that won't stop the Clippers from looking to ink Griffin to a deal.
J.J. Redick, who is an unrestricted free agent, is looking to earn $18-20 million per season, according to the officials. The Clippers probably won't pay that much, the officials said, but the team won't rule out re-signing Redick for the right price.
Luc Mbah a Moute and Marreese Speights can opt out of their contracts and become unrestricted free agents.
Raymond Felton, Alan Anderson and Brandon Bass will be unrestricted free agents.
Though the Clippers have been to the playoffs for six consecutive seasons, they have lost in the first round two straight years.
"That's the other thing we have to evaluate. Just because you've been good for a long time, is the mix good enough to be great at some point?" Rivers said. "That's what we have to make the right decision on. What we can't do is make the wrong decision on that. That's really important. That's something we look at every moment. That's why all these interviews are going on right now with every player, every staff member, everybody that touches our players. That's why that is so vital, because any piece of information we get may be the deciding factor."
Etc.
The Clippers are closing in on owning their NBA Development League team, with an announcement expected in the coming weeks. Rivers and Clippers owner Steve Ballmer have been discussing this for a while. Having the D-League team play in Ontario is one major possibility.
Twitter: @BA_Turner
---
Get our high school sports newsletter
Prep Rally is devoted to the SoCal high school sports experience, bringing you scores, stories and a behind-the-scenes look at what makes prep sports so popular.
You may occasionally receive promotional content from the Los Angeles Times.