Rockets' Trevor Ariza, Gerald Green suspended two games for postgame altercation with Clippers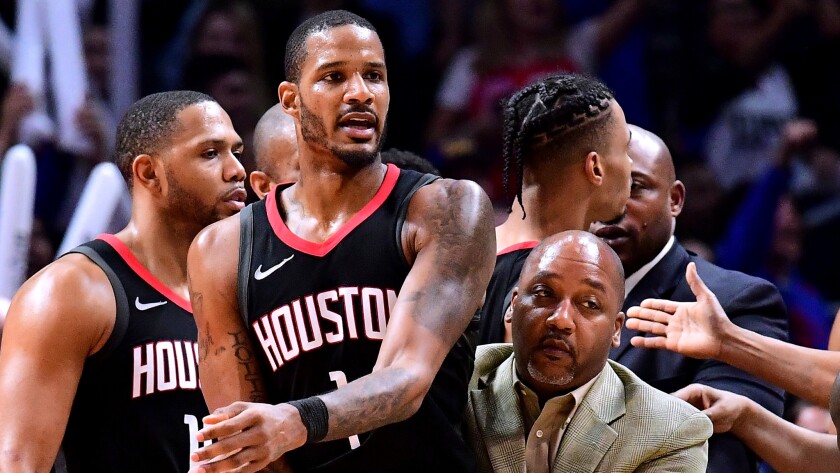 Clippers coach Doc Rivers said he "probably" did not agree with the NBA's suspending only Houston's Trevor Ariza and Gerald Green two games each for entering the Clippers' locker room to, in language from the league, "confront a player from the opposing team" following the Clippers' victory over the Rockets on Monday night at Staples Center.
Kiki VanDeWeghe, the NBA's vice executive president of basketball operations, said that James Harden and Chris Paul followed Ariza and Green into the corridor to act as "peacemakers" with their two teammates and not to take part in any other situation when they entered the Clippers' locker room.
Rivers, who said he was interviewed by the league, didn't agree with the ruling.
"Listen, I thought more people from their side were involved, obviously," Rivers said before the Clippers played the Denver Nuggets on Wednesday night at Staples Center. "But I never know the penalty for stuff like that. I always think it should just be fines, heavy fines. I just don't like anybody missing games, personally. And that's more from a fan's perspective."
VanDeWeghe made the announcement Wednesday after the league conducted more than 20 interviews with executives, staff, coaches and players from both teams and Staples Center personnel.
"It was corroborated from both sides that Ariza and Green entered the Clipper looker room in order to confront somebody, an opponent or several players, whatever it is," VanDeWeghe said. "When you have circumstances like that, tense game, very passionate, emotional game — and obviously Trevor had been ejected — that behavior is completely inappropriate and could lead to a potentially very dangerous situation. So we have to draw a bright line there."
Paul was making his first return to Los Angeles to face the Clippers since he requested a trade to Houston last June. Harden didn't play in the game Monday because of a hamstring injury.
VanDeWeghe said Paul and Harden left their locker room only to diffuse the situation after Green and Ariza had "engaged in a hostile, verbal altercation" with the Clippers.
All the players walked down the hallway that connects both teams' locker rooms and were able to enter the Clippers' space.
"The other two that were involved, Harden and Paul, again, corroborated by interviews from members of both staffs, were peacemakers," VanDeWeghe said. "They were trying to get their players back out.
"I think that there was a lot of yelling and different things going on in there. It was loud, but they were in that hallway. That's where we came out after all the interviews."
VanDeWeghe said reports that Houston's Clint Capela knocked on the Clippers' door were not true. He said Capela was in the Rockets' locker room.
VanDeWeghe said that Houston's Tarik Black was walking to the weight room when he heard noise and turned around and knocked on the Clippers' door. He eventually left.
"Honestly, you know where I stand on suspensions," Rivers said. "I don't really like them. I've said that before so I'm not going to go back on that. I don't like anybody missing games."
The game Monday turned ugly when Clippers forward Blake Griffin and Houston coach Mike D'Antoni exchanged words late in the fourth quarter.
D'Antoni felt that Griffin had intentionally run into him on a play earlier in the fourth.
Griffin and D'Antoni were hit with technical fouls.
With 1:03 left, Griffin and Ariza exchanged words. Ariza also had words with Clippers guard Austin Rivers, who was sitting on the bench with an injured ankle.
Both Griffin and Ariza were ejected from the game.
"I thought the whole thing, honestly in this day and time, was much to do about nothing — other than the locker-room stuff. That should never happen," Doc Rivers said. "But the talk and all that during the game, everyone talks. I'm fine with that. You just choose not to react."
Twitter: @BA_Turner
---
Get the latest on L.A.'s teams in the daily Sports Report newsletter.
You may occasionally receive promotional content from the Los Angeles Times.