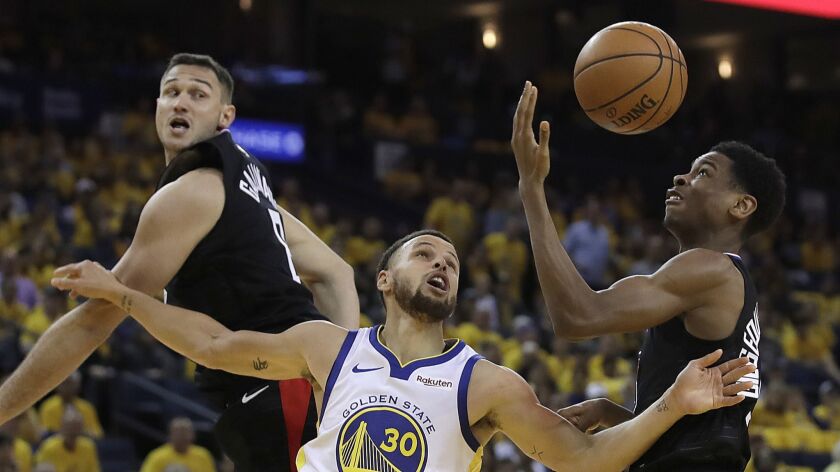 Reporting from Oakland —
Early on, Clippers coach Doc Rivers demonstrated that he was not going to tolerate mental mistakes from any of his young players, even if it was their first time playing in the playoffs.
So when Ivica Zubac missed a defensive assignment in the first quarter Saturday nigh, Rivers immediately called a timeout and got into the face of his third-year center in Game 1 of the first-round playoff series against the Golden State Warriors at Oracle Arena.
And Rivers was just as unrelenting on rookies Shai Gilgeous-Alexander and Landry Shamet, imploring all of them to stay the course despite being newbies in the postseason.
"It was different obviously," said Gilgeous-Alexander, who had 11 of his 18 points in the second half of the Clippers' 121-104 loss to Golden State. "Obviously guys tell you, but it's another level when you're actually in it. But I think it was a good experience for me, Sham and Zubac."
When Danilo Gallinari went to double-team Kevin Durant in the post, the Warriors All-Star forward just threw a bounce pass down low to Draymond Green for a dunk.
Zubac, 22, was supposed to rotate over on defense to cover Green, but he didn't.
Rivers jumped out of his seat, called a timeout with 8:45 remaining in the first quarter and began gesturing toward Zubac as he walked off the court.
"Doc was making sure I knew what my mistake was," said Zubac, who didn't score in his 10 minutes of play. "And then after that, he was like, 'Come on, next-play mentality. We're in the playoffs. You can't think about stuff you messed up. You got to focus on the next play.'"
After he sternly got his message across, Rivers patted Zubac on the butt.
"I actually thought Zu after that actually played very well," Rivers said. "That's why I was very happy with him because he struggled early. He messed up two or three in a row, just rotations defensively. But then after that he was flawless. It tells you that you can be young and have focus and he did that. And I told him after the game I was really happy with that."
Gilgeous-Alexander, 20, received his strict talking from Rivers with 10:10 left in the game, coming right after a turnover by Shamet that led to a breakaway dunk by Andre Iguodala that gave put the Clippers in a 102-85 hole.
Veteran Lou Williams soon walked over, said a few words to Gilgeous-Alexander and then patted him in the chest.
"It was a good experience for me," Gilgeous-Alexander said. "It something I'll learn from. I definitely got better as the game went on."
It was a tough offensive night for Shamet. He connected on his only field goal of the game with 10:55 left, a three-pointer to beat the 24-second clock .
Shamet, 22, missed five of his six shots, four of his five three-pointers.
"When Sham doesn't get shots, I always think that's on me," Rivers said. "We got to get him more shots. We got to value him more and I didn't think we did a good enough job."
Twitter: @BA_Turner
---