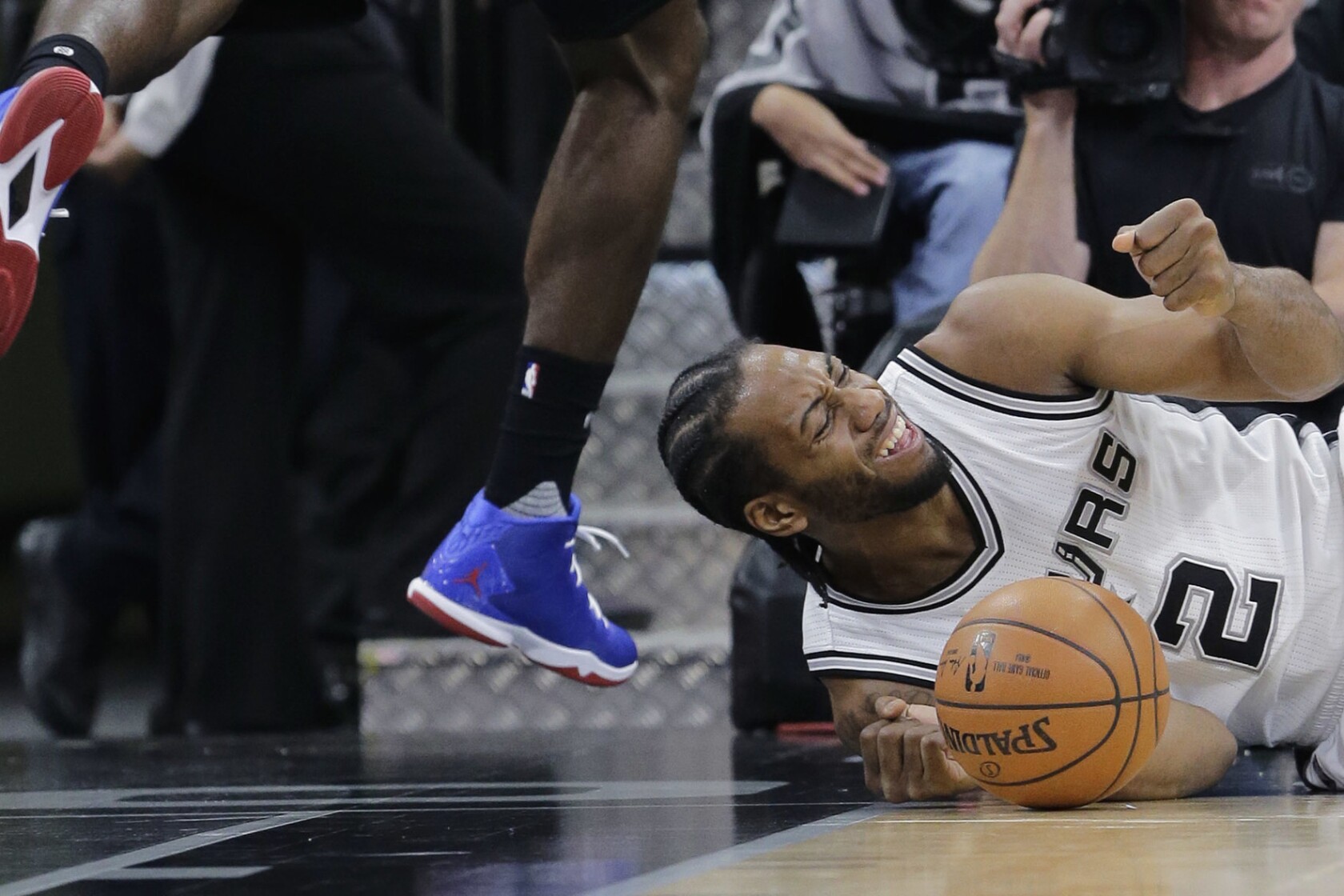 Spurs forward Kawhi Leonard (2) crashes to the floor after he was bumped by Clippers forward Jeff Green during the first half.
(Eric Gay / Associated Press)
Spurs guard Patty Mills, center, drives around Clippers guard Austin Rivers during the first half.
(Eric Gay / Associated Press)
Clippers Coach Doc Rivers keeps watch over his team during the first half.
(Eric Gay / Associated Press)
Spurs forward LaMarcus Aldridge (12) is fouled by Clippers center DeAndre Jordan (6) during the first half.
(Eric Gay / Associated Press)
Spurs Coach Gregg Popovich talks to his players during the first half.
(Eric Gay / Associated Press)
Reporting from SAN ANTONIO —
Blake Griffin sat out another game for the Clippers. Curiously, their bench also went missing.
The Clippers' reserves were that bad Tuesday night at the AT&T Center, obscuring an otherwise solid bid to become the first visiting team to win here this season.
Clippers Coach Doc Rivers put five reserves on the court to start the fourth quarter with his team trailing by one point and things ended very badly in a 108-87 loss to the San Antonio Spurs.
The Spurs met little resistance in scoring 11 of the first 13 points of the fourth quarter before Clippers starters Chris Paul and J.J. Redick checked back into the game. The outcome was essentially decided by then, the Spurs well on their way to boosting their home record to 33-0.
"That second unit feels like it's our fault," Clippers guard Austin Rivers said as he sat slouched in front of his locker, citing shoddy defense and a lack of ball movement. "Whether it's true or not, that's the way we feel."
Strong games from Paul (22 points, eight assists, three steals) and DeAndre Jordan (16 points, 14 rebounds) weren't nearly enough to keep the Clippers from losing a second consecutive game for the first time since they dropped three in a row in late December.
This court was the sight of two gut-check wins for the Clippers last season in the playoffs. Not Tuesday.
It was the second time in two games here this season that a horrid stretch at the beginning of the fourth quarter doomed the Clippers.
This time, it wasn't just a bad start as San Antonio outscored them, 37-17, in the quarter. The Spurs made 15 of 21 shots in the fourth, their six misses equaling the Clippers' number of made baskets.
Doc Rivers staggered his starters and reserves effectively at the end of the third quarter but said he didn't want to do it more extensively at this point of the season.
San Antonio's Kawhi Leonard finished with 20 points and switched onto Paul defensively in the second half, helping to hold him to four points on one-for-five shooting.
The effects of playing without Griffin for nearly three months may be catching up with the Clippers (42-24). They are 25-11 since the star forward last played on Christmas but have lost four of their last six games.
"It's harder as the season goes on and you can feel that a little bit right now," Doc Rivers said. "We don't look at the big picture right now because we're not good enough to do that without him. So we just play individual games and that's what we'll do."
Griffin's absence has necessitated more output from the reserves. They couldn't deliver against the Spurs.
San Antonio's bench outscored its Clippers counterparts, 51-20, with Patty Mills (15 points) nearly matching the output of the five Clippers reserves who played.
Jamal Crawford made one of nine shots for six points and Wesley Johnson missed both of his shots and went scoreless, deepening slumps for both Clippers reserves. Crawford has made eight of 33 shots (24.2%) over his last three games and Johnson has made 15 of 61 (24.6%) over his last seven games.
"Basketball is rhythm," Crawford said, "and I haven't been in a great one lately."
Crawford also noted it's been a season of nonstop adjustment for the Clippers. They've made two trades, played nearly half a season without Griffin and a month without Austin Rivers before he returned two weeks ago.
"We've been playing a certain way for a couple of months," Crawford said, "and now, we've got Austin back and we have to work out the kinks. I think we're still going through that process."
The Clippers aren't sure what kind of team they can be until Griffin returns, which is increasingly looking like it may not happen until next month. He has not been cleared to fully practice and must serve a four-game suspension for punching team assistant equipment manager Matias Testi.
"He's not right here now, so until he does get back everybody does have to do more [but] it's not like you have to do more than what you're supposed to do," Austin Rivers said. "It's just a matter of effort."
NEXT UP
CLIPPERS AT HOUSTON ROCKETS

When: Wednesday, 6:30 p.m. PDT.
Where: Toyota Center.
On the air: TV: ESPN, Prime; Radio: 980.
Records: Rockets 34-33; Clippers 42-33 before Tuesday.
Record vs. Rockets: 1-2.
Update: This will be the Clippers' first game against Josh Smith since they traded the veteran forward to Houston in January. Smith is averaging 6.4 points and 3.2 rebounds with the Rockets, similar to the numbers he put up with the Clippers, but he's shooting only 31.5% and did not play in the last five games. Houston is battling Portland and Dallas for the No. 6 seeding in the Western Conference playoffs.
Twitter: @latbbolch
---