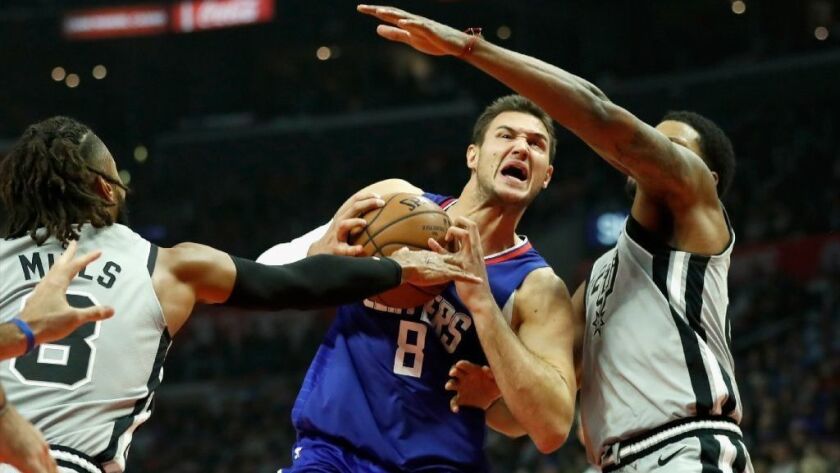 A national television audience tuning in Thursday night witnessed the kind of Clippers performance that locals have become used to during the last week.
The Clippers build a double-digit lead, see it disappear in a hurry, hang on for dear life, then watch as Lou Williams plays hero.
That formula, both successful and stressful, continued in a 116-111 victory against the San Antonio Spurs at Staples Center.
"This was a gritty win," coach Doc Rivers said.
A 14-point Clippers lead in the second quarter unraveled into a three-point advantage for the Spurs. A 10-point Clippers lead in the fourth quarter became a tie with 73 seconds to play.
With 40 seconds left and the score tied at 107-107, Clippers forward Tobias Harris grabbed an offensive rebound and kicked the ball out to Williams, who was waiting beyond the three-point line. He pump-faked in hopes of getting Spurs guard Bryn Forbes into the air and drawing a foul. Forbes didn't bite.
Williams shot anyway, making a three for a lead that was not relinquished.
"That's a shot that I work on," Williams said, "so if you stay down, I'm still going to shoot."
The Clippers sixth man scored a team-high 23 points and his lone made three-point basket was a difference-maker.
The clutch basket followed his game-winning shot in overtime last Saturday against the Milwaukee Bucks and his 10 points in overtime Monday against the Golden State Warriors.
The Clippers led the Bucks by 15 and the Warriors by 14 and survived late runs just to get to overtime before rallying for victories.
Thursday had all the same hallmarks.
"I said before the season we're going to have a lot of these games and it's been true," Rivers said. "Every game feels like tonight."
The Clippers (9-5) escaped with their third consecutive victory and fifth in six games despite being outscored 21-6 in points off turnovers.
The Spurs are "too efficient offensively to gift them easy baskets," Rivers said, "and we did that."
Spurs guard DeMar DeRozan scored 34 points but needed 30 shots to do it. The Spurs (7-7) took 18 more shots than the Clippers, partially the result of empty Clippers possessions because of turnovers. But the Clippers made 28 of 35 free throws, making eight more than the Spurs.
"I thought either team who plays defense in the fourth will win the game because there was not a lot of defense being played," Rivers said.
Harris scored 18 points and Danilo Gallinari 19 for the Clippers, who are 7-1 at Staples Center.
Reserves scored 27 of the Clippers' first 44 points as the home team opened a 14-point lead four minutes into the second quarter.
Williams scored eight points in the first quarter.
Rather than extend the cushion, the Clippers didn't score for the next 90 seconds. The Spurs cut their deficit to six points and Rivers reinserted his starters. The adjustment didn't end the trouble. DeRozan's baseline layup made it a one-point game and free throws by Rudy Gay with 2:43 remaining in the half gave San Antonio its first lead in 10 minutes.
The Clippers led by one point at halftime and eight in the third quarter before San Antonio trimmed the lead to two.
Leading 96-86 with 9:27 remaining after a dunk by Montrezl Harrell, who had another big night with 14 points and six rebounds, the Clippers missed six of their next seven shots. Within five minutes, their lead was only 99-98 after two free throws by LaMarcus Aldridge.
With the Spurs trailing by three out of a timeout with 19 seconds left, DeRozan nearly lost the ball out of bounds but in saving it threw it toward the Clippers, who made free throws to secure the win.
"Big win!" owner Steve Ballmer said on his way out of the arena.
Twitter: @andrewgreif
---