Clippers pick up another win, 130-88 over Suns, and another injury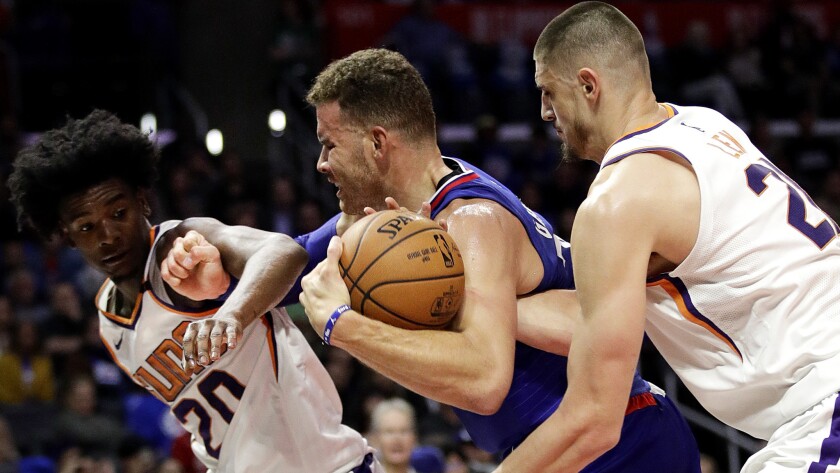 In a season already full of too many injury issues, the Clippers suffered yet another problem when guard Milos Teodosic sustained a left-foot injury late in the second quarter and did not return during his team's 130-88 victory over the Phoenix Suns on Saturday night at Staples Center.
Teodosic's X-rays for a broken foot were negative, the Clippers said. The team also said Teodosic would get an MRI on Sunday morning to fully determine the severity of the injury.
He was injured after stepping on Suns guard Devin Booker's foot and fell to the court in pain with about 2:34 left in the first half.
Two teammates ran over and carried Teodosic off the court. Once he got near the Clippers' bench, he limped into the locker room.
Teodosic, a 30-year-old rookie who played for CSKA Moscow last season, had scored five points and handed out two assists before he left.
"He just said he felt something in his foot," Clippers coach Doc Rivers said. "It's definitely a foot injury. We just don't know what it is. ... He's never in bad spirits, he really isn't. He obviously came over here to play basketball, not to be injured. So let's hope he is not."
But despite that down moment in the Clippers' home opener before 19,608 fans, Blake Griffin continued his assault and the rest of his teammates followed his lead.
Griffin poured in 29 points for the second consecutive game, collected eight rebounds and handed out four assists in 27 minutes 31 seconds.
He powered, dunked and shot his way into going seven of 13 from the field, three of five from three-point range and 12 of 14 from the free-throw line.
His assist to Patrick Beverley gave the Clippers a 68-46 lead in the third and his dunk pushed the lead to 70-46. That was just a sample of what Griffin was providing in helping the Clippers go to 2-0 in this young season.
Griffin was hoping for the best regarding Teodosoc's injury.
"I'm sure over the next couple of days they will do their due diligence, but you hate to see something like that happen," Griffin said. "We've been in this position before. It's next man up. We got to keep moving."
Beverley did his part to help out, scoring 15 points on six-for-eight shooting, making both of his three-pointers and playing his standard outstanding defense.
None of the starters played in the fourth quarter of a game the Clippers led by as many as 43 points.
That was because the Clippers reserves took care of the rest of the game — and all of 13 team members scored.
The Clippers shot the basketball well, making 54.6% of their shots, 46.2% of their three-pointers.
But the story of the night was the injury to Teodosic.
And unfortunately for the Clippers, they have seen this show before.
During training camp, the Clippers lost Austin Rivers (left glute), Danilo Gallinari (strained left foot), Beverley (sore right knee), Sam Dekker (left oblique), Sindarius Thornwell (strained right shoulder) and Jamil Wilson (back spasms) to injuries.
Twitter: @BA_Turner
---
Get the latest on L.A.'s teams in the daily Sports Report newsletter.
You may occasionally receive promotional content from the Los Angeles Times.