Clippers' defense not a problem during a 121-111 victory over the Suns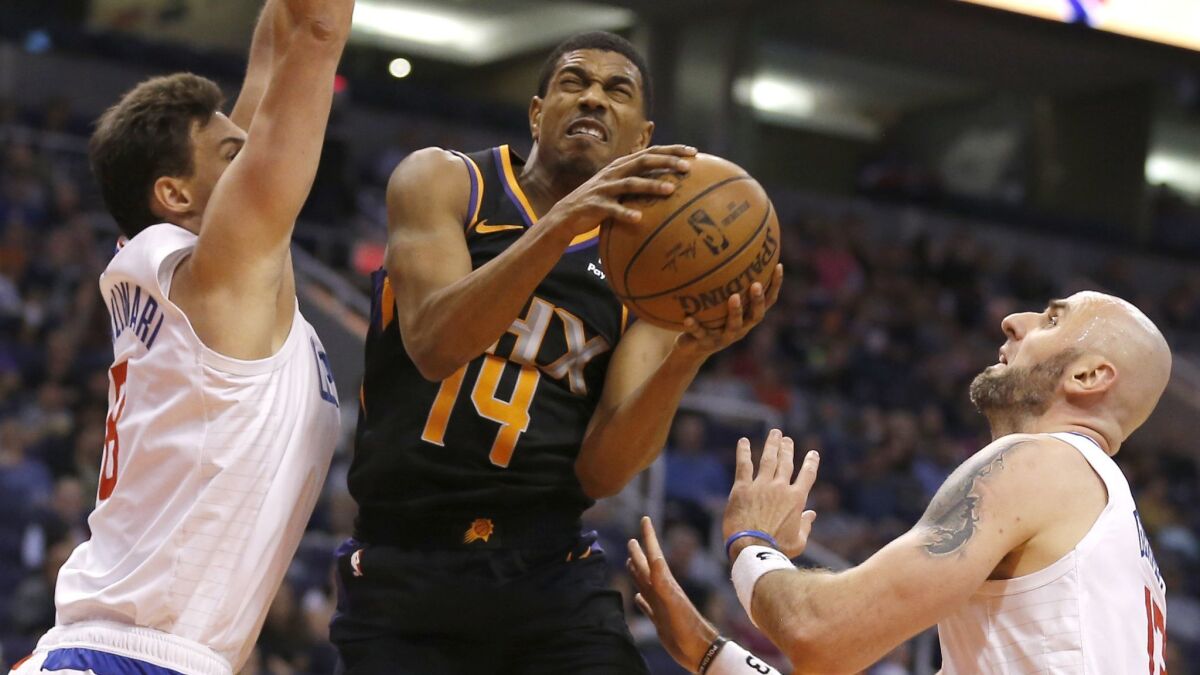 Reporting from Phoenix —
It's difficult to make a 7-foot-tall person disappear, especially on a basketball court with 14,764 fans watching, and the Clippers would not have seemed to be the ideal candidates to pull it off.
In the last week, opposing centers such as LaMarcus Aldridge and Joel Embiid had feasted against a Clippers defense more porous than pressuring.
But late in Friday's first half Phoenix center Deandre Ayton, taken first overall in June's NBA draft because of his polished big-man skills, returned to the Suns' bench and slammed a chair. During a first half in which he attempted one shot and barely touched the ball, it was Ayton's most noticeable contribution.
For at least one night, Friday at Talking Stick Resort Arena, the concerns about the Clippers' defense were quieted during a 121-111 Clippers victory that extended their winning streak in the series to 11. The Clippers jumped out to their best start in what felt like weeks and eventually held off the Suns after an uneasy third quarter allowed Phoenix back into the game.
Danilo Gallinari and Lou Williams each scored 21 points. Patrick Beverley (16 points) continued his stretch of hot shooting and Marcin Gortat recorded season highs of 18 points and 13 rebounds by hammering home multiple dunks.
"I don't think I dunked in the warmup even so many times," Gortat said.
The Clippers held the Suns to 25 rebounds — their fewest in nearly two years.
But the star of the game, the Clippers said, was their defense.
"We had a tremendous defense," Gortat said. "We tried to communicate more and play harder than the last few games. When you play good defense, the offense starts rolling."
The Clippers rendered Ayton ineffective, holding him to three shots in 27 minutes, and Suns guard Devin Booker was pushed far from the basket by pick-and-roll defense that thrust a defender in his face as soon as he dribbled around a screen. Booker scored a game-high 23 points but committed four turnovers and missed five free throws.
"He didn't have the touches, but if you don't touch, you create those touches," Suns coach Igor Kokoskov said of Ayton. "It's collectively on the coach, you got to find him. It's on his teammates, we got to find him. And it's on him also, go get it.
"Four touches? It's on all of us, him included."
The Suns (9-31) are mired in a five-game losing streak and own the NBA's second-worst record, behind only Cleveland. Yet the Clippers (22-16), who ended a two-game losing streak, will take a promising defensive performance any way they can get it.
They entered the game 21st in the league in defensive rating, but even that number didn't suggest how much they'd struggled as the season has continued. Since Dec. 1, only Cleveland and New York had worse defensive ratings.
Friday, the Suns scored 19 points and trailed by 19 after the first quarter. The Clippers tipped passes away before they could reach Ayton, knowing the Suns would try to feed him the ball. Clippers rookie Shai Gilgeous-Alexander drew two fouls halfway through the first quarter and didn't leave the bench for the next 11 minutes. In his place, the Clippers inserted Beverley, and the Suns were outscored by 23 points during Beverley's next 11 minutes. The starters created a lead that the reserves widened, leaving Kokoskov shaking his head.
"You have to know your job," he said. "You have to know your offense. You have to know defensive coverage. It's a complex game. On this level? It's not Euro League, this is not G League, this is NBA."
Midway through the third quarter, the Clippers led 77-52 when it was Booker's time to get frustrated. He made a running shot in the paint and slapped the ball into the stands before Gortat could inbound the ball, earning a technical foul.
The Clippers eventually led by as many as 30 points in the third quarter before a 17-3 run by Phoenix trimmed the lead to 16. It was down to 11 with nine minutes to go. Then the Clippers leaned on their defense again.
Williams stole an errant pass by Phoenix's Josh Jackson and Tyrone Wallace turned it into a transition dunk. Then Beverley stole the ball from Elie Okobo and Williams made the jump shot, plus a foul, for a 16-point lead.
The arena was quieted and, for the first time in a long time, a Clippers defense showed signs of life.
Twitter: @andrewgreif
---
Get our high school sports newsletter
Prep Rally is devoted to the SoCal high school sports experience, bringing you scores, stories and a behind-the-scenes look at what makes prep sports so popular.
You may occasionally receive promotional content from the Los Angeles Times.