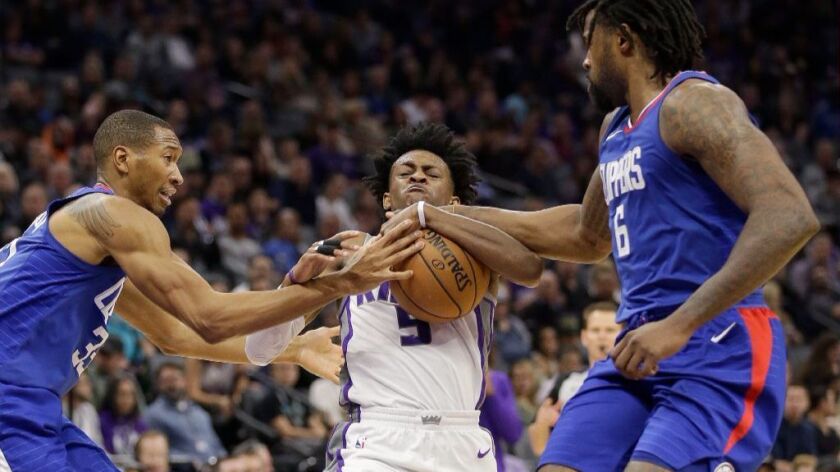 The Clippers beat the Sacramento Kings 97-95 on Saturday to win back-to-back games after snapping a nine-game losing streak. Here are five things we learned:
1. For the second consecutive game – both of them wins -- Blake Griffin took charge for the Clippers.
He was the leader they need him to be. He was the force he is supposed to be. He was the director he has to be.
His 33 points were key to the Clippers' defeating the Kings. His game-winning 10-foot fade-away over Willie Cauley-Stein with 3.7 seconds left was another demonstration of how Griffin can control a game when he's engaged.
Griffin had 12 points in the third quarter, helping the Clippers overcome an 18-point deficit. He was 13-for-25 from the field for the game, all of that being done in 38 minutes, 26 seconds.
2. The Clippers were at their best on defense in the third quarter, holding the Kings to 10 points on 21.1% shooting. The Clippers had allowed 61 points to the Kings in the first half.
But that all changed in the second half for the Clippers, who put the clamps on the Kings during the next 24 minutes.
The Clippers surrendered just 34 points in the second half, holding the Kings to 33.3% shooting. For the game, the Clippers blocked five shots.
3. Again, Montrezl Harrell brought energy and effort to the Clippers' cause in the win. Harrell had eight points, five rebounds and one blocked shot in 16:04. He had a plus-15 in the plus-minus category.
4. During his 8:54 on the court, Sam Dekker went all out, as he always seems to do when he's on the court. It was more than just his four points and one blocked shot. It was the energy Dekker played with that made him stand out again.
5. The Clippers recovered from a dismal shooting display from the three-point line to shoot the basketball very well from long range in the second half, particularly in the third quarter.
They made 75% of their three-pointers in the third. Lou Williams made all four of his three-pointers in the third and Griffin made both of his.
The Clippers were eight-for-14 from three-point range in the second half, after making just 14.3% (one-for-seven) in the first half.
Twitter: @BA_Turner
---