Sense of urgency picks up for Clippers in Game 4 against Thunder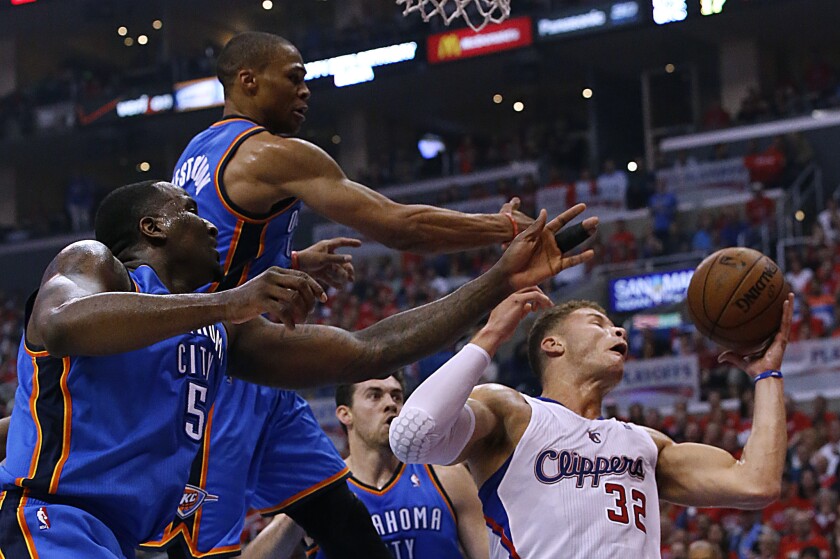 The moment could not be more dire for the Clippers.
They are in a hole they can easily dig out of by winning or they can be buried even deeper by losing.
The Clippers are down, 2-1, to the Oklahoma City Thunder in the Western Conference second-round best-of-seven playoff series.
If the Clippers win Game 4 on Sunday at Staples Center, they would tie the series, 2-2.
If the Clippers lose Game 4, they would trail, 3-1, and head back to Oklahoma City for Game 5 on Tuesday night with their season on the brink of being over.
"For us, like we talked about [Friday] night, it's kind of a must-win game for us, just because you got to even the series," Blake Griffin said at practice Saturday. "We put ourselves in a hole, but we've just got to come out and correct some mistakes."
It will be somewhat of a delicate balance for the Clippers.
They'll have to balance between playing with a sense of urgency, but not playing like a desperate team.
"I don't have the answer for that," Chris Paul said. "I think we just got to play and not necessarily worry about being desperate. But we've definitely got to play with a sense of urgency. Even when we were up 1-0 and now that we're down 2-1, we understand that it's not over. It's not time to hang our heads. We just need to get Game 4."
In the eyes of Clippers Coach Doc Rivers, Games 1, 2 and 3 were all must-win games.
It's just that his team won Game 1 and lost the last two games.
"Honestly, I think that's the urgency you have to play with in the playoffs," Rivers said. "And quite honestly, I think we've been in and out in that. Right now, that's the lessons we're learning and you can still keep getting better."
When Rivers was told that the Clippers have never won a playoff series when trailing 2-1, he found some levity in that.
"Well, we haven't been in a lot of playoffs," Rivers said, laughing. "You mean in the four times? So any of those stats don't matter. If you said the Lakers or the Celtics, then that would matter. But with us, at least those historical playoff things, it doesn't vibe here."
The Clippers have played in only nine playoff series since 1992 before meeting the Thunder.
Slowing down Kevin Durant and Russell Westbrook, something the Clippers haven't done yet, is just one issue for L.A.
The Clippers have been out-rebounded in all three games by an average of 14.3
They have given up an average of 11.1 offensive rebounds per game.
"I think with the exception of the first game, the last two games we haven't been very good," Griffin said. "I thought they kind of got everything they wanted the last two games. They got to the rim. They got easy buckets. They got threes. They got everything. So we've got to be better."
Through it all, the Clippers say they have maintained the faith.
As Griffin said, the Clippers aren't down 3-0 in the series, which would make Game 4 a close-out game.
"We're down 2-1 and we've got another game at home," Griffin said. "We need to correct our mistakes, but it's nothing to really to hang our heads about or to be down about. We've got a chance to even it up."
Twitter: @BA_Turner
---
Get our high school sports newsletter
Prep Rally is devoted to the SoCal high school sports experience, bringing you scores, stories and a behind-the-scenes look at what makes prep sports so popular.
You may occasionally receive promotional content from the Los Angeles Times.