Clippers win their fourth consecutive game with 118-110 victory over Thunder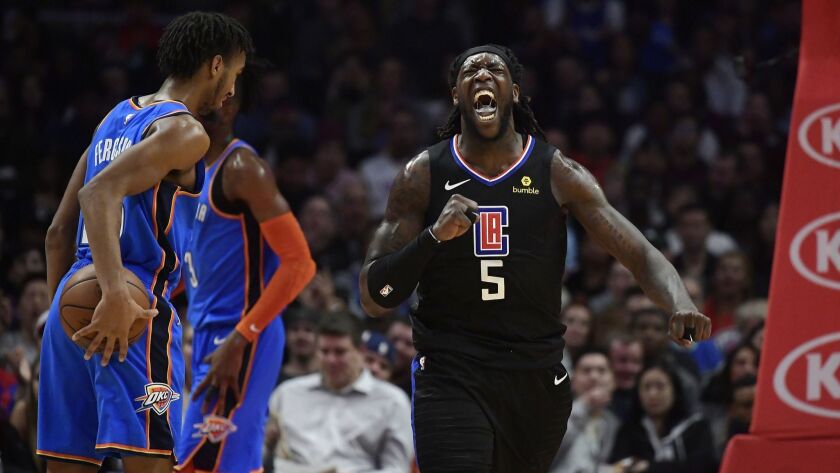 Each important point Lou Williams dropped in for the Clippers pushed the sixth-man extraordinaire toward an NBA milestone for a reserve, but more importantly, each time he scored increased his team's chances of winning a significant game against a top Western Conference foe.
Williams detonated for 40 points and Danilo Gallinari scored a season-high 34 to help the Clippers pull away for a 118-110 win over the Oklahoma City Thunder on Friday night at Staples Center. Williams had 17 points in the fourth quarter, each more important than the last.
His three put the Clippers back in the lead at 106-104 and his step-back jumper gave them a 108-104 edge. After Gallinari scored to make it 110-107, Williams drilled a jumper for a 112-107 lead.
When the Thunder called a timeout after Williams' dagger, he pumped his chest three times, the excitement all over his and his teammates' faces.
"We've got great energy in the locker room right now," said Williams, who also chipped in seven rebounds, five assists and four steals. "Guys are playing at a high clip, playing with a lot of confidence. So, to make a big shot right there, especially with the stretch that we have coming up, it just felt good at that moment."
By winning their fourth straight game, the Clippers (38-29) took sole possession of the seventh spot in the ever-revolving West, a half-game ahead of the San Antonio Spurs, and with a winning percentage of .567, they are right behind the sixth-seeded Utah Jazz (37-28), who have a .569 winning percentage.
And it was thanks to another stellar performance by their dynamic duo.
Williams, with 11,120 points, passed Jamal Crawford (11,104) for the second-most career points off the bench in NBA history. Dell Curry (11,147) is No. 1.
It was the 28th time Williams has scored 30 or more points off the bench, moving him past Ricky Pierce for the most in history, according to the Clippers.
"It means a lot. I'm in great company," Williams said. "Jamal is someone I looked up to over the course of my career. He's been like a mentor and a big brother to me and so many different guys. So to be within striking distance of history just means a lot."
Williams and Gallinari delivered from the beginning — Gallinari opening by making his first four shots and finishing the half with 22 points on seven-for-11 shooting.
Williams was almost as good, dropping in 21 points on eight-for-13 shooting. And while some misses from the line by the usually sharp-shooting Williams (10 for 15 free throws) and Gallinari (12 for 15) helped the Thunder retake the lead in the second half, the Clippers' stars came up big at the end.
After Russell Westbrook's three-point play gave the Thunder a 104-103 lead with 2:30 left, Williams and Gallinari scored the Clippers' last 15 points.
"We went to the two-man game down the stretch and it was big for us," coach Doc Rivers said. "They were trapping Lou, but you can't trap Lou when Gallo is in the pick. So they couldn't trap anymore. They just played off each other really well."
Conversely, the two main weapons for the Thunder couldn't stay on the court long because of foul trouble.
Both Westbrook and Paul George picked up their fifth fouls in the third quarter, and George fouled out with 3:49 left on an offensive foul drawn by Patrick Beverley, who harassed the All-Star forward into shooting five for 16 in scoring 15 points in just 28 minutes.
Westbrook fouled out with 54.2 seconds left after Gallinari took a change on the All-Star guard with the Clippers leading 110-107. Westbrook left with 32 points in just 32 minutes.
The Clippers shot 46 free throws but made just 31.
"It was an important game for us against a very good team," Gallinari said. "It gives us a lot of confidence for the next one."
Etc.
Wilson Chandler was activated for his first game with the Clippers since he was acquired Feb. 5 from the Philadelphia 76ers. But Chandler, who had been recovering from a right quadriceps strain, did not play. … Luc Mbah a Moute missed his 63rd game of the season with left knee soreness. He couldn't complete a practice Wednesday and was unable to participate Thursday, Rivers said. ... The Clippers announced that Hall of Famer broadcaster Ralph Lawler will call his final regular-season game with Bill Walton doing the commentary April 10 against the Utah Jazz at Staples Center. Lawler, retiring after 40 years as the "Voice of the Clippers," will be honored with a Ralph Lawler Night and a bobble head.
Twitter: @BA_Turner
---
Get the latest on L.A.'s teams in the daily Sports Report newsletter.
You may occasionally receive promotional content from the Los Angeles Times.