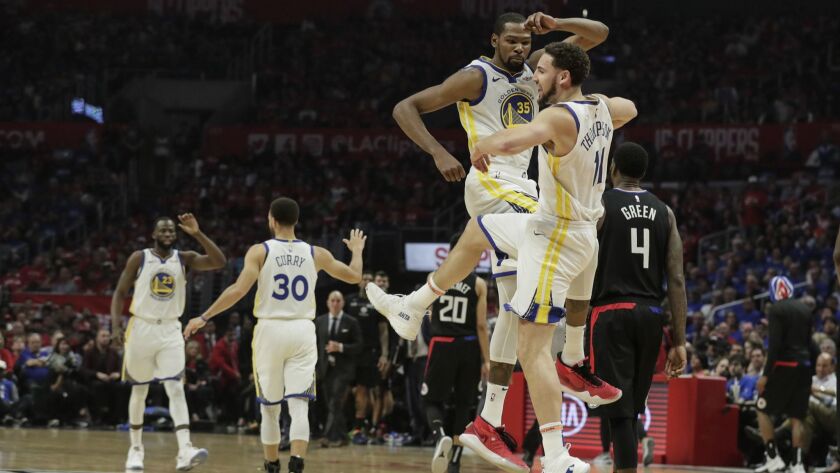 By halftime, Golden State led by more than 20 points, again.
Four minutes into the third quarter, and with four fouls to his name and disgust on his face, Golden State's Stephen Curry left the court for the bench. Again.
One minute later, his team led the Clippers by 31. Again.
The main plot points of Game 3 of this first-round playoff series matched those of Game 2, almost identically.
And yet, as a town like Los Angeles surely knows, sequels are rarely as compelling as the first.
Rather than collapse when up 31, as they'd done during Monday's Game 2 in allowing an all-time NBA playoff rally, the top-seeded Warriors crushed any hopes of another comeback in the third act of Thursday's Game 3 and wrested control of the series, 2-1, from the Clippers during a 132-105 victory at Staples Center.
"It was a different vibe than it was the other night," Warriors coach Steve Kerr said. "The other night we didn't have control in the third quarter."
The Warriors exerted enough control to end a night that began with a packed arena and noise from the top row but ended with emptied seats and little to yell about. Reserves played nearly the entirety of the fourth quarter.
A game that teemed with questions surrounding Warriors star Kevin Durant finished with him providing an overwhelming answer.
Yes, he can still bend a game to his will like few others.
Durant scored 38 points in 29 minutes and never played in the fourth quarter, because there was no need. By then, he'd shaken off every defense thrown at him by the Clippers, including that of Patrick Beverley, his nemesis in the series' first two games, and Golden State held onto a third-quarter lead that reached as many as 35 points.
Durant's big night helped Golden State's starters outscore the Clippers' 87-46.
Ivica Zubac scored a team-high 18 points for the Clippers. Lou Williams had 16 points and Montrezl Harrell had 15 points.
Clippers coach Doc Rivers drew a different comparison despite the similarity to Game 2. To him, it had all the hallmarks of Game 1, when the Clippers struggled to shoot and struggled to keep touch with the Warriors late.
"They dissected us," Rivers said.
The Warriors made 69% of their shots after one quarter, 58% at halftime and 54% by the end. The Clippers never recaptured their offensive magic from Monday, when they scored 85 second-half points. The pick-and-roll between Williams and Harrell, one of the league's most lethal all season, was neutralized, if not outright stopped. Danilo Gallinari made two of his 13 shots, and none of his eight three-pointers.
In stark contrast, it was a sweeter night for Durant.
As one of the best in the world at his job, the free agent-to-be has become accustomed to unrelenting scrutiny. So often it has centered on which team he will choose in July — with the Clippers one of the suitors that would like to meet with him. But ever since Game 2's collapse, and Durant's nine turnovers against the defense of Beverley, the spotlight had centered on solely on-court issues.
Warriors coach Steve Kerr said Wednesday that he believed Durant would be more aggressive in Game 3. Durant brushed that off, saying he wouldn't "get in the way of the game" just to take on Beverley. Despite earning two fouls within the game's first two minutes — after one, a push-off on Beverley, the Clippers' guard sneered in satisfaction — Durant stayed in and was as engaged as he's been all series, making his first six shots. Beverley was called for his fourth foul midway through the third quarter.
"He came out really aggressive, posted me up more, I kind of knew that coming in," Beverley said afterward. "Like any basketball player, he makes a couple of early baskets, he gets baking."
Clippers' Lou Williams is tightly guarded by Warriors' Andre Iguadala during the first quarter.
(Robert Gauthier / Los Angeles Times)
Clippers coach Doc Rivers avoids eye contact after Kevin Durant hits a long three pointer in front of the team's bench.
(Robert Gauthier / Los Angeles Times)
Clippers forward Danilo Gallinari is stripped of the ball, but fouled, by Warriors defenders Shaun Livinston (left) and Alfonso McKinnie.
(Robert Gauthier / Los Angeles Times)
Warriors' Andre Iguadala drives for a dunk during the third quarter.
(Robert Gauthier / Los Angeles Times)
Warriors' Kevin Durant slips past Clippers guard Patrick Beverley for a basket.
(Robert Gauthier / Los Angeles Times)
Warriors teammates Kevin Durant (left) and Klay Thompson celebrate a Thompson dunk during the second quarter.
(Robert Gauthier / Los Angeles Times)
Warriors forward Kevin Durant falls to the floor as he makes a shot in the first quarter.
(Robert Gauthier / Los Angeles Times)
Clippers center Ivica Zubac struggles to shoot over Warriors center Andrew Bogut during the first quarter.
(Robert Gauthier / Los Angeles Times)
Rivers said, "You kind of felt like they were going to come in and throw a punch and they did, and I didn't think we responded to it."
At first, Durant's baskets were met with a cacophony of boos. The volume lowered, as if in resignation, as they continued.
"He had a different mind-set tonight than he had the other night," Kerr said. "He set the tone right away and our guys loved it. … I think that was infectious and it carried over to our defense, too."
With seven minutes remaining in the third quarter, and the Warriors up 31, assistant Jarron Collins nudged Kerr and pointed to the scoreboard.
"It's 31," Collins said.
This time, it didn't matter.
Sign up for our daily sports newsletter »
Twitter: @andrewgreif
---