Column: Doc Rivers' new group of Clippers won't go down without a fight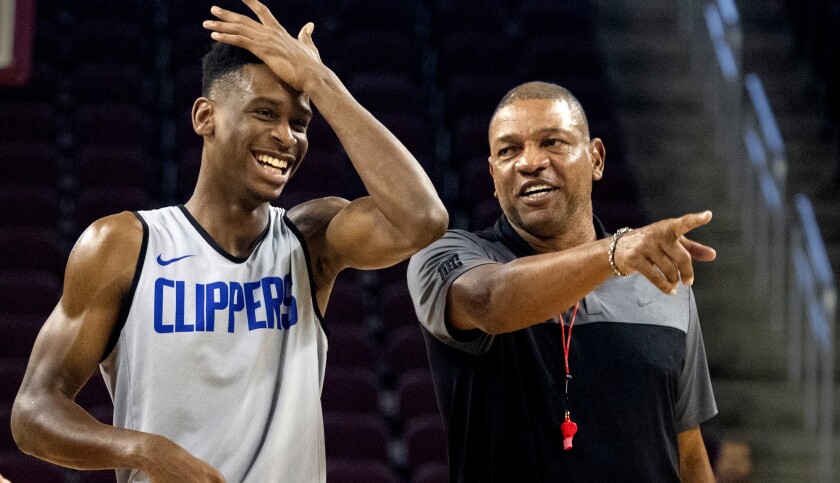 One summer day a long time ago in Maywood, Ill., a young Doc Rivers had just lost a pick-up game to one of the best players in the Chicago area, Isiah Thomas, breaking a sacred rule among Rivers and his friends.
"No one wins in Maywood," Rivers recalled.
That mentality meant Rivers and his team angrily chased the future Hall of Famer and his squad across town into the sanctuary of a neighborhood rec center.
Before Friday's 108-92 win over Oklahoma City, Rivers, the Clippers head coach, leaned back in his chair and chuckled. He was completely relaxed, his voice a little less scratchy, and he seemed really happy.
He knows his team won't win a championship this year. The Clippers don't have the talent to beat the likes of the Warriors, the Rockets, the Raptors or the Celtics. Two years ago, he would've lied to himself about that fact.
Now, he laughs and smiles because even if his Clippers get beat, he knows he has the kind of team that would chase Isiah Thomas across town.
"I have no doubt. That's a fact. This team is full of those guys," Rivers said. "It's guys who have been told they're not good enough, guys who have made it, guys who have grinded it, guys who are tough and guys who have fought. It's a foxhole team."
It's hard to hear Doc Rivers talk about all the things he likes about this team — the one that, if things break exactly right, could be a pain for one of the top seeds in the Western Conference in the first round of the playoffs — and not draw comparisons to Rivers' Clippers teams that had hopes of winning a title.
If this team is tough, gritty, ready to scratch and claw, ready to fight for one another, does that mean the Chris Paul, Blake Griffin and DeAndre Jordan-era Clippers weren't?
Well, kind of.
"I don't think we were good enough. I just don't," Rivers said. "As much as we fought it, the chemistry you needed to win with this group, it just wasn't … something extraordinary would've needed to happen to make that team come together."
This is Rivers speaking with the powers of hindsight because he very much acted like someone who thought the Clippers could be good enough. They were, in their first year together, a fluky final minute away from having a good chance of eliminating the Thunder and moving to the 2014 conference finals. And a year later, the team collapsed against Houston.
"Once those two years happened, it was really over for us," he said.
But had Paul not decided to force a trade to Houston, the Clippers very well could be trying — yet again — to win with a team that had long since gone stale. The breakup, remember, was forced.
But if it hadn't been, if the Lob City Clippers were that dysfunctional couple that refused to divorce, Rivers knows he couldn't have handled it.
"I needed the change. I wouldn't have done this with the same group. I wouldn't be here probably," Rivers said. "We just needed change. We needed it and we just had to do it. We had to come to the conclusion we weren't going to win."
Without the burden of chasing something that Rivers said, he knew he couldn't accomplish for three straight seasons, the Clippers finally moved on. They shipped out Griffin and let Jordan walk in free agency without a fight. And, for the restart, the team loaded the roster with fighters — players who could win an ugly game and, if they don't, will make sure their opponent earned it.
There's a real belief that the team is back on the right path (a belief closely tied to the thinking that their chances with free-agent-to-be Kawhi Leonard are more than fantasy), that they have the right mix of scorers, of defenders and of guys ready to chase someone across town.
Would he rather be in the title mix? Absolutely. But if you're not going to win, this kind of team will more than do.
"This is a fun team to coach," Rivers said. "This group, they like each other. They compete. They're extremely competitive, which is my DNA. They take it serious. They work. It's just a really good group."
Twitter: @DanWoikeSports
---
Get the latest on L.A.'s teams in the daily Sports Report newsletter.
You may occasionally receive promotional content from the Los Angeles Times.