Clippers' Doc Rivers denies rumors of coaching Lakers, reveals secret deal to stay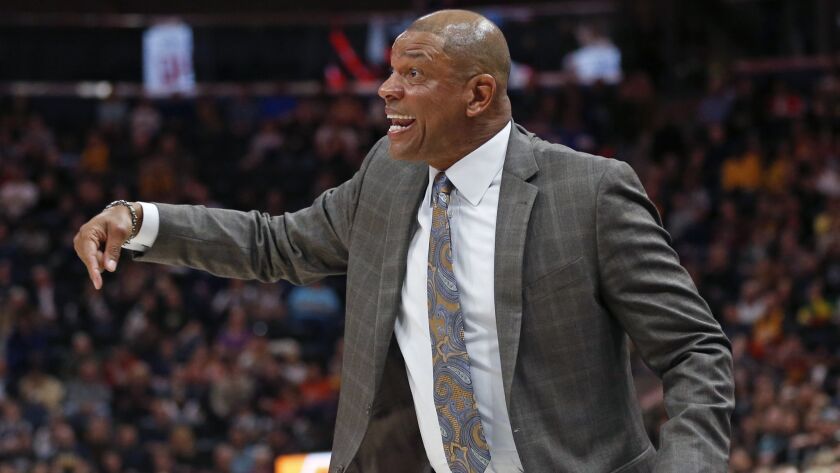 There are wins, the one of 82 where you score more than your opponent, and then there are WINS — the kind that change your franchise, that establish the framework for the future.
Tuesday, the Clippers got one of each.
Before they beat the Indiana Pacers 115-109, Doc Rivers smothered any embers potentially burning between him and the Lakers, a place he could've left for this summer, by announcing he agreed to a contract extension keeping him with the Clippers for "a long time."
Terms of the extension were not disclosed.
"I'm going nowhere," Rivers said. "I can tell you that straight and up front. I'm going to be here until Steve [Ballmer] says 'Get out.'"
Ballmer, the Clippers' owner, and Rivers agreed to a contract extension last May that included an opt-out clause for this summer, one Rivers could have used if he decided to pursue another job. The Lakers are expected to part ways with coach Luke Walton, and Rivers became the subject of rumors.
Not anymore.
"We just thought we'd put that to bed," Ballmer said.
Then Rivers' Clippers went out and kept the momentum going. Danilo Gallinari scored 24 points, Montrezl Harrell had 20 and 12 rebounds and Shai Gilgeous-Alexander scored 17 on nine shots to beat the postseason-bound Pacers. They led by as many as 17 in the fourth quarter before the Pacers cut the lead to a single possession in the final minute.
But Patrick Beverley sliced into the lane and hit a floater to ice the victory.
Gilgeous-Alexander added "two huge layups," Rivers said, a sign that the Clippers' rookie guard is getting more and more comfortable.
"When the shot clock is going down, it's nice to have guys who can make plays," the coach said.
Said Gilgeous-Alexander: "I felt like the clock didn't give me a choice."
Sign up for our daily sports newsletter »
Ballmer, in a pregame interview, praised the job Rivers has done over the last two seasons, helping shepherd the team out of the "Lob City" era while still competing for a playoff spot without sacrificing the flexibility to bring in multiple max-contract players this summer.
"We want to build around that and build around that momentum," Ballmer said. "We want to be a clearly stable organization as we head into the summer. Now was the right time to do that."
Stability is a new word to use with the Clippers, but one that's increasingly appropriate.
Tuesday's win over the Pacers — the Clippers' 42nd of the season — put them a half-game behind San Antonio and Oklahoma City for the No. 5 spot in the Western Conference playoff race with 10 games to go.
That seemed unlikely before the season and even unthinkable after the Clippers dealt their leading scorer, Tobias Harris, at the trade deadline.
But the Clippers kept on winning, making it easy to close any loopholes that would've let Rivers opt out this summer.
"We thought this was the right fit. We thought everything would work right," Rivers said. "But, we wanted to make sure. As my dad said, 'Trust everybody but cut the cards.'"
Early this season, they decided that test had been passed.
"We both decided, let's end this thing. We both decided to take this [clause] out and extend and make it a longer deal. We've long decided on that and just chosen not to say anything about it," Rivers said. "I'm here. My job is not done here.
"I came here for a lot of reasons. One of them was obviously to win a world championship. The other was to make this place a place people want to respect and come to."
The contract hasn't been finalized — Ballmer said they're still in the process of "dotting some I's and crossing some Ts."
But a message was sent: Rivers isn't going anywhere because he has no reason to leave. And that's a message the Clippers wants all kinds of people — top-tier free agents included — to hear.
"It sends a message to our team, our staff, people who might want to play here someday," Ballmer said. "I think it sends a message to a lot of folks."
Twitter @DanWoikeSports
---
Get our high school sports newsletter
Prep Rally is devoted to the SoCal high school sports experience, bringing you scores, stories and a behind-the-scenes look at what makes prep sports so popular.
You may occasionally receive promotional content from the Los Angeles Times.