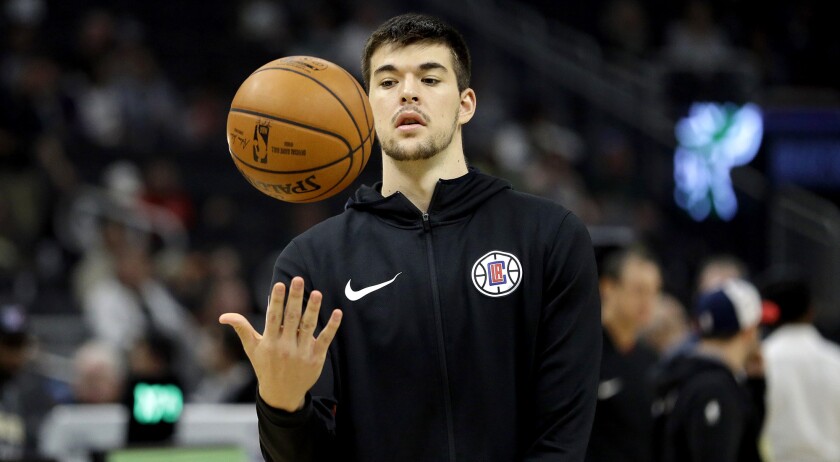 A smile began to spread across the face of the Clippers' Ivica Zubac as he contemplated participating in the Western Conference playoffs for the first time in his career.
In his two-plus seasons with the Lakers, Zubac never reached the postseason, always retreating in disappointment to his offseason home.
Now the 22-year-old Zubac is the starting center for the Clippers after they acquired him from the Lakers in a February trade and is about to embark upon his first journey into the postseason.
"I've never been in the playoffs so I'm not sure," Zubac said before the Clippers practiced Tuesday. "But everyone keeps saying like it's different basketball. Everything changes and there is so much attention to the detail and everyone starts playing harder and defenses are so much better. So, I just can't wait to compete."
When his past seasons with the Lakers were over in mid-April, Zubac said he would return to Croatia and chill out while trying to take his mind off another unfortunate year.
"I go home. I try to forget about bad season we had," Zubac said. "I always watch the playoffs. I just go home or on vacation, or together because Croatia is nice. I go back home. I watch the playoffs and that's how it goes."
Zubac has found his rhythm playing for the Clippers. He gives veterans Patrick Beverley, Lou Williams and Danilo Gallinari props for helping his career move forward.
Sign up for our daily sports newsletter »
Zubac is averaging 9.0 points, 7.5 rebounds and 1.5 assists in 22 starts with the Clippers. He is shooting 53.2% from the field and 71.4% from the free-throw line.
"If you want to be successful and you want your teammates to respect you, you got to be open to advice from the older guys," Zubac said. "You got to listen to them. You got to be open to everything they say and you can't complain much. Like, that's how you get your respect and I feel like all the young guys here on the team are like that."
Beverley, whom the Clippers list as questionable for the game against the Houston Rockets on Wednesday night at Staples Center because of a right hip pointer, has pushed Zubac the hardest, impressing upon the 7-foot-1 center about "playing hard" at all times.
"One game, before the game, I was too loose. Like, I was not really focused and he called me out," Zubac recalled. "And I started out the game really bad and then at halftime he called me out again. So, that woke me up and I had a really good second half. Things like that you don't see every day. When you hear that from Pat, Lou, Gallo, it means much because they've been in the league for a long time and they have seen a lot of stuff."
Clippers coach Doc Rivers loves the idea that his leaders — Beverley, Williams and Gallinari — are showing young players such as Zubac the right approach to the game.
"They've been great for him, honestly," Rivers said. "There are some veterans that you need to tell you the right stuff, and we've got a group around Zu that's telling him the right things to do. And I think that's been good for him."
UP NEXT
VS. HOUSTON
When: 7:30 p.m., Wednesday.
On the air: TV: Prime Ticket; Radio: 1150, 1330.
Update: The Clippers, who have won 13 of their last 15 games, are tied for fourth in the NBA in scoring at 115.1 points per game. They are ranked second in the league in three-point shooting (38.7%), but are ranked 28th in three-point attempts (25.8 per game) and tied for 23rd in makes (9.9).
Twitter: @BA_Turner
---