Acquisition of JaMychal Green proves to be a good fit for Clippers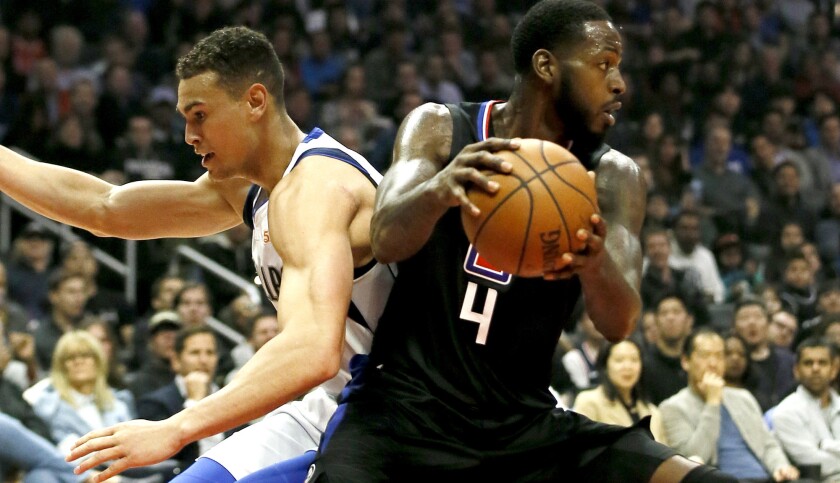 The NBA's trade deadline was a shock to JaMychal Green. He'd never been traded during his four previous NBA seasons.
Then, in his first game after being dealt along with teammate Garrett Temple by Memphis in exchange for guard Avery Bradley, Boston outscored the Clippers by 18 points during his nearly 15 minutes of playing time.
If his transition started rough, it has only gone up from there, aided by what he calls a sensibility he shares with many in his new locker room.
"I like playing with players that are dogs," Green said. "I consider myself one. Coming here, I knew I had some dogs to play with."
The approach has helped Green not only fit in with his new teammates but fill a void left by Bradley.
Bradley was the defender coach Doc Rivers assigned to guard an opponent's best offensive playmaker. He no longer has that option.
Instead, he has three.
Since the trade deadline, the Clippers have often guarded the most dangerous matchup using a rotation of either Green, Temple or guard Patrick Beverley A121-112 victory over Dallas on Monday offered a glimpse of the grouping's potential.
Sign up for our daily sports newsletter »
Mavericks star rookie Luka Doncic scored 28 points but had nine turnovers and Dallas coach Rick Carlisle acknowledged the Clippers' traps had contributed to such mistakes. Doncic scored three points during 15 possessions in which he was guarded by Temple and was 0-for-two shooting on possessions against Green, according to Second Spectrum tracking data. Those numbers don't include the numerous Clippers traps that forced Doncic to pass.
Green "was our best player at times on Luka," said Rivers, and his value defensively wasn't only evident Monday. The 28-year-old forward has allowed the team's third-lowest defended field goal percentage (38.5%), according to NBA.com.
"I got pride, I take defense serious," Green said. "Some players play defense just to stay in. I just feed off my defense."
Defensive metrics were rarely as bullish on the 6-foot-2 Bradley as Rivers, who likened the guard's ability to shut down top stars to that of former NFL cornerback Deion Sanders.
Yet with Beverley already in the fold to go with the trade-deadline additions of Temple and Green, Rivers now has multiple options with superior length and versatility. Rivers refers lovingly to the 6-2 Beverley as an "irritant," the 6-6 Temple as "underrated" and the 6-9 Green, at least during Monday's matchup, as "phenomenal."
It's fair to believe Rivers never expected to gush like that.
"I actually thought that you could take him off pick and rolls from scouting," Rivers said of Green. "Then you get him and you realize, oh, he has good feet."
That footwork and his 50% three-point shooting since the trade have helped Green mesh quickly with the Clippers bench combination of Montrezl Harrell and Lou Williams, who are producing 36.2 points a game, the highest single-season combined scoring average of any two reserves in NBA history, according to the Elias Sports Bureau.
Since the trade deadline the Clippers grouping of Green, Harrell and Williams has been the team's best among combos playing at least 10 minutes a game together, and third-best overall in the league, with a plus-5.5 rating.
"It just gives us another weapon with JaMychal," Williams said. "We can space the floor, teams got to play us honest and they have to guard myself and guard JaMychal and [Harrell]. It's a lot of one-on-one basketball. It's hard to trap us, hard to play any kind of junk defenses."
Green will be a free agent after this season and some within the Clippers view his skills as valuable to retain. In the meantime, he acknowledged his transition, while encouraging, remains in progress.
"It's been different," Green said. "I feel like me and Garrett are still trying to get acquainted, trying to find our roles and find my spots offensively and defensively. But I mean, we kind of fit in."
UP NEXT
AT UTAH
When: 6 p.m. PST, Wednesday
On Air: TV: Prime Ticket; Radio: 570, 1330.
Update: The Clippers are a half game behind the Jazz for sixth place in the Western Conference standings with 20 games left in the regular season. The Jazz, 19-10 at home this season, are 1-1 since the All-Star break and will be playing on three days' rest. Utah guard Donovan Mitchell averaged 27.7 points a game in January, the team's highest scoring average over a month since April 1998, when Karl Malone averaged 32.2 points.
Twitter: @andrewgreif
---
Get the latest on L.A.'s teams in the daily Sports Report newsletter.
You may occasionally receive promotional content from the Los Angeles Times.