Lou Williams' super-sub performances help solidify Clippers' playoff hopes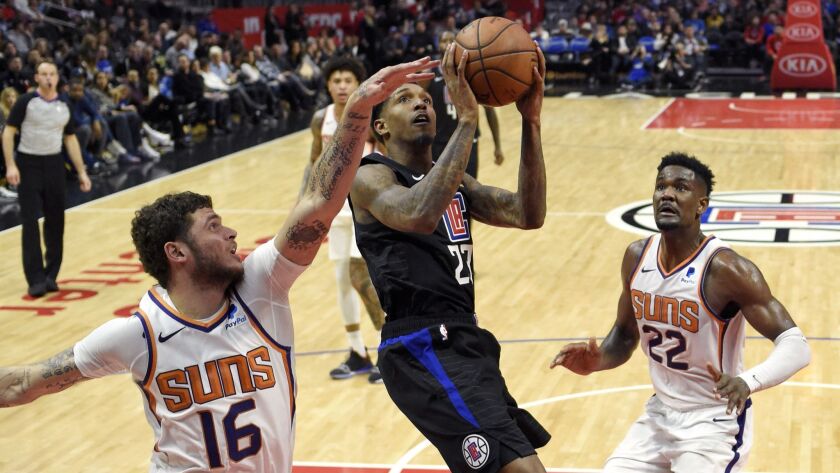 When Ivica Zubac first met Lou Williams in 2016, he was in awe.
Zubac, then 19, was working to transform his 7-foot frame into an NBA-ready body by lifting weights several times a week. Patiently, he waited to see the fruits of his labor.
So it was with a bit of envy that he watched as Williams, his Lakers teammate and a lithe 6-1, 175-pound guard a decade his senior, barely touched a weight at practice while still being a game-changing scorer.
"He would show up for the game, he would score 20 and then would show up for the next game," said Zubac, who reunited with Williams in February after a trade to the Clippers. "Man, I wish I can do it like that."
Zubac needn't be so hard on himself. Those with decades of NBA experience say the Clippers reserve is an exception in both how he prepares for games and the ease with which he takes them over.
If many NBA players bulk up to handle the rigors of a season's length and physicality, Williams' summer conditioning consists almost exclusively of playing basketball, often at pro-ams and in leagues around Atlanta, his offseason home. And only in the last two seasons has he consistently added weight workouts into his routine during the season.
"I don't mess with the weights," Williams said. "I don't know, I'm weird in that way. Not a lot of guys will really do that personally but it just works for me.
"I guess I'm just old school, man. I go out and I hoop."
One season after career highs in minutes played and points scored, Williams remains the scorer the Western Conference's most surprising team could not live without, averaging 20.3 points in 26 minutes a game. On slim shoulders, he has lifted the Clippers and led them to the brink of a playoff appearance while moving closer to securing the honor as the NBA's top reserve for what would be the third time of his career.
Instead of showing signs of wear and tear, he has instead authored another remarkable season of both durability and productivity, passing Dell Curry for the most points as a reserve in NBA history.
"I played with a teammate like that in [Houston's] James Harden, who was durable also," Clippers guard Patrick Beverley said. "A guy like [Portland's] Damian Lillard, he's durable. But you mention these guys and these guys are superstars — and you have to put Lou up there with them."
When Williams was drafted by Philadelphia in the second round of the 2005 draft straight out of high school, he acknowledged his size, and uncertainty whether he was a point or shooting guard, factored into his draft drop. Yet with the 76ers, he was paired with Allen Iverson, the star guard who'd been an inspiration.
"If anybody can teach me about being an undersized guard, it's Allen Iverson," Williams said then.
One of Iverson's many teachings was to stay away from the weight room, Williams once told Daniel Shapiro, the Clippers' head of strength and conditioning, and Williams did so for years because the results spoke for themselves. He has played at least 60 games in 12 of his 14 seasons.
He ate right, using a private chef. He worked with a trusted trainer in the offseason. He constantly played basketball to keep his legs, and feel for the game, strong.
The routine wasn't broken. Why change it this late in his career?
Shapiro vividly recalls his introduction to Williams two years ago.
"He said, 'Are you the strength coach? Good to meet you. I'll just let you know this, I can count on my hands how many times I've lifted in my career,'" Shapiro said. "So that's how we met."
Shapiro pitched a routine that would complement Williams' routine, not overhaul it, believing Williams could boost his longevity by adding in a weights-focused routine. Williams was open to try. Last season, 90 minutes before tipoff twice a week, he began a 12-exercise, 20-minute routine that strengthens his hips, ankles and knees through balance, resistance bands and lower-body exercises.
It worked well enough that Williams requested they repeat it this season, down to the exact number of sets and repetitions. Other than a hamstring pull that kept him out six total games, Williams has looked as healthy and effective as ever. Coach Doc Rivers envisions a future where Williams plays until he's 40. His scoring average is the second highest by an NBA reserve in the last 25 years, trailing only the 22.6 he averaged last season.
Sign up for our daily sports newsletter »
Said second-year Clippers reserve Ty Wallace: "How much we rely on him, for him to have been doing it this long and continue to stay healthy and stay effective for us is crazy."
Still, he's only 175 pounds, nearly the exact weight as when he was drafted, and some teams have tried disrupting him by guarding him physically. Williams counters physical strength with being "ridiculously, ridiculously good" at the details, Clippers assistant Casey Hill said. Williams' experience has left him attuned to spot tiny details in defensive coverages and exploit them not through sheer strength but "because he plays angles as well as anyone," Hill said.
Other staffers marvel at his ability to remain emotionally even-keel on the court and unaffected by struggles. Sunday's victory over the New York Knicks was the latest such example. Williams made four of his first 13 shots before scoring 15 points in the fourth quarter.
The win pushed the Clippers one step closer to the postseason, where the intensity increases and scorers even more prolific than Williams have been stifled before.
His teammates are not worried.
"He's got that gift," Zubac said. "He just goes out there and plays."
UP NEXT
AT MINNESOTA
When: Tuesday, 5 p.m. PDT.
On the air: TV: FS West; Radio: 570, 1330.
Update: The Clippers (44-30) will clinch a postseason berth if they beat the Timberwolves (33-40) or if Sacramento loses Tuesday to Dallas. The team has listed starting guard Landry Shamet as questionable to play against the Timberwolves after he suffered a left ankle impingement during Sunday's victory against New York. Minnesota guard Derrick Rose, who scored 22 points during his team's victory against the Clippers on Feb. 11, will not play after surgery Saturday to remove bone chips from his right elbow.
Twitter: @andrewgreif
---
Get the latest on L.A.'s teams in the daily Sports Report newsletter.
You may occasionally receive promotional content from the Los Angeles Times.