Clippers' Montrezl Harrell and Lou Williams are doing something no other NBA duo has done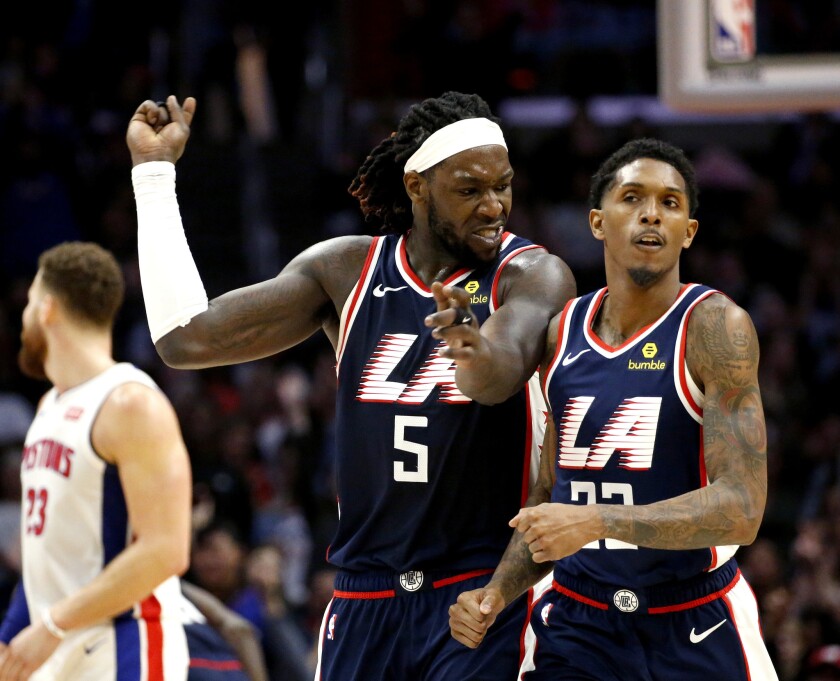 The dynamic duo of Lou Williams and Montrezl Harrell, which is pushing the Clippers to the playoffs, was born during scorching summers in Georgia playing in the Atlanta Entertainment Basketball League.
It was there that Williams and Harrell first put on their two-man show, which now is producing historic feats never seen before in the NBA.
Williams is first among all reserves in points per game (20.2) and Harrell is fifth (16.2), making them the highest-scoring duo off the bench of any team in history, according to Elias Sports Bureau.
They began to perfect the process at the pro-am league three summers ago, always playing on the same team, looking for ways be a one-two punch.
"We played during the week in Atlanta, so we spent a lot of time together and it shows," said Williams, who was an All-American at South Gwinnett High on the outskirts of town. "It's important. It's important. It gives us an opportunity to play together. It gives me a chance to see Trez shoot a lot of shots, the things that he's comfortable with doing when he just has the opportunity to go out there and shoot 20, 25 times. He sees me shoot 20, 25 times. So we understand what we both bring to the table and what we can do."
They became NBA teammates during the 2016-17 season when Williams was traded from the Lakers to Houston, where Harrell was in his second season.
When they were acquired by the Clippers in the Chris Paul trade in 2017, Harrell had to wait to showcase his skills and what he had learned from playing with Williams because Blake Griffin and DeAndre Jordan were the high-flying acts with whom Williams mostly shared the court.
With the end of Lob City, Harrell has become a force, his scoring, rebounding (6.6), assists (1.9) and blocks (1.3) all career highs for the 6-foot-8 center from Tarboro, N.C.
"We had the opportunity to actually do it on a consistent basis. From the early part of the years, even in Houston, I didn't really get a lot of time on the floor with Lou like that," Harrell said. "Coming here when we first got here, Blake and DJ were here so they kind of was established at that big spot and Lou was kind of going in and trying to create and find his way with them.
"This year, it's been me and him in that duo coming off the bench and I've had a lot of opportunities to just get him open and get him on that free-flowing game that he has and being able to play loosely, like how we do in the summer, really."
As Williams and Harrell try to accomplish an amazing achievement together, the veteran guard has his own personal date with destiny.
Sign up for our daily sports newsletter »
Williams has scored 11,120 points as a reserve over his illustrious 14-year career, pushing him past Jamal Crawford for second in NBA history. Only Dell Curry (11,147) stands in front of Williams.
Williams is considered by many the leader for the NBA's sixth man of the year award. He won it last year with the Clippers and with the Toronto Raptors in 2015. If Williams were to win again, he'll join Crawford as the only three-time winners.
Because he's all about team first, the reserved Williams actually would cherish more the imprint he and Harrell can leave on the game.
"It's history. It's something to be proud of," said Williams, who leads the Clippers in scoring and assists with 5.4 a game. "When you're in the moment, you kind of get lost in it. Sometimes when you walk away, you want to say that you left a mark on the game. So it's history."
Despite all the trades and constant lineup shuffling, the Clippers are holding down a playoff spot in the tough Western Conference. In the eyes of their teammates, the Clippers are in this position because of the heights Williams and Harrell have scaled.
"That's deep, man, what they are doing, how they are making history off the bench like that," guard Patrick Beverley said. "You can't even put a price tag or a value on what they do. And it's not just for each other, but it's the shots they open for everybody else. It's hard to help on anybody.
"It seems like they are playing two-on-two and they have been doing a hell of a job. But ya'll only see from here. That starts with Trez going to Atlanta playing with Lou, getting used to Lou. That goes back from summers ago and it's paying off now."
Williams looked over at his partner and offered a small complaint.
"Trez and I spend a lot of time together in Atlanta," Williams said, smiling and laughing, "but he's always at my house eating all my food."
Harrell thought that over for a nanosecond and disputed the claim.
"Man, he's lying about that," Harrell said, laughing. "First of all, you can't eat all his food because he has a chef. There's no way we're eating all his food. And then we have about 40 people at the house. So he's lying. But I will eat his food."
Harrell paused and looked over at Williams.
"OK, yeah, it's good food and good hoops," Harrell said, smiling. "Facts!"
UP NEXT
VS. BOSTON
When: 7:30 p.m., Monday.
On the air: TV: Prime Ticket; Radio: 570, 1330.
Update: The Clippers are looking to tie a season high with a fifth consecutive win. The Clippers mounted their largest comeback in franchise history when they stormed back from a 28-point deficit to win at Boston last month. The Celtics have won their first three games on their West Coast swing. They are ranked fourth in the NBA in points allowed (106.6) and hold teams to the second-lowest field-goal percentage (44.5%).
Twitter: @BA_Turner
---
Get the latest on L.A.'s teams in the daily Sports Report newsletter.
You may occasionally receive promotional content from the Los Angeles Times.