Reporting from Chicago —
The face-to-face meetings with prospects at the NBA draft combine this week was the most significant part for the Clippers.
They had already seen somewhere between 40 to 160 games on tape and in person on many of these players.
When the Clippers try to make sense of all the information before they use their 12th and 13th picks in the June 21 NBA draft, they wanted to use their time wisely with the 20 prospects to whom they spoke.
"The biggest thing for us is the 30 minutes we get to spend with them in the interview," said Trent Redden, the Clippers' assistant general manager who was part of their big contingent here. "Although they have been coached better and better, you still get a little bit of their perspective on things you had questions about. You get to find out what type of person they are. That's the biggest part that I get out of it."
Lawrence Frank, the Clippers' president of basketball operations, said the team already had collected mounds of intelligence on the players before the meetings.
The get-togethers, Frank said, are when the Clippers sought to get a read on "what's real versus what is kind of a façade. We're just looking for true honesty and we look for the characteristics that we value. Is he humbled? Is he over himself? Like, can he laugh at himself?
"Again, they are 19, 20, 21. They are young men. But just the self-awareness to know your strengths and weaknesses as people. Then we are looking at how competitive are they? Because ultimately, at the end of the day, that is usually the difference-maker — the competitiveness, the thirst, needing that competition."
Miami guard Lonnie Walker IV checked a lot of those boxes for the Clippers.
He even mentioned how impressed he was with Clippers consultant Jerry West, coach Doc Rivers and owner Steven Ballmer during the interview with the team.
Walker, who is only 19, was asked what he knows about West.
"My father is old school and also going to Miami, Coach [Jim Larranaga], he's very old school so you tend to know about people like them," Walker said, smiling. "But it was great talking to [West]. He was very laid back. He talked to me about a lot of things, but he also taught me a lot of things. Just telling me how to prepare for the NBA. Even if I wasn't to go to the Clippers, just how to present myself as a man and how to be ready for the challenges that I approach."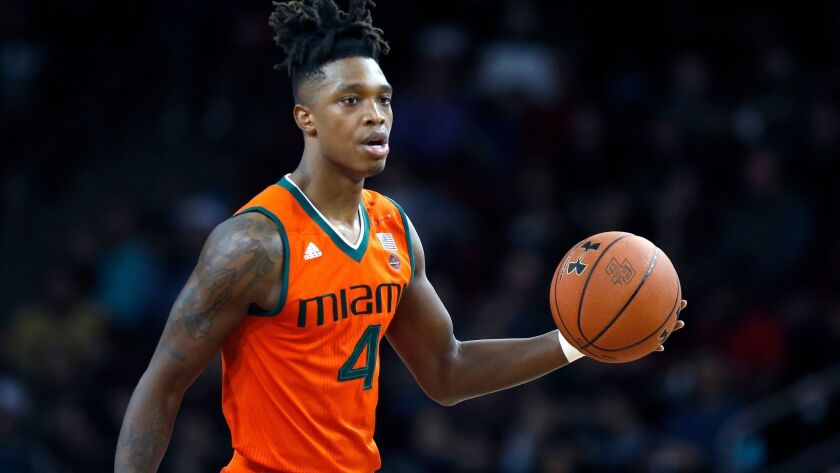 The character the Clippers discussed came through during Walker's interview with the media on Friday.
Walker, who averaged 11.5 points last season as a freshman, talked about how knowledge is power and how he loves to read and help others.
"Once this is all said and done — basketball is a temporary sport — I plan to help the world," Walker said. "I want to make a difference and change everything. And if it's going to Africa, building schools, building hospitals, that's what I'm going to do. I want to help people. I want to change this place and make a difference in life."
Twitter: @BA_Turner
---