Kawhi Leonard closes out Luka Doncic and Mavericks, carries Clippers to second round
By the time Kawhi Leonard spoke Wednesday, he didn't know whether the NBA's season was over or merely paused.
A day that began with Milwaukee refusing to take the court as a protest against racial injustice ended with no more clarity about whether anyone would step on a court near Orlando, Fla., again, amid a volatile meeting of players on the league's Disney World campus.
The Clippers and Lakers let their peers know they were not in favor of playing. The other 11 teams were. What emerged was little consensus and many emotions.
When it was Leonard's turn, he told his peers "we can't control what's going on outside," he recalled Sunday. "All we can control is what we're doing on and off the floor."
His input was notable because no one knew whether he'd say anything. As teammate Paul George put it, "everybody knows he's a man of few words." But maybe more necessary in the moment was his temperament amid uncertainty.
"He's calm; he made his points," Clippers coach Doc Rivers said. "Everyone was very emotional and Kawhi, he removes that component. And so, I think a lot of times, in emotional situations, especially during games, I can tell you, when you hear the calm voice, it sure sounds better."
When the season eventually resumed, so too did Leonard's role as the Clippers' irreplaceable rock.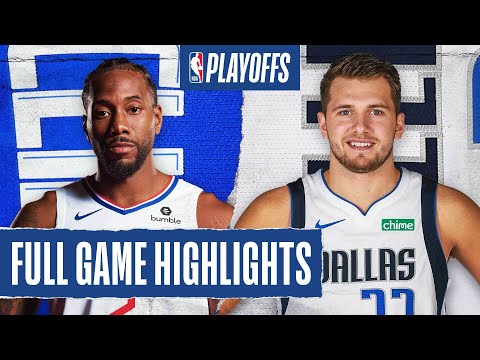 Highlights from the Clippers' win over the Dallas Mavericks in Game 6.
By the time Leonard entered the fourth quarter of Sunday's Game 6 with 9 minutes 27 seconds remaining, it wasn't clear whether the Clippers' opportunity to close out Dallas was over. They led, 88-82, but the gradual disappearance of their 23-point lead from the third quarter, thanks to the superb play of Mavericks guard Luka Doncic, rekindled unpleasant thoughts of their 21-point collapse in Game 4.
For the second time in five days, the Clippers turned to Leonard, a two-time most valuable player of the NBA Finals, for stability. Within five possessions, he'd scored eight straight points. A 111-97 victory — which secures the franchise's first appearance in the second round since 2015 — was soon in hand.
Leonard finished with 33 points, 14 rebounds, seven assists and five steals. He made nine of 10 shots after halftime and his rebounds and steals tied season highs.
"You can tell he was the one guy that's used to close out a series," Rivers said. "He was calm. He got us in place."
With Kawhi Leonard leading the way, the Clippers showed a glimpse of their championship-caliber potential against Luka Doncic and the Dallas Mavericks.
In a series featuring 16 technical fouls, a three-day stoppage and a stunning showing that burnishes Doncic's reputation as one of the best young players, Leonard led with metronomic consistency. He averaged 32.8 points, made 74% of his shots between eight and 16 feet and provided the steadiness that comes from the experience of winning two championships.
Dating to last season, Leonard has scored at least 20 points in 14 consecutive playoff games.
"I always say, just playing even keel out there," Leonard said. "… You know, you've just got to keep fighting. This is playoff basketball and everything is not going to go your way. You're going to have downs and ups."
Sunday was yet another example. The Clippers lost their primary defender on Doncic, Marcus Morris Sr., to a first-quarter ejection after he raked Doncic over the head as he drove to the rim in the first half, ending Morris' night after 11 minutes and nine points. Doncic finished with 38 points, nine assists and nine rebounds. Rivers called it a "reputation throw-out," based on the brewing dislike between the two throughout the series. Scott Foster, the referees' crew chief, said Morris' "windup, impact and follow through" to Doncic's head was the basis of the ejection, not his history.
Without Patrick Beverley, who missed his fifth game because of a hurt calf, and Morris to check Doncic, the guard accounted for 77% of his team's 23 third-quarter points and helped whittle away the Clippers' lead. Some of his damage occurred against a lineup featuring reserves Montrezl Harrell, Reggie Jackson and Lou Williams that leaked points defensively. Rivers stuck with the trio for more than nine minutes — a span in which the Clippers were outscored by 22.
By early in the fourth quarter, the lead down to six after a three-pointer by Doncic, Rivers replaced Williams and Harrell with Leonard and Ivica Zubac, the young center who has produced a head-turning postseason and finished with 15 points and 11 rebounds. Then Leonard went to work: a dunk, followed by shots from 15, 16 and 23 feet, then an assist on a Zubac dunk.
When Leonard exited the game with 1:36 remaining, there was no question that the series was over.
"Whenever we needed him, he put us on his back," said George, who scored 15 points. "He finished the series. … It's his shot-making, just his timing on just awareness plays. He's just one of a kind."
Three observations
Morris is hopeful his hard foul won't lead to a suspension from the league. "I don't think these guys should sit nobody out, especially for games of these caliber," he said.
In his first game since his bounce-back offensive performance in Game 5, George made six of 19 shots, adding nine rebounds and seven assists.
The Clippers were unbeaten during the series when outrebounding Dallas, which they did 52-42 in Game 6.
Get our high school sports newsletter
Prep Rally is devoted to the SoCal high school sports experience, bringing you scores, stories and a behind-the-scenes look at what makes prep sports so popular.
You may occasionally receive promotional content from the Los Angeles Times.