Paul George stays hot but 76ers end Clippers' winning streak
For nearly two weeks, the Clippers had played far from unblemished basketball yet had remained unbeaten.
It was why they weren't spooked after trailing by 17 just four minutes into Friday night, even though Kawhi Leonard was sidelined as a precaution for a fourth consecutive game and Paul George still was feeling the effects of an illness that had left him in bed for much of the previous 48 hours.
If the seven-game winning streak they carried into their matchup against Eastern Conference-leading Philadelphia had taught the Clippers anything, it revolved around resilience.
"Just seeing guys' tenacity, seeing guys' ability to not give up no matter what is going on out there on the court," forward Patrick Patterson said. "Guys are realizing that, you know, the game's not over."
Unfortunately for the sake of the Clippers' streak, the game wasn't over when Marcus Morris made a turnaround jumper to push the Clippers' comeback ahead by two with 4 minutes 56 seconds left, either.
The shot was the last time they led in a 106-103 loss that ended after Morris' potential game-tying three-pointer missed with five seconds remaining. The 76ers had a foul to give but did not elect to use it. They took their chances with Morris, a 47% three-point shooter who had made two of five attempts.
The miss ended a rally that appeared poised to continue the streak and a run of strong play since March that had emboldened the Clippers' case as a contender.
The Clippers signed veteran center DeMarcus Cousins to a second 10-day contract on Friday.
One game after rallying to win in Detroit despite missing five players, the Clippers made a push at Wells Fargo Arena that collapsed under the weight of too little offense to start and finish, too many turnovers (19) and too much Joel Embiid.
The Clippers felt their mixture of defensive coverages forced the 76ers' most-valuable-player candidate into undesirable shots and yet he still finished with 36 points and grabbed 14 rebounds. Held to one field goal in the fourth quarter, he nonetheless made six of seven free throws in that frame.
The Clippers guarded him with a second defender in the first half, and he scored 15 points and grabbed nine rebounds. When they tried single coverage in the third quarter, a mix of either Ivica Zubac or Morris, he added 13 more points. The Clippers went small for the final quarter, going without the 7-foot Zubac.
Embiid dueled with George, whose own personal "Flu Game" finished with 37 points, a team-leading nine rebounds, six assists and two blocks. It was his fifth consecutive game with at least 30 points.
"The past few days, my throat was killing me, chills, I don't know what the heck was going on," George said. He felt a "big breakthrough once I started playing. It kind of just washed away. I would say I was just more so tired than anything. But I felt good physically."
George also committed seven turnovers and felt the 76ers were "just allowed to play hands on, they were allowed to reach." He added, though, "I could have just made better plays."
The Clippers (39-19) would have had more time to generate a scoring play on what became their final possession, but they couldn't foul quickly enough once the 76ers inbounded the ball with 20.5 seconds left leading by one after a three-pointer by Clippers guard Reggie Jackson.
Had 76ers All-Star Ben Simmons caught the ball, the plan was to foul the career 59% free-throw shooter immediately. Anyone else and the Clippers would attempt one trap before fouling.
The ball didn't go to Simmons. The clock didn't stop until nine seconds remained and Danny Green made two free throws.
The Clippers beat the Pistons 100-98 on Wednesday in Detroit.
"I thought they did a good job moving the ball quick and we really couldn't get to them," coach Tyronn Lue said. "Give them credit for doing that."
Patterson's season-high 18 points helped Clippers reserves cut the lead to one by the time George returned from getting rest with 7:41 left in the fourth quarter.
The energy had shifted toward the Clippers in that moment.
Even after the loss, George believes some remains after a 2-1 trip.
"We know, we're not fully healthy, we're not at full strength," he said. "We got some big-time players that are coming back for us. So I like it. I like where we're at. I think the team is in a great place still. We're ready to rock."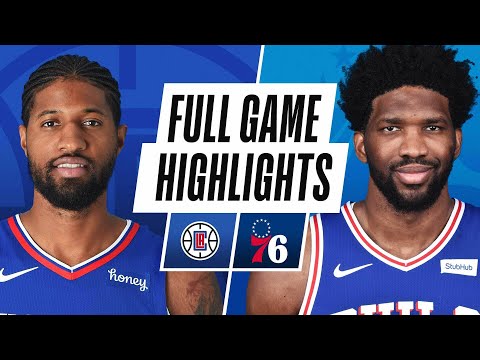 Get our high school sports newsletter
Prep Rally is devoted to the SoCal high school sports experience, bringing you scores, stories and a behind-the-scenes look at what makes prep sports so popular.
You may occasionally receive promotional content from the Los Angeles Times.