Reggie Jackson's jumper lifts short-handed Clippers over Pistons
The Clippers who were able to play hugged and laughed and wrapped their arms around Reggie Jackson after his game-winning shot led this short-handed unit to a stunning 100-98 win over the Detroit Pistons on Wednesday night.
The Clippers who were unable to play — Kawhi Leonard (sore right foot), Paul George (rest) and Marcus Morris (rest) — raised their hands in the air and cheered and bounced around in glee.
And when the game in Detroit was over and the Clippers had pushed their winning streak to
seven, Coach Tyronn Lue raised his hands over his head at the start of his videoconference with reporters and blurted out: "Oh, man."
Then he laughed.
His team had just overcome not having their top three offensive players in Leonard, George and Morris, who combine for 62.4 of the Clippers' 115.3 points.
His team rallied in a game that looked to be in doubt nearly all of the fourth quarter, down to less than a minute to play.
"Very proud," Lue said. "Just keep going, keep fighting and never give in. We never know what happens in a ballgame and our guys just kept scraping and kept competing. … Happy for Reggie. To come back and play the way he's been playing and making game-winning shots, that was huge."
The Clippers beat the Indiana Pacers 126-115 on Tuesday in Indianapolis to extend winning streak to six.
The Clippers were down 11 points with 4 minutes 51 seconds left, down eight with 3:06 and down five with 46.9 seconds left.
But their confidence and defense held strong throughout those tense moments.
"Just being a resilient group," Jackson said after scoring a season-high 29 points, five of which came in the final 19.1 seconds. "Honestly, with our ups and downs, with our injuries that we've sustained throughout the year with guys being in and out of the lineup, I think it's been topsy-turvy. It's been tough for us at times, but I think it's shaping us into who we are, finding ways to continue to lean on each other as brothers, finding ways to hold hope despite whatever the situation may be that night."
Mason Plumlee made two free throws with 46.9 seconds left, putting the Clippers down 98-93.
Terance Mann, who found himself in the starting lineup, scored on a quick dunk.
The Clippers then went to work on defense, smothering the Pistons at every turn.
When Jerami Grant (28 points) got the ball at the top, Mann and Nicolas Batum double-teamed the Pistons forward, forcing him into a turnover.
Mann retrieved the ball Batum poked away and dribbled upcourt, with Jackson trailing.
Mann passed to Jackson, who drilled a three-pointer to tie the score at 98-98 with 19.1 seconds left.
The Clippers got another defensive stop when Amir Coffey tipped the inbound pass by the Pistons. Mann got the ball and the Clippers called a timeout with 15.4 seconds left.
Paul George scored 32 points in a win Sunday, his third consecutive game with at least 30. It helped earn him Western Conference player of the week.
That set the stage for Jackson.
With Pistons rookie Killian Hayes on him, Jackson took his time, dribbled into the lane and made a 21-foot jumper with 2.8 seconds remaining.
"TLue drew up a play specifically for me to get it, get a one-on-one shot," Jackson said. "So I'm very appreciative that he did that and trusted me and that the entire team trusted me."
The Clippers had gotten a lot of resistance from a Pistons team that entered with the third-worst record in the NBA, and the worst record in the Eastern Conference at 16-38.
But the Clippers prevailed and improved to 10-1 on the second night of back-to-back games.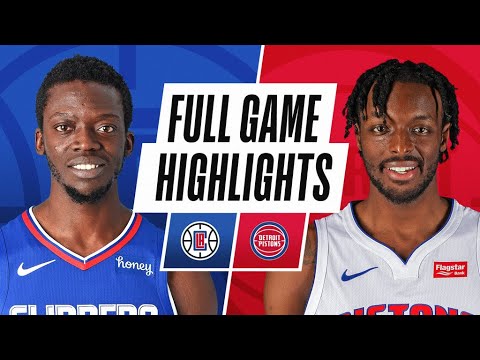 Three observations on the Clippers
Clippers coach Tyronn Lue said he kept Kawhi Leonard out with a sore right foot as a precautionary measure. And because the Clippers haven't been able to practice or have shoot-arounds, Leonard hasn't been able to test the foot. Lue said Leonard remains day to day.

Serge Ibaka, who had been the starting center, has been out for about a month because of a back injury. He didn't join the Clippers on their three-game trip. "He's progressing," Lue said. "Everyone is asking about him. ... He's feeling better, but I really don't have a timetable on when he's going to come back."

The Clippers shot just 24.1% from three-point range, going seven for 29. But the three-pointer by Reggie Jackson with 19 seconds left tied the score, and it obviously was the biggest shot of the game. Jackson was three for six from three-point range.

Get our high school sports newsletter
Prep Rally is devoted to the SoCal high school sports experience, bringing you scores, stories and a behind-the-scenes look at what makes prep sports so popular.
You may occasionally receive promotional content from the Los Angeles Times.