Kawhi Leonard might be out, but Clippers say he's still making an impact
PHOENIX —
It was around 2 p.m. Monday when Kawhi Leonard tried to video chat with his coach, eager to know how the Clippers planned to adjust a day after losing Game 1 of the conference finals in Phoenix while the All-Star forward stayed home nursing an injury.
"But I don't like FaceTime," Tyronn Lue said, less than an hour later, chuckling.
Instead, Lue and Leonard, who remains in California receiving treatment for a strained right knee, used text messages. Leonard wanted to understand the adjustments Lue planned for Game 2 on Tuesday to know where the team had succeeded and failed.
"Just being able to hold guys accountable, talking to guys, talking to the players, what we need to do better on what he sees," the Clippers coach said. "If he knows the game plan, then he can definitely do that.
"So he's talked to the guys every day, as well; not just the coaching staff. He's very engaged and that's what you need from your players. He's locked in and still in tune."
The Suns became a contender after going 8-0 in the NBA bubble last fall. Some believe they qualified for the restart along with the Pelicans only because the league wanted Zion Williamson there.
Leonard, who's averaging 30 points in these playoffs, has remained a connected presence while being unable to score, rebound and defend, with Lue and others describing him as willing to lend his postseason expertise to aid teammates tasked with filling his void.
"He's still being that leader for the team, using his voice," center DeMarcus Cousins said. "And obviously the situation sucks that he's in, but he's engaged as much as he can be."
Said reserve guard Luke Kennard: "He's behind the scenes making sure that we're staying ready and staying locked in on what we need to do, and he believes in us just like everybody believes in each other.
"We definitely listen when he talks to us."
Not all of those interactions have taken place remotely. With the Clippers trailing by 22 points at halftime of Game 6 against Utah, the team's coaches retreated to a room separate from the rest of the locker room inside Staples Center to discuss adjustments.
Here are six things the Clippers can do against the Suns to flip Sunday's 120-114 loss into a win in Game 2 on Tuesday.
Following them inside was a 6-foot-7 visitor with braids.
Leonard "came into the coaches' office, just talking about different strategies and just wanted to know our game plan," Lue said. "How we are going to start, and what's our coverages and things like that."
Leonard's communication with teammates, whether in the locker room or texting in the players-only group chat, "is all the time," center Ivica Zubac said.
"He's a big part of this team, and it's not like he's done. He's involved and he's trying to help in a bunch of different ways."
The Clippers attest that seeing this side of Leonard has not been unusual this season. During training camp, center Serge Ibaka, who experienced Leonard's interaction with teammates while both played in Toronto, said he'd seen Leonard "really trying to be more vocal" and that he had "been communicating with everybody." And Lue has called Leonard's decision to resume playing on consecutive nights when healthy, something he had not done since 2017, a decision that built more trust within the locker room.
"Big brother, leader, a guy who still has confidence in his team," guard Reggie Jackson said. "We know he's battling what he's battling, and he's doing everything he can to get back with us. He's been here in spirit. He's been here vocally. He's been with the team. He's making sure we're good and giving us his best wishes. Still checking in. Keeping up to date.
"Like I said, he's doing everything he can to still have an impact on this team while he's away and doing everything he can to make sure he gets back as fast as possible."
The prognosis for Leonard's strained right knee remains uncertain, but he will miss his fourth consecutive game Tuesday. Also in doubt is starting forward Marcus Morris, who continues to experience soreness in the left knee that kept him on the bench for all but six minutes of the second half of Game 1.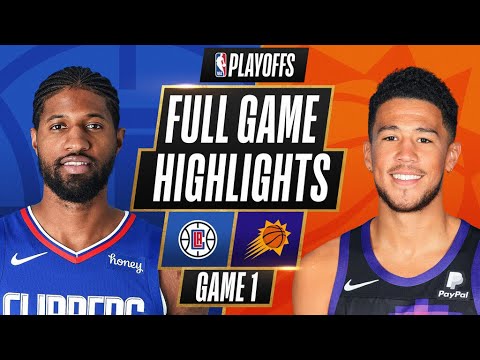 Video highlights from the Phoenix Suns' 120-114 victory over the Los Angeles Clippers on June 20, 2021, in Phoenix.
The limited information about Leonard is fitting for a star of few words who shares little with the public and guards his personal life carefully — it was news last week when teammate Paul George said Leonard recently welcomed a baby boy to his family.
Leonard called his health "good" immediately after injuring the knee by planting awkwardly while dribbling up court late in Game 4 against Utah. But hehas not been good enough to play.
The Clippers aren't the only team in this series relying on a star for guidance from afar. Suns All-Star point guard Chris Paul remains in the NBA's COVID protocols, his return undetermined, but he dialed into the locker room for a postgame video chat.
"He was holding up this, finger one, it was one game," Suns forward Jae Crowder said. "We did what we were supposed to do. We held them down and we made plays on both ends of the court. But he was very excited. He had a smile on his face. But he's eager to get back.
"Obviously everybody knows what type of player he is. He's ready to get back out here with us. And we just got to continue to take care of the uncertainty and come in each and every day and be prepared as much as possible with or without him."
While the Clippers have problems slowing Suns superstar Devin Booker, limiting center Deandre Ayton is another area of concern following Game 1 loss.
Without Paul in the final minutes of Game 1, when he typically commands the ball, the Suns wobbled, their 10-point lead down to two with less than a minute to play.
"We definitely missed him," Crowder said. "I think the last three minutes of that game, that's when we felt like, 'Where the hell is Chris at?' That's the point here: He's that guy. He's that guy to make that play for everybody."
Paul made the right call Sunday. It just came after the final buzzer, speaking to backcourt mate Devin Booker on the phone as Booker made his way to the locker room.
Get our high school sports newsletter
Prep Rally is devoted to the SoCal high school sports experience, bringing you scores, stories and a behind-the-scenes look at what makes prep sports so popular.
You may occasionally receive promotional content from the Los Angeles Times.