Clippers can't keep pace with Pelicans, lose fourth in a row
Late on Oct. 23, one Clippers coach made a plea for perspective after the team's first defeat, a thorough beating against Phoenix.
"It's a long season," he said.
Ever since, however, it has been one long, miserable week, during which the Clippers' losing streak that began with Phoenix has built to four in a row after a 112-91 loss to the New Orleans Pelicans at Crypto.com Arena on Sunday — and it isn't the only thing that has grown.
Missed shots are piling up. Their offense ranks better than only the league-worst Lakers and only 37% of the Clippers' shots have gone in when the closest defender is four feet or farther away — the NBA's definition of "open" and "wide open."
The turnovers haven't abated, either, now a league-worst 17.5 per game and becoming as reliable as the Clippers' calls for patience, some saying it could take two months for their full roster to play consistently together.
Perhaps most notable, calls from within the locker room for more intensity, effort and heart have steadily built with each loss.
The Clippers have lost three in a row after a 2-0 start as Kawhi Leonard and Marcus Morris Sr. missed the last two games. Tyronn Lue is not panicking.
Championships might not be won in October, but foundations can grow cracks and the past week displayed an unexpectedly unsettled team. One NBA scout said that the roster's lack of continuity has left the Clippers' lineups looking like a collection of five individuals, not one team.
"Right now I think we are just showing up and thinking we can win because of the talent we have, because of all the things we have on this team," said forward Marcus Morris Sr., who returned from bereavement leave to score 12 points, with eight rebounds and four assists. "That's just not the case."
Unlike their previous three losses, when they fell behind 11-0 to the Suns and 12-5 and 24-10 to Oklahoma City, the Clippers led after one quarter for the first time in four games and eventually pulled ahead of the Pelicans (4-2) by 11 points some 16 minutes into the first half.
Yet the Clippers entered halftime tied and the slide then continued into the second half. As the Clippers were stumbling to make only six of 24 third-quarter shots, the Pelicans ripped off a 25-point turnaround after a three-pointer by Devonte Graham opened a 14-point New Orleans lead, causing Clippers coach Tyronn Lue to call a timeout only 49 seconds into the fourth quarter.
The Clippers scored 39 points after halftime, and Lue said that he was "upset right now" after the team's past week, the way its offensive nosedive has too often carried over to its defensive efficiency.
"To be second to last in the league," Lue said, "that's terrible with all the talent that we have."
CJ McCollum led the Pelicans with 22 points, with Zion Williamson adding 21.
The performance muted the second consecutive optimistic offensive game from Norman Powell, who scored a team-high 18 on seven-of-14 shooting. Paul George scored 14 points, making five of 19 shots to bring down his shooting percentage this season to 38%, including 25% on three-pointers. George blamed himself, but he is just one element to the slow start.
"We should definitely be a lot further along," George said. "You can live with a team playing well, a team offensively just had a good night, but for us, we're allowing it. We're giving teams the freedom to play their way, we're giving teams the looks they want."
Lue's recipe for change included making shots, playing faster and more physically, and playing harder. He said that it will reach a point where the Clippers either improve or changes will be made.
"I am not up to that point yet, but we got to do some things better," Lue said. "And we're not a very good basketball team right now and we got to change that."
Changing that would seem no problem for a roster as talented as the Clippers. Even with Kawhi Leonard not playing Sunday because of knee stiffness — he won't play Monday against Houston, either, marking his fifth absence in the first seven games — the Clippers still boasted the same deep, talented group that had the team discussing its championships ambitions before the season — much of the same group that also excelled last season at adjusting on the fly when faced with short-handed lineups.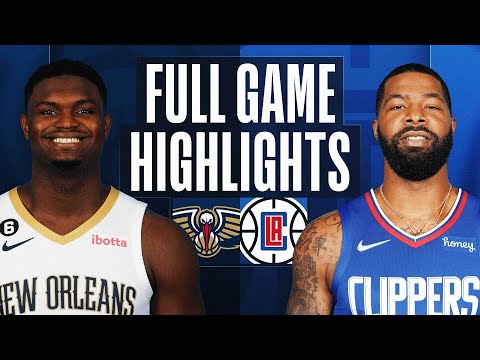 The difference, Lue said, is that where last season he could build a free-flowing, adaptable offense knowing that Leonard and George would be sidelined for long stretches, this season the team's offense is tailored around its twin stars. When either can't play, it pushes complementary players into unfamiliar roles.
"All of us got to figure out what our role is that fits best for this team to make us be great," said backup guard John Wall, who scored eight points, with six assists. "I think we all trying to figure out what it is and it's like pressure, pressure, pressure."
It reached a point Sunday where Morris was looking at New Orleans' sideline for the way a team should play.
"You can tell they play hard, you can tell they like playing together, you can tell guys are sacrificing their game, they know where they are going," Morris said. "We haven't really built our identity yet."
UP NEXT
VS. HOUSTON
When: 7:30 p.m. Monday
On the air: TV: Bally Sports SoCal; Radio: 570, 1330
Update: Both teams will be playing their second game in as many days. Houston also struggles to hold on to the ball. This will be a game of stylistic differences, with Houston ranked fifth in pace and the Clippers 18th.
Get our high school sports newsletter
Prep Rally is devoted to the SoCal high school sports experience, bringing you scores, stories and a behind-the-scenes look at what makes prep sports so popular.
You may occasionally receive promotional content from the Los Angeles Times.