Clippers falter at finish against Pacers despite Paul George's 45 points
INDIANAPOLIS —
Two days before Christmas, John Wall sat in the corner of the Clippers' locker room in Philadelphia glued to his phone.
Wall watches as much basketball as anyone in the NBA, which was why only minutes after the Clippers began a five-game trip with a bitter loss, the point guard was scanning the rest of the league — until one stat line stopped him.
To Marcus Morris Sr., Kawhi Leonard and others within earshot, Wall repeated with an impressed tone the box score that had caught his eye: 43 points and seven assists, with 10 three-pointers. It belonged to Indiana's Tyrese Haliburton, and to Wall, a former All-Star, those sounded like All-Star numbers.
Haliburton authored another takeover Saturday.
This time, the Clippers had an up-close view.
After mustering six points through three quarters, the Pacers guard torched the Clippers for 18 in the fourth quarter, including 12 consecutive points in one stretch to seal Indiana's 131-130 victory that sent the Clippers into the new year with questions about the stinginess of their defense and the efficacy of their small lineups.
"We know he's been closing games very well this year," coach Tyronn Lue said. "We didn't do a good job of containing him."
The defeat closed the trip that saw the Clippers (21-17), who have given up the league's fourth-fewest points per 100 possessions when playing half-court defense, allow at least 113 points in each, a stretch that means "we got to be better, for sure," Lue said.
"Some nights it's great and we do it for a full 48 [minutes], some nights it's 24 minutes, 26 minutes," guard Norman Powell said. "We just got to figure it out and continue to one, hold ourselves and everybody accountable, and put the effort in."
Until Haliburton's late heroics, this looked like it would be Paul George's game to savor.
In a game featuring teams among the favorites to reach the NBA Finals, the Clippers can't come up with clutch shots in a 116-110 loss to the Boston Celtics.
Two days earlier while leaving Boston, George said he expected to hear boos in Indiana, where he developed from the 10th overall draft pick in 2010 into a four-time All-Star before wanting out in 2017, and getting his wish. That trade to Oklahoma City netted Indiana center Domantas Sabonis, who was in turn traded last season for Haliburton, the foundational piece of a rebuild that has seen the Pacers (20-17) exceed expectations in wins and good vibes — but neither that, nor the absence of nearly six years, has dulled the edge of fan angst against the Clippers wing.
En route to a season-high 45 points, George made a step-back three-pointer on the first play and pushed his finger to his lips amid boos. It was the first of his seven three-pointers. As a brass band in the arena's second level led a chant of "Paul George sucks," George cut through traffic into the paint for a one-handed dunk in the second quarter and the noise changed to a collective ooh.
"Hell of a player," Leonard said.
George scored 18 in the fourth quarter. His aggression against the Pacers was influenced as much by his feeling that the Clippers had been too passive for too long against the Celtics in his previous game as it was a response to the not-so-warm welcome. Like Leonard, George faced multiple double teams.
"If teams want to do that, it's easy offense for us to make the right play and trust the pass, trust our teammates and they did that," George said.
Then it was Leonard's turn, scoring 17 of his 24 points in the third quarter, to go with three of his seven assists. On his last shot of the quarter, Leonard backed into a three-pointer after seeing not the usual two defenders but a third. After averaging 35 minutes in his last four games, by far his heaviest workload this season, Leonard felt he is "still moving up the right track, feeling healthy still, and that's what it's about."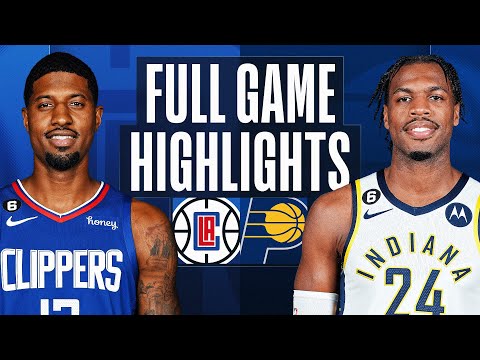 When forward Nicolas Batum turned his ankle in Boston, Lue did not go beyond his regular rotation for reinforcements. Batum's absence Saturday — his first missed game this season, breaking his goal of playing all 82 — led Robert Covington to play in the first quarter for the first time since Dec. 15, and nine minutes overall. His role was usurped in the second half by Terance Mann, who played only five minutes against Boston despite being healthy, but eventually was featured prominently against the Pacers in a series of small-ball lineups that Lue used for nearly an entire quarter as starting center Ivica Zubac sat on the bench.
The Clippers trailed by one when it began, with three minutes to go in the third quarter, and led by one, 118-117, when Zubac returned with 3:47 to play in regulation, but in between, Pacers big man Myles Turner scored on smaller defenders three times.
It was the second consecutive game Lue used lineups without a center for extended stretches during the second half. Boston's Jaylen Brown punished it for layups, but Lue said he turned to it again to space the court with shooters, knowing Leonard and George would likely be double teamed, and also to switch defensive assignments at all five positions to slow down Indiana's IndyCar pace.
"We were able to take the lead and go up six or something in the fourth quarter," Lue said. "Then we just couldn't get enough stops to win the game."
George did get a stop on a steal with 2:43 to play and the Clippers leading 120-118 but threw a cross-court pass out of bounds. A Pacers crowd howled. Then Haliburton made a three-pointer on the next possession, the game tilting toward Indiana at last, and the noise grew steadier.
Get our high school sports newsletter
Prep Rally is devoted to the SoCal high school sports experience, bringing you scores, stories and a behind-the-scenes look at what makes prep sports so popular.
You may occasionally receive promotional content from the Los Angeles Times.